Ramen Ichinen Calgary Restaurant Review

The onset of colder weather in Calgary makes me crave hot soup meals like pho and ramen on the daily. I've been so many places in and around the city, but haven't had the time to head to Ramen Ichinen (a 4+ star on Google reviews) until last week – and boy oh boy, I am glad I did.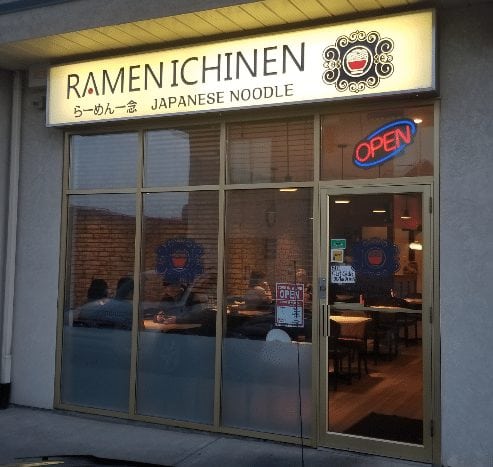 My dinner partner and I liked the food at Ramen Ichinen so much in fact that we named it on the top of our list of favourites as well as one of the best ramen restaurants in Calgary for three reasons: ramen-focused menu, customized bowls and a broth taste that was unique to this restaurant alone.
Ratings
*10 rated as best
Location
Atmosphere & Service
Ramen Ichinen is tucked away in the corner of a small strip mall just off Barlow Trail and 32nd Avenue NE. You would think that its unsuspecting location would make it a miss, but its outstanding ramen taste and online reviews has made it a go-to spot for Japanese egg noodle soup.

Inside you'll find a small interior with about 10 to 12 tables of varying sizes. The atmosphere is comfortable and the bathrooms are moderately clean. The inside space works good for its purpose; a bowl of ramen at lunch or dinner.

Our server was very patient and knowledgeable of the menu. I ordered extra noodles with my red tonkotusu ramen and she told me that I could get 1.5 times the amount of egg noodles for free. I obliged. She also explained that there were 4 different levels of spice available for any ramen soup and that there's also the option of thin or thick noodles. So many choices – I love it!

Apparently Ichinen uses paste from two of the world's hottest peppers, so be careful!! I always eat spicy food and got level 1, but I feel like I could have gone to level 2 easily and still thoroughly enjoyed my meal like I did.
Our Orders
Tonkotsu Red Ramen – $15.00 – pork broth with spicy miso, pork cha shu, simmered egg, seaweed, mixed green or green onion, shredded chili pepper (spicy level 1 – $1.00)
The tonkotusu red is best explained as a spicy version of the original, quite similar to a spicy miso that you would see at other Japanese restaurants. Its flavour had hints of sweetness, although the tasty and unique spiciness had me grabbing my green tea every other bite.

The shoulder pork cha shu was thicker than at other ramen restaurants and had a melt-in-your mouth texture and flavour. The cold simmered egg, thin noodles, corn and green onion flavours blended seamlessly with the delightful broth.
Original Tonkotsu Ramen – $13.50 – Pork broth, pork cha shu, simmered egg, seaweed, mixed greens or green onion
The original Tonkotsu ramen had a broth flavour unlike any other Tonkotsu I've tasted in Calgary. It had a strong sesame seed flavour and tasted very hearty, or healthy if you will. I really liked this taste as I love sesame as is.

This bowl is a definite must try if you're looking to try a different kind of broth with your Tonkotsu ramen the next time around.
Final Verdict
Overall, I really enjoyed the Ramen Ichinen food and dining experience. All the different choices you have such as noodles (thick or thin), spice level (4 different), mixed greens or onions, and about 10 or more different ramen bowls make for endless possibilities.
Ramen Ichinen has without a doubt made it onto our list of the best ramen restaurants in Calgary. It's that good – check it out!
Ramen Ichinen
Address – #349 – 3132 26th Street NE
Phone Number – 403-454-2646
I Love Calgary
Looking for more of the best local restaurants to check out? See our full list of Calgary Restaurant Reviews today! For more everything else to do with YYC, be sure to join us at Calgaryism on Facebook, Instagram and Twitter to stay updated via your live social media feed. We hope to see you there!