Tallest Buildings in Calgary – 225 SIXTH
December 1, 2012
By Cody Battershill
Tallest Buildings in Calgary - 225 SIXTH New Calgary Skyscraper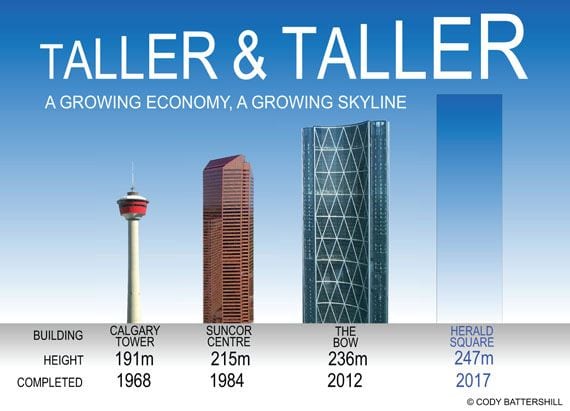 Taller and Taller - A growing economy, a growing skyline
Calgary Tower - Height – 191m, Completed – 1968
Suncor Centre – Height – 215m, Completed – 1984
Bow Tower – Height – 236m, Completed – 2012
Herald Square – Height – 247m, Completed – 2017
Brookfield Properties has announced they will build a new skyscraper in downtown Calgary that will surpass the Bow Tower in height by approximately 11 meters and hold 1.2 million square feet of much need office space. Brookfield originally planned for one high rise but now have purchased an adjacent block and promise a 2.4 million square foot completed development in the future.
The exact height of 225 SIXTH is still to be determined. A few different speculations are out there including 51 floors, 54 floors, but today high ceilings are standard so with less floors the tower could very well be taller than the Bow.
Demolition Underway
[caption id="attachment_14740" align="alignright" width="300"]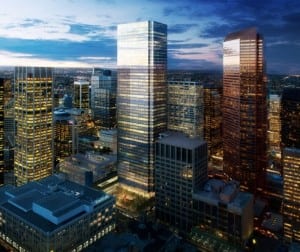 Photo Credit Brookfield[/caption]
Demolition is now underway on the downtown block where the old historical Calgary Herald building was located. It is unfortunate to see a historical building demolished, but it is unpractical to keep old buildings around when there is a large demand for office space in downtown Calgary says Ben Brunnen, chief economist with Calgary's Chamber of Commerce.
Brookfield

Developer Brookfield has an impressive international portfolio as well as in Canada. Today, they are one of the largest landlord companies in Calgary with approximately 7 million square feet to their name. Design for 225 SIXTH is still under development including ways to remember the old Calgary Herald building.