Una Pizza Calgary Restaurant Review
March 20, 2012
By Cody Battershill
Una Pizza and Wine - An Absolute Must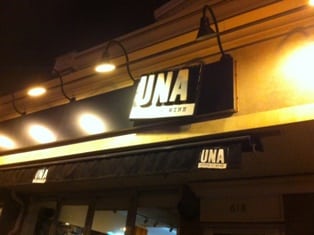 I decided to indulge with some friends on a Sunday night, expecting the restaurant of their choice to be completely dead. We went to Una on 17th Avenue SW, just across the street from Western Canada High School. I was surprised to see as many people there as there was at 11:00pm on a Sunday night, a true testament to the savory and delicious food that was to come.
I had to use the bathroom when I got there and found it interesting that a vocalized version of one of the Harry Potter books was on the speaker. Probably one of the most unique restaurant bathroom experiences ever... too funny!
Una has dull lighting, moderate music level and trendy replica art from the famous artist Gio Gio that extends the entire length of the sitting area creating the perfect atmosphere for eating. One element to the layout of the restaurant was that my table was literally a foot away from the one beside it, you could either enjoy the cozy atmosphere or prefer to go when its not packed, although it almost always is.
Meatballs with a gourmet tomato sauce and shrimp with a sweet coconut sauce were scrumptious appetizers. Some slices of French bread were of use to soak up some of that yummy tomato sauce from the meat balls.
Between three of us we ordered three pizzas. Two of them had a delicious gourmet cheese, the 4maggi; one with an Italian meat on top with cheese, the other was straight cheese. I've never tasted a cheese like that, it was like a party in my mouth and everyone was invited.
Last but not least was the tomato sauce pasta with a peppered meat on top that acted as a nice balance between the cheese pizzas since it was more tomato and meat rather than cheese. Sparkling water and fresh water are served for no charge in glasses, or if you drink as much as my table did you get your own wine pitcher full to serve yourself.
The service was spectacular. Tom made sure we had everything that we needed, if you go to UNA say hi to him! Overall Una was a great dining experience. Definitely check it out some time.
Una Pizza + Wine

618 17th Avenue SW, Calgary, AB
Phone Number - 403-453-1183
Una is one of Calgary's best restaurants and is definitely one of Calgarys top pizza spots
Una is also open late every day of the week, making it one of Calgary's best late night food options!