Best Calgary Tourist Attractions – Prince's Island Park
June 5, 2013
By Cody Battershill
Best Calgary Tourist Attractions – Prince's Island Park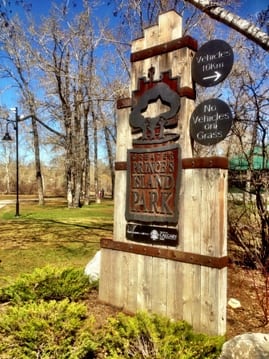 It's been a while since I have visited the Bow River and Prince's Island Park on a Sunday.
Last week I rediscovered my enthusiasm for this wonderful "natural oasis" sitting amid the concrete jungle of downtown Calgary, where I also realized that anyone who visits our city should experience these two best Calgary tourist attractions for themselves.
But what about other Calgary tourist attractions such as the Calgary Tower, Glenbow Museum or where it all started over a century ago at Fort Calgary?
While these are all very important Calgary Landmarks and tourist attractions in their own respects, Prince's Island Park and the Bow River is representative of what you will find throughout Calgary as a whole. What could that be?
Activities at Prince's Island Park 
Enjoy the sights and sounds of Prince's Island Park over a delicious meal created using locally sourced ingredients at the River Café

Sing and dance at the outdoor stage used during the annual Calgary Folk Festival happening from July 25th to the 28th in 2013, or stumble upon a surprise performance any weekend

Play a game of Frisbee, football, baseball, soccer, bocce ball or any other sport you can think of that requires open space

Sit back and enjoy the wildlife including heaps of Canadian Geese and their young, beautiful birds and mischievous squirrels

Have a picnic with your loved ones and whoever else wants to come at any one of the picnic areas

Relax and indulge in the serenity provided by this natural oasis in between meetings, listen to the sound of the rushing Bow River pass you by while birds sing their tune
These are but a few of the activities and events both locals and visitors can do while at Prince's Island Park, which definitely make it one of the most relaxing and best Calgary tourist attractions around!
We Love Our Parks and Pathways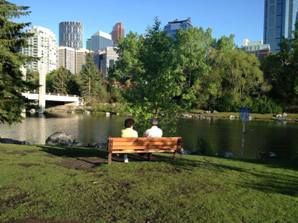 Well, the City of Calgary is home to over 10,000 hectares of park area in more than 5,300 park sites. Connecting these green spaces we Calgarians love and use on a daily basis is more than 700km of pathways. Now can you see what I'm getting at?
Calgary tourist attractions give tourists a glimpse of what our city is all about. Prince's Island Park and the surrounding Bow River do a superb job of showing visitors to Calgary one of the most cherished characteristics for many residents; our outdoor parks, pathways and rivers.
From small to THE Biggest…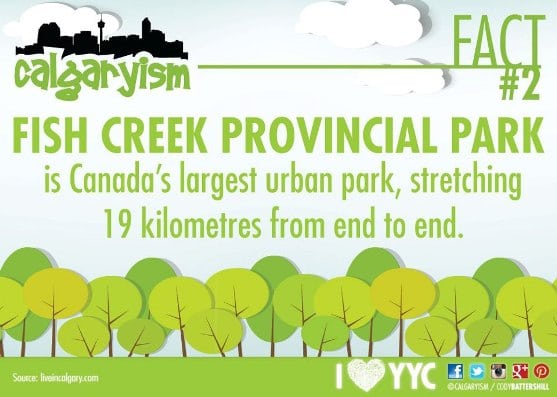 I cannot think of one community in Calgary which doesn't have its own set of parks, playgrounds and interconnecting pathways in between.
These areas can range from extremely small fields with only a teeter totter or two to the largest urban park in all of Canada, the same title that Fish Creek Provincial Park in south Calgary currently holds!
From end to end this massive park covers 19 kilometres. Fish Creek Park is definitely another one of the top Calgary tourist attractions visitors to our city should consider seeing before they leave. It's simply amazing!
Believe it or not the Fish Creek Park is reachable from Prince's Island Park in downtown Calgary. Just follow the Bow River pathways east and then south.
Visitors beware this is definitely a lengthy bike ride, but it is one of the best ways to experience some of the sights and sounds of the beautiful river parks and pathways in Calgary. See for yourself a day at the Bow River is a day well spent!
Visitors to Calgary…
If time permits, the next time you're in Calgary try visiting Prince's Island Park in downtown, directly north from Eau Claire Market. It's easy to find and will give you a taste of what our city is all about!
Looking for more of the best Calgary activities? Why not try doing what the locals do!? Thanks for stopping in, we hope to have you here in Calgary sooner than later!