25+ of the Best New Restaurants in Calgary (2019)
In a city as big as Calgary, there's quite a few new restaurants opening their doors every few months in and around town. Here's a list of our favourite new restaurants + food and drink spots in Calgary you need to check out in 2019 – if you haven't already.
Just BBQ
View this post on Instagram
Just BBQ is home to one of Calgary's only authentic Taiwanese restaurants. Inside you'll fine a well done ambiance with comfortable seats and HDTV's lining the walls.

The "everything under $10" menu consists of Taiwanese-style BBQ skewers, appetizers and other delights.

Our favourite are the bacon-wrapped scallops. You get two skewers (4 scallops) for $6.99.

This new restaurant on Edmonton Trail in Calgary just extended its hours to include happy hour from 3 to 5pm daily except for Tuesday (closed).
Address – #102, 1211 Edmonton Trail NE
Phone Number – 403-769-9188
Website – justbbq.ca
Dagu Rice Noodle
View this post on Instagram
Dagu Rice Noodle is a new restaurant in Calgary that has had its doors open for about 6 months, with great success!
Featuring authentic Chinese-style soup bowls, choose from a selection of pork bone, beef bone and fish broths (to name a few), then choose any add-ons and sauces you like.
We loved the pork bone soup with added beef balls and beef slices. We also had a watermelon slush which was made with real fruit.
Two can dine for under $30 at Dagu Rice Noodle. Check this place out!
Southland Yard
View this post on Instagram
This new restaurant in southwest Calgary is bringing the hype, combining tasty food with fun games for a memorable adults only dining experience.
Yes, this place is for brunch, lunch, dinner and late into the evening, but is for adults only.
Three separate menus for lunch, dinner and brunch with lots of tapas, burgers, salads and sandwiches.
Southland Yard also has a drink menu with about 20 different wines, a handful of cocktails and a dozen or so locally-sourced beers on tap.
Address – 135 Southland Drive SE
Phone Number – 403-278-5050
Website – southlandyard.com
Chronic Tacos
View this post on Instagram
This new fast food restaurant in Calgary serves up tacos, quesadillas, burritos and everything in between that you'd expect to find at a Mexican-style food chain originating in California.
It's also Alberta's very first Chronic Tacos franchise and is located in the slick new Food Lodge at Deerfoot City Mall.
Address – 901 – 64th Avenue NE
Phone Number – 403-453-8226
Website – chronictacos.com
Yummy Q
View this post on Instagram
Yummy Q has opened its doors in the Kensington District just in time for summer.
Menu items include milk teas, smoothies, fruit slushies, fresh fruit teas, rolled ice cream (~30 flavours), candies, chips and other assorted snacks.
Try Yummy Q the next time you're in for refreshment an find yourself in the Sunnyside / Hillhurst area (orange jasmine tea in picture above, yum!)
Bonus: a few sitting areas inside will let you take a break from strolling the vibrant streetscapes of Kensington.
The Moose and Poncho
View this post on Instagram
You wouldn't expect to find one of Calgary's newest Mexican restaurants in China Town. But heck, that's exactly where The Moose and Poncho is, and it's well worth a visit.
We really loved the chicken and pork soft tacos. They also serve up main-course oven-roasted dishes, dorados, quesadillas and even order-only burritos since they're apparently too popular and take too long to make in store.
The self-serve salsa bar was also a nice and surprising touch. Indulge in as many flavours as you want!
Monki @ Inglewood
View this post on Instagram
One of Calgary's well known breakfast restaurants has opened a second location in the heart of Inglewood.
Featuring all the good breakfast, brunch and lunch specials that Monki Breakfast Club & Bistro in the Beltline is known for, you'll surely enjoy the food that this made-in-Calgary restaurant has to offer.
Our favourites are any of the eggs benedict or breakfast poutine. If you're going for healthy, try a bowl of oatmeal with fresh fruit on top – it's delish!
Regrub @ Deerfoot City

View this post on Instagram
If you haven't tried the epic Regrub Burger Bar in the Beltline just yet, here's your chance!
Another tenant of the Food Lodge at Deerfoot City Mall, Regrub's original location is known for its epic milkshakes and delicious burgers, all for a very affordable price.
While Regrub isn't quite a new restaurant in Calgary, its new location is quite worth mentioning.
Address – 901 – 64th Avenue NE
Phone Number – TBA
Website – regrub.ca
Allora Everyday Italian
View this post on Instagram
Aspen Landing's list of restaurants just got even more extensive and exciting with the addition of Allora Everyday Italian.
This new eatery features a wicked glass-enclosed cook station between the dining room and lounge where visitors can see their meals getting made.
Food wise, expect alot of salumi + salads (7), pastas (8) and pizzas (4) with an excellent choice between four mains. We really loved the proscuitto-wrapped halibut, chicken parmigiana and roast mushroom risotto.
Address – 326 Aspen Glen Landing SW, Unit #114
Phone Number – 403-686-6731
Website – allorarestaurant.com
6A Snack Bar
View this post on Instagram
6A Snack Bar is a new Asian street food restaurant in Calgary, found in the northwest community of Thorncliffe.
Serving up Hong Kong and Taiwanese-style snacks and drinks for very affordable prices, you can't go wrong popping in to check this place out.
Choose from a wide selection of bubble teas, plus a food menu that includes everything from deep fried buns + condensed milk and leaflet sticky rice to beef giblets and street beef organs.
Heck, they even have sharks fin soup (not actually shark fin, hopefully). Save the sharks!
Inner City Brewing
View this post on Instagram
We were sad to see Hapa Izakaya go until we found out that a new brewery would be taking its place!
Just kidding, we're still sad that one of Calgary's former best ramen restaurants is gone, but Inner City Brewing has a lot to be excited about including new brews, weekly specials and food courtesy of Taiko Taco food truck.
Inner City Brewing is a bit odd in the sense that there's no kitchen. However, we like the fresh idea this place has with a portable kitchen waiting outside and ready to serve you at fast-food speed.
Diner Deluxe @ Mahogany
View this post on Instagram
The amenity list for Mahogany residents just keeps getting better and better as the years go by.
Now, Diner Deluxe has opened its third Calgary location in Mahogany's Westman Village.
If you haven't been to one of the other locations, they have a reputation of being two of the best breakfast and brunch restaurants in Calgary.
This is the perfect restaurant for an early weekend get-together!
Address – 106 Mahogany Centre SE
Phone Number – 587-482-9979
Website – dinerdeluxe.com
Super Smash Café
View this post on Instagram
The Super Smash Café is the newest of a slew of specialty eateries and restaurants opening their doors in Calgary.
Awaiting you and your friends are Nintendo's greatest hits, enjoyable from comfy couches and HDTVs. They also offer an extensive coffee and specialty drink menu with a variety of baked goods as well.
On weekends, this place is open until midnight, which may just be the perfect new venue for a new weekend activity with friends!
The Alley
View this post on Instagram
This new bubble tea shop in Calgary is an international franchise with shops scattered across Canada, the USA, Australia, France and certain countries in Asia as well.
If there's any testament to just how good this shop is for fresh bubble tea drinks, that should be it!
The first-ever location in Calgary has just opened its doors weeks prior, perfect timing for the summer heat.
It is easily accessible from RiverWalk just half a block into Chinatown, south on Centre Street.
Address – #103, 233 Centre Street SW
Phone Number – TBD
Website – the-alley.ca
Mister Chens
View this post on Instagram
Found on 4th Street SW in the heart of Mission, Mister Chens has quickly risen to the top of the restaurant / bar / lounge scene in Calgary.
With menu items drawing inspiration from all over southeast and central Asia and excellent cocktails all day and night long, you're bound to have an excellent dining experience.
At night, you're also bound to have an excellent drink experience with the impressive drink menu at Mister Chens featuring several cocktails, wines and even sake.
POW Pizza
View this post on Instagram
Renfrew residents are surely happy with the new pizzeria addition to the neighbourhood. That's because POW Pizza is doing things differently with its Detroit-style square pizzas.
We highly recommend any one of POW's six pizzas currently on the menu, especially "The Pow," which is supposed to change as frequently as the weather and is sold at market price for the ingredients.
Address – 1025 Russet Road NE
Phone Number – 403-263-1115
Website – powpizza.ca
Namo Café & Bistro
View this post on Instagram
Another exciting addition to Renfrew is this new breakfast and lunch spot, featuring dishes like pumpkin-spice pancakes, duck with Belgian waffles, eggs Kejriwal and laksa to name a few.
In short, Namo is must try new restaurant in Calgary in 2019 for breakfast and brunc, but remember that it's open Tuesday to Sunday from 8:00am to 3:00pm. Don't go on Monday, please!
Address – 824 Edmonton Trail NE
Phone Number – 403-475-7010
Website – namonaturals.com
Hawthorn Dining Room & Bar
View this post on Instagram
Another one of the best new restaurants in Calgary in 2019 is opening its doors in the acclaimed Fairmont Palliser.
Hawthorn Dining Room & Bar features four different menus for different times of day: morning, mid-day, day and night, and an extensive list of alcoholic beverages to boot.
If you're into high-end gourmet dining and drinking, this may be the place for you.
Alumni Sandwich & Liquor Bar
View this post on Instagram
Nothing beats a sandwich that's been taken to new heights, like the ones you'll find at Alumni Sandwich & Liquor Bar on 17th Avenue SW.
On the menu you'll find 14 different sandwiches including a Rosemary beef dip, chicken parmesan, hot chicken sandwich, turkey club and several more.
There's also 16 different cocktail options that will cost you between $8 to $11 per drink.
Moonlight & Eli
View this post on Instagram
Champagne and fondue anyone? Moonlight & Eli is one new restaurant in Calgary in 2019 that is as unique as it gets in terms of what's on the menu.
If you're a fan of comfort food breakfasts, you'll enjoy what this new venture from Mhairi O'Donnel has to offer.
Purlieu Modern Bistro
View this post on Instagram
Brought to you by a former executive chef for Craft Beer Market and chef / owner for Bistro 2210 is this new restaurant in Oakridge, SW Calgary featuring modern cuisine drawing from locally sourced ingredients.

Inside you'll find about three-dozen seats in a warm and inviting atmosphere with a small bar and beautiful artistry displayed on the walls.

The menu at Purlieu is mostly tapas like spider steak frites, grilled wings with peach sauce and Peking duck steam buns to name a few.

Right now this new restaurant in Calgary is only open for lunch and dinner, but will soon feature a weekend brunch menu as well.
Address – #14, 3109 Palliser Drive SW
Phone Number – 403-280-7474
Website – purlieucalgary.ca
CAKEify Studio
View this post on Instagram
Okay, you might not go to sit down and eat at CAKEify Studio. But if you need an epic cake that looks like something out of a movie set or wedding, then this is a go-to spot.
CAKEify opens its doors in the spring / summer of 2019 and is already taking custom cake order inquires for August 2019 or later.
LuLu Bar
View this post on Instagram
LuLu Bar has taken over Local 510 Kitchen's spot – at 510 17th Avenue SW – and it's exactly what we hoped for!
Featuring an epic wrap-around patio right on 17th Avenue SW, this newly opened restaurant in Calgary is an epic summer patio destination.
Inside is just as cozy with an open concept layout that opens completely to the street during warm weather.
The food is just as on point with Pacific-style dishes and an extensive drink menu that will keep you interested especially on the patio during a warm summers day.
Address – 510 17th Avenue SW
Phone Number – 403-519-0444
Website – www.lulubar.ca
Cluck n Cleaver @ West Springs
View this post on Instagram

While not completely original, this new restaurant in Calgary has an excellent reputation adopted from its 14th Street SW location.
Cluck n Cleaver's second location has just opened its doors in the Co-op at West Springs, giving shoppers the convenience of grabbing some of the finest fried and rotisserie chicken in the city on the way.
Known for its juicy chicken and tasty milkshakes plus all the sides like poutine, biscuits and salads, it's the perfect quick snatch if you just so happen to not feel like cooking some of those groceries.
Buk Chang Dong Soon Tofu Korean Restaurant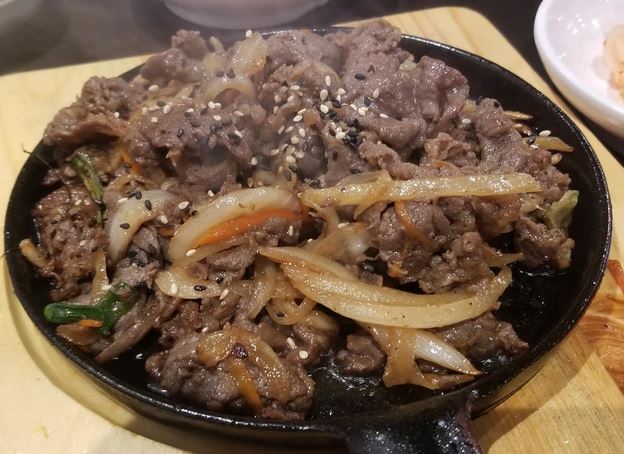 We just found this lovely Korean restaurant in Elboya on the corner of 50th Avenue and Macleod Trail SW.
Don't be mistaken, it's a bit hard to find (beside Carl's Jr.) as it's Google information isn't updated quite yet it seems.
Dine for two and get homemade Korean food for under $40 easily at this excellent new Korean restaurant in Calgary!
We recommend the pan-friend beef bulgogi (above), soft tofu stew and fried dumplings to start. Loved the service by the owners themselves too!
See our full Buk Chang Dong Soon Tofu Korean Restaurant Review here.
Address – #106, 5211 Macleod Trail SW
Phone Number – 403-719-1311
Website – TBA
Baked 3.14
View this post on Instagram
Killarney is home to a brand new pizzeria that opened its doors in mid-May of 2019 on 26th Avenue and roughly 33rd Street SW.
Pick from about a dozen different pizzas which include the Aloha Canada, Meat Sweats, and the Sirachicken to name a few.
Baked 3.14 also does wings, bread sticks and a special dessert called Ballerz which consists of vegan dough balls baked and breaded in brown sugar.
Vegan and gluten-free options are available. Also remember this place is take out / delivery only!
Address – #4, 3315 26th Avenue SW
Phone Number – 403-242-4432
Website – TBA
More Restaurants in Calgary: