3 Reasons to Love Victoria Park Calgary Condos
March 31, 2013
By Cody Battershill
3 Reasons to Love Victoria Park Calgary Condos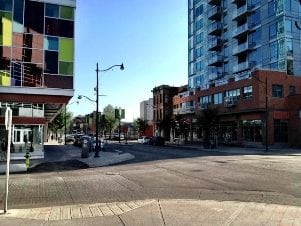 Rich in history, culture and amenities, Victoria Park Calgary has much to offer its residents. It is a great place to live for those who desire an urban lifestyle close to where all the action is; in downtown and the beltline.
Today, several new Victoria Park Calgary condos are currently under construction or in the pre-planning stages and many more have been completed in recent memory including Sasso, Colours, Chocolate and Union Square.
There is a diverse portfolio of condos in Victoria Park that gives buyers a wider spectrum of options when looking for the right condo to fit their wants and needs. From newer to older, 1 bedrooms, 2 bedrooms and every variation in between, there is something for everyone.
Over my years of experience in helping people accomplish their Victoria Park Calgary condo goals, I have grown to love the community and all it has to offer. Find me in Victoria Park on a regular basis indulging in some of the best in Calgary. Specifically, First Street is a great area to check out with lots to do and see.
From a realtor's standpoint, here are 3 Reasons to Love Victoria Park Condos.
1 - Variety
The variety of condos in Victoria Park gives buyers more selection. Having the opportunity to see many condos before deciding on which one to buy is key in figuring out what it is they really want.
Some people might like the in-house amenities and floor plan layout in one condo building more than another, while on the other hand it might be the avenue or street that attracts attention. Or maybe it's a Calgary First Time Home Buyer who is looking for a more affordable option.
I always recommend that my clients see multiple condos before making any decisions on what to buy. Victoria Park showcases some of the best new and resale condos from a wide range of developers and can be instrumental in helping people decide they want out of their condo purchase.
2 - Walkability
A walkable location is a must for many inner city and downtown home buyers in Calgary. It is an alluring characteristic inherent to Victoria Park Calgary Condos.
Traversing from east to west, north to south in Victoria Park doesn't take long on foot. Places like the grocery store, a favourite restaurant, local pub or even a night club on 17th are but an arm's length away from any of its condos. My favourite spots in Victoria Park are…
Giuseppe's
Forman's Fashion Group
Kickers Deli
O'Connor's Men's Wear
Anytime Fitness
Vintage Steak House
Yuk Yuk's at the Elbow River Casino
Hotel Arts
La Vita e Bella Italian Restaurant
Scotiabank Saddledome
HiFI Club
Stampede Grounds
Thai Sai-on
Elbow River pathways
Gruman's Deli
There are many more great things to do, places to go and people to see in Victoria Park Calgary. These are but a few of my favourites!
3 - Character
In honour of Queen Victoria, Victoria Park was established in the early 20th century. It is one of the oldest neighbourhoods in Calgary. Today, it's urban setting still is host to many historical buildings that foster a wide variety businesses. Learn more about the History of Victoria Park Calgary today!
Businesses that are largely responsible for the vibrancy of the community and attract locals and visitors alike, creating one of the most eclectic blends of crowds found in the city...
...Crowds that are another huge part of Victoria Park's character. Without them, the beltline community would not be the Calgary cultural and entertainment hub it is today.
Question about Victoria Park Calgary Condos?

As a Victoria Park Calgary Condo Specialist, I would love to interview for the job to help you find the best condo for the best value in Victoria Park.
Text, Call or Message me below now and I promise I will get back to you within 30 minutes! (unless it's 3am)
[gravityform id="35" name="Here to Help" title="false" description="false"]