Houses for Sale in Aspen Woods Calgary
Search Calgary Real Estate
Search the newest real estate listings in Calgary by beds / baths / community / price + more options today!
Quick Facts
Luxury homes by reputed luxury builders
Wide assortment of subdivisions and homes to choose from
Spacious lot sizes
Beautiful architecture
Interconnected pathways and ravines
Views of the mountains
Central shopping plaza
Why Buy Aspen Woods Real Estate?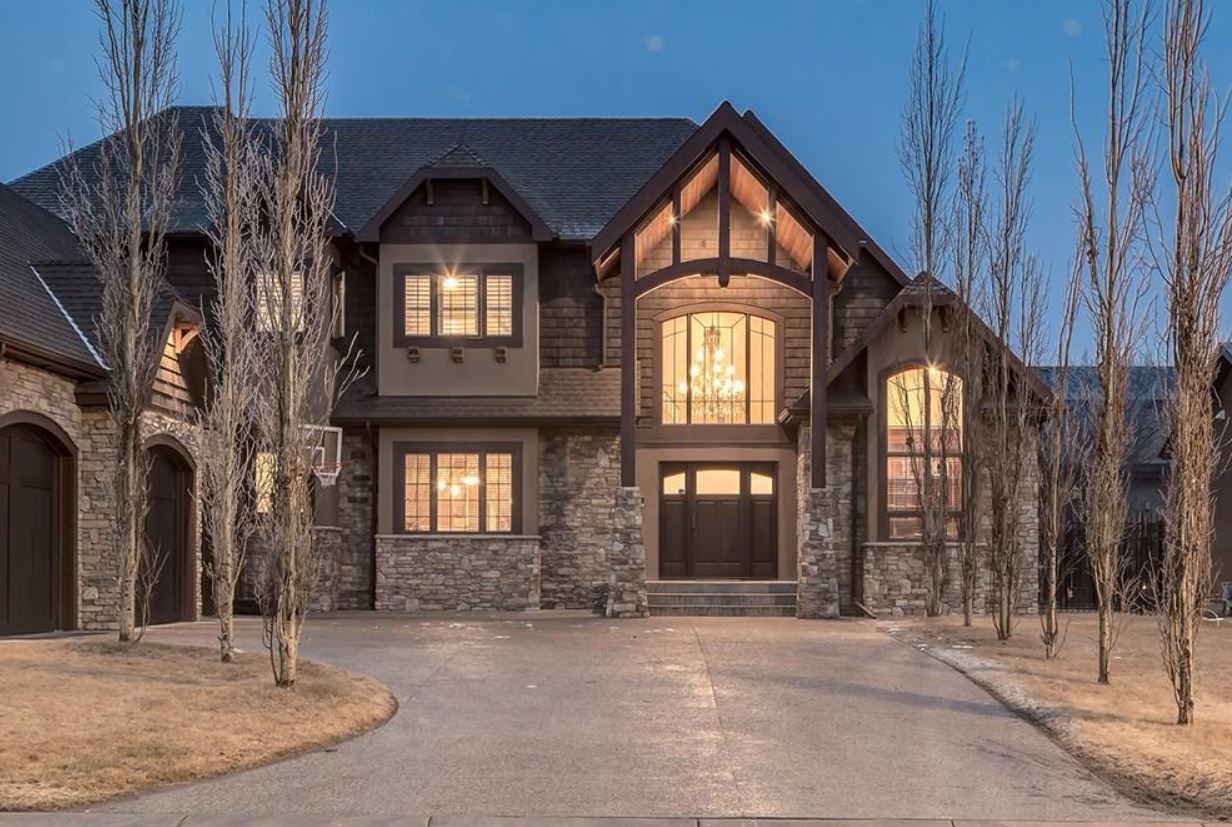 Luxury Home in Aspen
#1 – Quality Homes
Quality homes in Aspen Woods are a sure thing. These houses are quality built by quality home builders featuring intuitive and modern designs allowing modern-day families to maximize enjoyment from their living spaces.
Just some of the highly reputed home builders who have made their mark on Aspen:
Crystal Creek Homes
ALBI Homes
Duri Homes
WestView Builders Group
Truman Homes
Elegant Homes
As you can see, the home builders listed are award-winning, upscale builders known for their quality products and exceptional after-care services.
#2 – Spacious Community
Homes for sale in Aspen Woods Calgary are built on larger lots, providing residents with more space than the typical suburban home in Calgary. More space means more privacy between family members and often neighbours, translating into a more comfortable living experience.
As far as the community is concerned, numerous interconnecting pathways, ravines, parks and fields contribute to an overall heightened sense of spaciousness.
Overall, life is spacious when living in Calgary's highly sought-after community.
#3 – Convenient Location
Aspen Woods location puts residents not too close but not too far away from downtown. Driving time to the downtown core of Calgary takes 15 to 30 minutes depending on the variables involved, which is a great pace compared to other new suburban communities!
Other highlights of the community's location include:
Beautiful home views of the foothills and Rocky Mountains
Tons of amenities nearby in three outdoor shopping plazas
Easily escape the hustle and bustle of Calgary and head west to the foothills and mountains for some of the best outdoor recreation Alberta has to offer
Plentiful outdoor recreational opportunity within the immediate vicinity of the community
Quick access to St. Michael's Catholic Church, Westside Rec. Centre, Canada Olympic Park, Pinebrook Golf & Country Club, Elbow Springs Golf Club, a future southwest Calgary LRT, and much more.
Aspen Woods Housing Market
Luxury homes in Aspen are the norm, where sprawling semi-estates, executive estates and some of the most expensive properties in Calgary are found! Beautiful architectural controls, elegant landscaping, backyard views of the Rocky Mountains, interconnected ravines and paved pathways are just a few of the features that make real estate in Aspen Woods so popular!
Since its establishment in 2001, the neighbourhood has seen exponential population growth relative to other neighbourhoods. From 2005 to 2009, it saw its population jump a whopping 455 percent, while all other neighbourhoods in the city increased by an average of only 11.4 percent.
Aspen consists of several subdivisions, each with its unique set of real estate. Some of those include (but are not limited to):
Aspen Acres
In 2010 Aspen Acres made its debut in Aspen Woods with its semi-estate style homes, all for an attainable price. Jager Homes and Shane Homes are the two builders in the area, and today the community is completely sold out.
Aspen Estates
Aspen Estates is where you'll find only the most luxurious estate properties in Aspen – and quite possibly, some of the most high-end homes in the city.
Known for its multi-million dollar lots and massive mansions, this subdivision is reserved for only the most qualified buyers and their families. You won't find homes worth less than $1 million in this area of Aspen – and for a good reason.
Aspen Heights
Aspen Heights is an exclusive sub-division in Aspen Woods Calgary featuring homes built by some of our city's best builders. These properties include nine iconic multi-million-dollar iconic homes, 33 estate homes and 24 luxury villas.
Aspen Summit
Summit is another luxury subdivision in Aspen Woods featuring three different phases, each with its own set of home builders and starting price points, including:
Aspen Summit View –Homes by Crystal Creek Homes and WestView Builder Group.
Aspen Summit Heath – Homes by Elegant Homes and Duri Homes.
Aspen Summit Park – Homes exclusively built by ALBI Homes.

Aspen Woods Amenities
Reach downtown in less than 20 minutes while also being able to immediately leave the city boundaries and escape to the Rocky Mountains are two features of Aspen houses for sale in Calgary that have made it hard to look past for many potential buyers.
Main shopping areas such as the West Hills Town Centre and Aspen Landing are found in or near the community, while commuting to South Centre or Chinook Centre takes less than 15 minutes. Public transportation is found across the area and includes an express Aspen Woods downtown shuttle during the weekdays and access to the West C-Train line on the neighbourhood's south side.
One of Calgary's best recreational centres Westside is found adjacent to the community. Equipped with only the latest gear, this massive rec centre is a great place to work out and enjoy leisure. Available are an aquatic park, fitness centre, running track, gymnasiums, rock climbing wall, hockey rink, family-oriented programs fun for everyone and more!
Several recreational parks are close by Aspen Woods including Edworthy Park, Glendale Park and Weaselhead Natural Area, and golf courses such as Pinebrook Golf & Country Club, Elbow Springs Golf Club and the Glencoe Golf & Country Club. Don't forget Bragg Creek, Kananaskis Country and the mountains, less than an hour to the west!
An enormous appeal of Aspen houses for sale in Calgary is their proximity to a full spectrum of restaurants, shops and services. All these businesses below are reachable via a short drive, or for some Aspen residents, are accessible on foot.
Aspen Landing – host to over 60 businesses including:
Safeway and Sobeys
Shoppers Drug Mart
Good Earth and Starbucks
Aspen Animal Hospital
Aspen Landing Dental
Broken Plate and Red Water Grille
Scotiabank, BMO and TD Bank
Jugo Juice, Pita Pit and many more!
Westhills Town Centre – host to countless amenities and services including:
Cineplex Odeon
Earls and Moxie's
Mark's Work Wear House
ATB Financial and CIBC
Play it Again Sports
National West Hills
Tommy Hilfiger and many more!
Let's not forget about quick and easy access to Westside Recreation Centre, Canada Olympic Park's WinSport Facilities, Chinook Mall, Southcentre Mall, Bragg Creek and the Rocky Mountains to name a few!
Aspen Woods Schools
Homeowners in Aspen Woods have some of the best access to a wide range of different schools ranging from public to private to French Immersion to Catholic and more.
The community's designated schools include:
Public Elementary (West of 85th St SW) – Wildwood – 120 45th Street SW – 403-777-8430
Public Elementary (East of 85th St SW) – Olympic Heights – 875 Strathcona Drive SW – 403-777-8370
Public Junior High – Vincent Massey – 939 45th Street SW – 403-777-7871
Public Senior High – Ernest Manning – 20 Springborough Boulevard SW – 403-249-3131
French Immersion Elementary – West Gate (K to Grade 5) – 150 Westminster Drive SW – 403-777-8420
French Immersion Junior High – Bishop Pinkham (Grade 6 - 9) – 3304 63rd Avenue SW – 403-777-7840
French Immersion Senior High – Western Canada – 641 17th Avenue SW – 403-228-5363
Private schools close by include Webber Academy, Rundle Academy and Calgary Academy. Meanwhile, nearby Catholic schools include John Costello, St. Joan of Arc and St. Gregory.
Public school designation for elementary students is Olympic Heights or Wildwood. When Olympic Heights is at capacity, students are to attend Wildwood as an alternative. Junior high students are to attend Vincent Massey, while Ernest Manning is the designated high school.
Many options for your child's education are available when living in Aspen Woods real estate!
Learn more about Aspen Woods Calgary's schools below:
Aspen Woods Real Estate Agents

Are you thinking about buying a property in Aspen Calgary? Perhaps you're thinking about selling your current home in the community? As highly experienced Realtors® in Calgary with RE/MAX House of Real Estate, we know the West District's residential market like the back of our hand and would love to put our knowledge and skillset to work for you.
Contact Cody and Jordan directly at 403.370.4008 to discuss your real estate goals! Get a 100% Free, No-Obligation Evaluation for your Aspen home in Calgary today!
We are looking forward to helping you accomplish your real estate goals!
Return to West Calgary Real Estate
Aspen Woods Calgary Homes for Sale

Prev

Next