University District Real Estate Listings
Search Calgary Real Estate
Search the newest real estate listings in Calgary by beds / baths / community / price + more options today!
Community Quick Facts
Developed by the University of Calgary Properties Group
Mixed-use community in Northwest Calgary
200 acres of land with a north (current) and south (future) development areas
Builders include Homes by AVI, Brookfield Residential, Truman, Gracorp & Rohit
The Brenda Strafford Foundation provides seniors' assisted living at Cambridge Manor
Condos, townhomes, rentals and senior homes are available (see projects below)
Near the University of Calgary, Alberta Children's Hospital and CF Market Mall
Highly walkable neighbourhood with parks, restaurants, shops and entertainment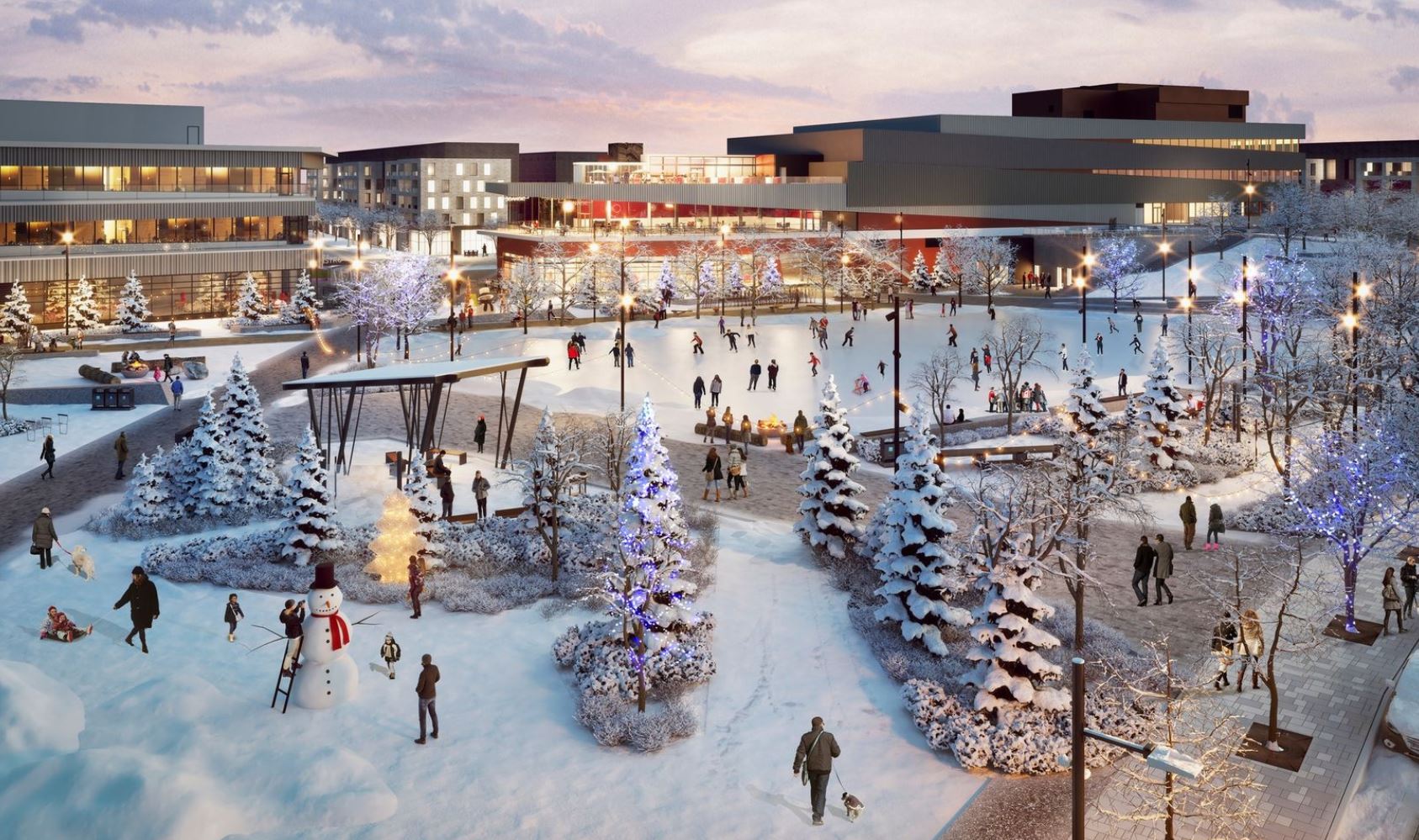 Calgary's University District is a master-planned community with all the amenities you could ever hope for. Located at the confluence of Shaganappi Trail and the Trans Canada Highway, the neighbourhood is nestled atop a plateau it shares with the Alberta Children's Hospital.
Phase one of development is underway in the community's north part. Phase two is yet another mixed-use section to come soon after the completion of the first and will feature a diverse array of condos and townhomes in addition to some retail strip malls. The second phase will feature a man-made pond amid professionally landscaped green spaces.
Overall, there is a lot to love about the University District in Calgary, including its full spectrum of real estate from a wide range of home builders. Here are all the current projects underway in phase one and their associated listing searches.
Noble was one of the first developments built in Calgary's University District.
Developed by award-winning Truman, Noble features upscale condos and townhomes with gourmet kitchens, 9-foot ceilings, and much more.
Maple is another Truman condo project in the University District. The seniors-designated building features 95 apartments with one to two-bedroom layouts and was completed in 2020.
Maple truly is the pinnacle of seniors living in Calgary's University District, offering a la carte amenities such as an in-house barber and hair salon, dining services, housekeeping, and healthcare if required.
Truman is at it again with Esquire, a high-end condo in the University District of Calgary. The building features one- to three-bedroom condo units from 650 to 1,224 square feet, perfect for a wide range of buyers.
Phase two at Esquire is a rental-only building, providing even more options if you're just not yet up to buying a home in the University District just yet.
Brookfield Residential's premier project in the University District features 140 luxury units with two and three-bedroom layouts from 1,300 to 2,000 square feet or larger.
Private attached garages, semi-private elevators and multi-level residences are standard at Capella homes in the University District, making the building one of the pinnacle high-end projects in the area.
IVY Townhomes are an upscale luxury development by Brookfield Residential. With two-car garages on the ground level, these units feature spacious multi-level floor plans and private entrances.
If you're looking for luxury homes in the University District of Calgary, these may be the perfect fit!
Argyle is yet another exciting new condo in the University District of Calgary. Developed by Homes by AVI, Argyle puts residents on the main amenity throughway where you'll find all the restaurants, shops and entertainment.
This building is genuinely ideal for investors and young urbanites alike, as its layout focuses on more compact one to three-bedroom units across five floors.
Dean's Landing is the first University District project by Rohit Communities.
With 135 total units, the multi-building project will offer condos and townhomes anywhere from 470 to 1,525 square feet and have an estimated completion date of 2024.
3 HUGE Reasons to Buy a Home in University District Calgary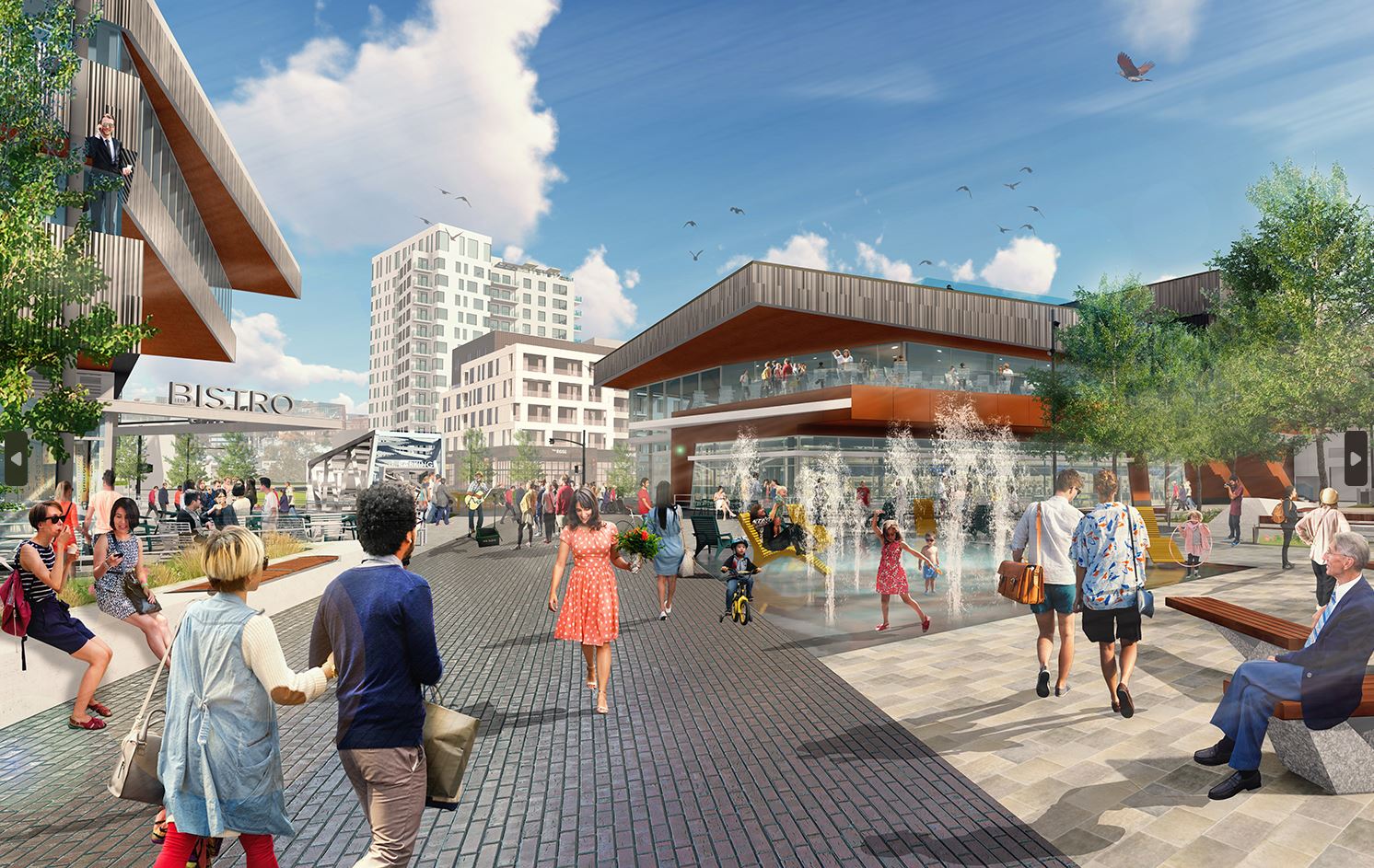 #1 – Excellent selection of multi-family properties
Condos and townhomes are the name of the game in the University District. As a potential buyer, you have a huge selection of builders, floor plans and price ranges to choose from, making the buying experience as exciting as it gets.
While developments like The Ivy Townhomes and Noble Condominiums are already built and on the market, a handful of others are still under construction. Here's a quick list of all University District Calgary condos and townhomes in the north phase of development:
Noble Condos & Townhomes by Truman
Esquire Condos by Truman
Maple Condos by Truman
Capella Condos by Brookfield Residential
Ivy Townhomes by Brookfield Residential
Argyle Condos by AVI Urban
August Condos by AVI Urban (rentals)
Gramercy Condos by Gracorp Properties (rentals)
The Forge Condos by Gracorp Properties (rentals)
#2 – Includes a retail district
Say what!? Living in the University District you'll have quick-and-easy access to several restaurants, shops and services found within the central retail district.
A cup of your favourite coffee, groceries to make dinner and medicine at the pharmacy will all be just a few blocks, if not less, from your home in the University District.
These are but just a few examples of the benefits of owning in the UD. The master-planned community will have four phases of retail developed, including:
Phase 1: Food, Professional Services – Amenities
Phase 2: Entertainment & Lifestyle – Shopping
Phase 3: Home Fashion – Shopping
Phase 4: Merchandising – Convenience
Phase one and two are underway, with phase three and four coming soon in addition to the new south section!
#3 – Close-to-everything location
University students will love that it takes just a few minutes to walk to class, while also having convenient access to public transportation via 32nd Avenue and Brentwood Station.
Young professionals will love that it takes less than 10 minutes to drive downtown to work, and that parking spots at Brentwood are just a minute away for C-Train passengers.
Retired empty nesters will love the convenience of the retail district and inner city location that puts them just a short walk away from the Bow River, and even a shorter drive.
Everyone will love having "across the street" access to Market Mall, home to countless shops, restaurants and services where you'll find hundreds of businesses.
Let's not forget that Calgary's University District is also situated at the confluence of Shaganappi Trail and the Trans Canada Highway, providing residents with convenient access to the mountains.
What isn't there to love about the UD?
University District Calgary Real Estate Agents

Interested in a condo or townhome at the University District in Calgary? Thinking about selling your current unit in this highly sought-after neighbourhood? As top-producing agents with RE/MAX House of Real Estate, we have helped our clients buy and sell multi-family properties across the city since 2004 and would love the opportunity to help you accomplish your real estate goals!
Contact Cody & Jordan anytime at 403-370-4008 if you have questions or would like us to set up a showing for you! Get a Free Property Evaluation for your University District home in northwest Calgary today!
We are looking forward to helping you accomplish your real estate goals!
Return to Calgary Home Search
University District Calgary Condos & Townhomes for Sale

Prev

Next