Homes for Sale in Homestead, Calgary
Why Buy Homestead Real Estate?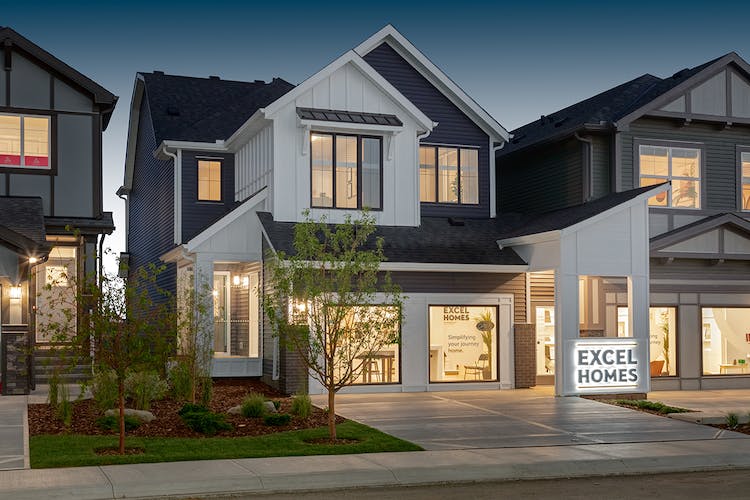 Front-Garage Home
1. Variety of Housing Options: Homestead homes for sale come in a wide range of styles designed to suit a variety of lifestyles and budgets. From townhomes with no condo fees to spacious front-garage homes, the community has an offering for first-time buyers, downsizers, mover-uppers, and multi-generational families.
2. Emphasis on Community & Connectivity: Another appealing aspect of Homestead real estate in Calgary is that the community thrives on promoting connectivity among residents. The planned amenities aim to inspire connections with nature, neighbours, and families, fostering a tight-knit, family-oriented community spirit.
3. Plentiful Outdoor Recreation: Homestead is designed to maximize outdoor recreation and leisure opportunities amid the beautiful outdoor landscapes inherent to the community. It boasts a 19-acre environmental wetland, four kilometers of interconnecting pathways, sports fields, and a potential community garden site. It is also planning a cricket pitch, catering to a diverse range of recreational interests.
4. In-Community Amenities: Set to begin construction soon, Homestead Landing will offer residents an array of conveniences right within the community. The four-acre commercial shopping site will feature food and dining options, a grocery store, childcare facility, medical centre, fitness centre and much more, making everyday living easy and convenient.
5. Convenient Accessibility: With direct access to Stoney Trail, Calgary's ring road, Homestead homes for sale in Calgary offer convenient accessibility to the rest of the city. Additionally, the East Hills Shopping Centre is located a few minutes to the south, where you'll find major stores like Walmart, Marshalls, SportChek, Staples, Costco and a Cineplex movie theatre to name a few.
Homestead Housing Market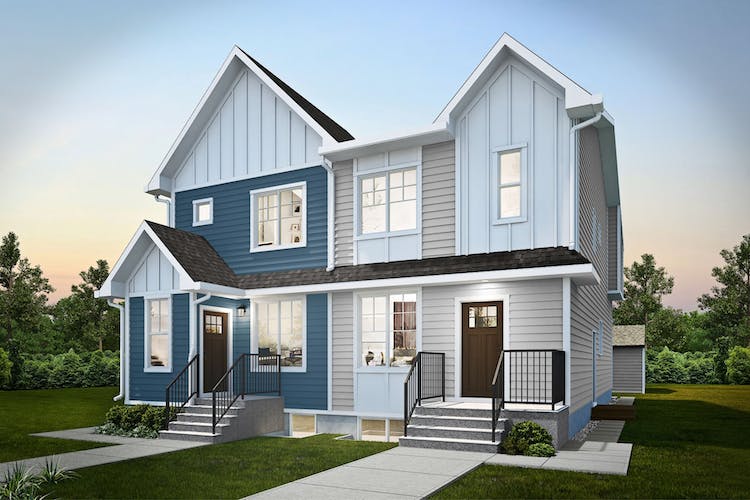 Duplex Home
Whether you're a first-time homebuyer or looking to upgrade your living situation, Homestead ensures an ideal abode for everyone. Homes for sale in Homestead are comprehensively versatile, designed to cater to a myriad of tastes, preferences, and price points.
The community offers townhomes for those seeking a low-maintenance lifestyle and laned homes offering greater privacy and space. For larger families, Homestead features several options for front garage homes.
Homestead properties for sale are being built by an impressive list of some of Calgary's finest builders including Excel Homes, Genesis Builders, Trico Homes and Partners Development Group. Each possesses unique traits and characteristics while offering a broad range of products for potential buyers. Each property built - whether it's a townhome, laned home or front garage home - upholds the highest standards of craftsmanship and sustainability, contributing significantly to Homestead's ethos of community, connectivity, and convenience.
Homestead Location & Amenities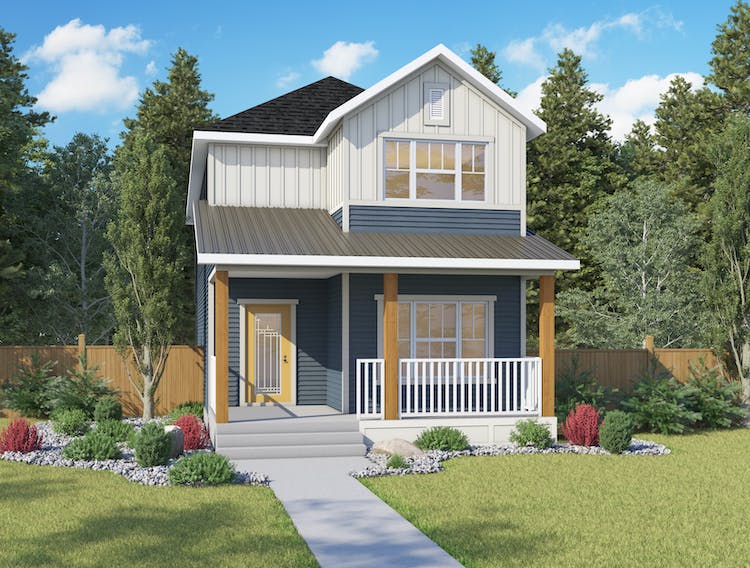 Laned Home
Amenities are easily accessible when living in this community, with direct routes to supermarkets, recreation centres, LRT stations, and other critical services just a stone's throw away. The future Homestead Landing, a four-acre neighbourhood commercial shopping site, is set to offer an assortment of services from dining options to fitness centres and more.
Within the confines of the community, residents will not be short of recreational opportunities. Homestead hosts an inclusive array of outdoor activities with playgrounds planned for development, sports fields, and an anticipated cricket pitch.
For those preferring a more serene experience, the 19-acre environmental wetland and four kilometers of interconnected pathways set the stage for idyllic walks under the expansive prairie skies, enhancing the living experience and appeal of Homestead real estate in Calgary.
A significant emphasis is placed on education and children's growth in this community with a provision for two future school sites. Furthermore, the community association area is set to expand to three acres, promoting social get-togethers and a sense of togetherness among the residents.
Key amenities within Homestead include:
Direct access to major outlets like grocery stores, recreation centres, LRT stations
Future dining options and fitness centres in Homestead Landing
Outdoor sport facilities including a cricket pitch and soccer fields
4 kilometres of walking trails
19-acre environmental wetland
Future construction of two school sites
3-acre Community Association area
Four future playgrounds, each 1 acre in size
In-community commercial shopping centre planned
Homestead Designated Schools
The following are the designated schools confirmed by the Calgary Board of Education (CBE) and Calgary Catholic School District (CCSD) for Homestead students.
Guy Weadick School – Regular (K-6)
Gordon Higgins School – Regular (7-9)
Forest Lawn High School – Regular (10-12), Advanced Placement (10-12)
Our Lady of Fatima – Elementary
Light of Christ – Junior High
Bishop McNally – Senior High
For more information on designated schools, please see the following:
Homestead Real Estate Agents

Are you thinking about buying a home for sale in Homestead, Calgary? Perhaps you're wondering if now is a good time to sell your property in the community? Our team of RE/MAX agents and Realtors® in Calgary have years of experience helping people buy and sell Northeast real estate and would love to put their knowledge and skillset to work for you!
Contact Cody and the Calgaryism team anytime at 403-519-0495 if you have questions about current listings on the MLS® or would like us to set up a showing for you! Get a 100% Free Property Valuation for your Homestead property in Calgary today!
We are looking forward to helping you accomplish your real estate goals!
Return to Northeast Calgary Real Estate
Homestead Calgary Homes for Sale

Prev

Next