5 Crucial Steps for Buying a New Construction Home
June 10, 2016
By Cody Battershill
5 Crucial Steps to Take When Buying a New Calgary Home
Buying a new construction home is somewhat different than buying resale. For starters, since it's new and there is no previous owner, you don't have to deal with a seller who may have an emotional tie to the property, which could have its influence on the price negotiation process.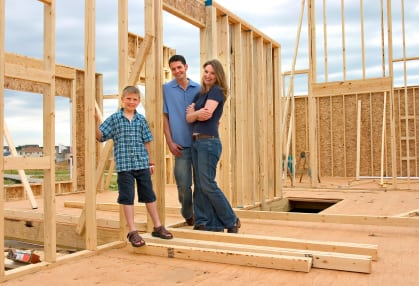 You will only be working with the builder regardless of whether you're buying a quick possession or building from the ground up.
With that in mind, you will definitely want to figure out your budget and get a mortgage pre-approval from a lender to determine what price range to begin your home search in.
Considering additional costs for things like upgrades, insurance, property taxes, furniture, landscaping and maintenance are also a key part of making sure you're ready to commit. Once your finances are secure, you're ready to move onto the first step.
Step #1 - Considering the pros & cons
Buying a new home is exciting to say the least. From that new home smell to the shiny and untouched interior, there's a lot to be excited about - including building your assets as a home owner. See more at Buying a New Calgary Home - Pros & Cons today.
But before you get all caught up with the idea of living in a new construction home, you'll want to weigh out some of the pros and cons of doing so.
Here are some questions to ask yourself, especially if you are buying an already built home or are working with the builder on developing a semi-custom one to your liking:
Q - Since new construction homes are found mostly in suburban neighbourhoods, will you be okay with longer commuting times to downtown and other parts of the city?

Q - Is the cookie-cutter nature of the new community development you're considering okay, or do you want something more unique and in a different location – like an infill, for example?

Q - Are you patient enough to put up with construction in your immediate and surrounding areas (if any) and the noise / traffic / mess that comes with?

Q - Would you be willing to wait for future in-community amenities to be built and don't mind driving to the nearest shopping centres?
Step #2 - Researching communities & builders
When buying a new home in a new community, consider working with a real estate agent who is familiar with the neighbourhood, can set up home viewings and help guide you through the closing process. With that in mind, it's important to remember these two things:
1 - The home builders' sales representative work for the builder and not for you. Having a third-party representative buyers' agent there with you is a good way to look out for your best interests and help you make the most informed decisions.

2 - If you do choose to use a real estate agent, remember that they must accompany you on your first visit to any builder office or showhome; if he / she does not, they won't be eligible to receive the commission if you end up buying a home from that particular builder.
When researching communities:
Look on the internet for new construction home listings

Get a feel for the neighbourhood by walking around and talking to any homeowners you see

Drive around the neighbourhood and see what amenities there are

Visit model homes and take notes on things you like / don't like. Also take photographs to refresh your memory at any moment

Ask the builder about potential homeowners' association fees and rules (HOA) and see if they fit in with your wants, needs and lifestyle - some can be pretty expensive… and strict!

Find out what the zoning laws are in the neighbourhood

Visit the city planner's office and see what developments (if any) are planned in the area that could increase / decrease desirability and resale potential

Also ask your real estate agent about any potential developments and future plans for the area
Also see our New Calgary Home Buyers Guide to Choosing a Community for more tips on choosing the right neighbourhood for you.
When researching builders:
Check out the Better Business Bureau website for any filed complaints against the builder's company

Ask your real estate agent about the builders reputation within the community

Visit previously constructed homes by the builder if possible and ask the owners if the product is quality and if they would recommend it

Search google and other online databases for any home owner reviews that you can find
Also see these 21 Questions to Ask Your New Calgary Home Builder that will help you make the absolute best and most informed decision.
Step #3 – Finding out what's included and what's not
After finding a builder and neighbourhood, the next step is to find out what is included and what isn't. Most model homes you see will have upgrade packages on display which are features or items you will have to pay extra for to be included in your home.
Ask the builder representative for a feature sheet that describes what comes with the base price of the home. Then, after reading these details carefully, begin comparing feature to feature inside the model home to determine what is and isn't standard.
If you aren't sure, make sure to ask the builder specific questions and take notes if need be. There really are no dumb questions when browsing new homes – it could very well be one of the largest purchases you'll ever make!
Some important things to consider:
Determine what upgrades you need versus those that you want and go for the ones that you must have first

Examine upgrade options for rooms you will spend the most time in. For example, if you're a gourmet cook and the showroom model stove doesn't have enough cook tops, consider buying the upgrade

Try to make any upgrade choices early on in the process as every change will cost you dollars later on

Always ask your buyers' agent to negotiate upgrades for free or at a reduced price from the home builder – remember, they want your business!
Step #4 – Getting a professional home inspection
Just because a new home is new doesn't mean that it's perfect. Often new homes are built and have structural or other types of flaws, which you should be aware of before signing anything whatsoever.
Once you decide on a new home from a particular builder, make it part of your sales contract to have the deal contingent on a final home inspection by a professional of your choice.
If anything is discovered arrangements can be made to repair the problem before moving in and having to deal with it through warranty.
This is a stress that any new home owner doesn't want, especially after just moving in. Why is a Home Inspection as Important as it Gets?
Step #5 – Signing on the dotted line
In order to close the deal you obviously must have your mortgage sorted and finances secured. Most industry professionals, like real estate agents and builder representatives, will refer you to a mortgage specialist or other lending institution as a courtesy.
It's never a bad idea to see the different interest rates and types of mortgages available to you when buying a new home.
Learn as much as possible about the entire mortgage process by asking questions and reading everything you can about it. That way you'll be informed and able to make the best decisions for your future.
If the legal process of buying a new home makes you uncomfortable, consider hiring an attorney, or if you are using a real estate agent, rely on their expertise to help guide you through it all. Also see these 5 Essential tips for New Calgary Home Buyers today.
Questions about New Homes in Calgary?

As a top-producing REMAX real estate agent in Canada with over a decade of experience, I promise to provide you with only the best service and representation when buying a new home in Calgary.
Call me anytime at 403-370-4180 or message me below for a prompt response. I am looking forward to helping you accomplish your real estate plans!

[gravityform id="35" title="false" description="false"]