Best Breakfast in Calgary – Favourite Breakfast Eats
November 20, 2012
By Cody Battershill
Best Breakfast in Calgary - Things to Eat in Calgary
Thanks for stopping by and reading my blog! I am delighted to share with you some of my favorite breakfast eats in Calgary.
For this episode I will be discussing the most important meal of the day... breakfast, which also happens to be my favourite!
The following are a few specific menu items from some of Calgary's Best Breakfast Spots and brunch spots. I hope you enjoy! Please leave me a message in the comments below or tweet with me @Calgaryism or leave a comment on Facebook!
Breakfast Omelette at Infusion Bragg Creek
Infusion in Bragg Creek has one of the best omelettes I have ever tried! Not only does it catch you off guard with a sweet and savoury taste, it also goes down very well and is not greasy at all, unlike some other omelettes!

If you find yourself in Bragg Creek you just have to try Infusion's omelette! For more information be sure to check out the Best Brunch in Bragg Creek at Infusion!
French Toast at Vendome Cafe
The French toast at Vendome Café is absolutely amazing and probably my favourite I've ever had. If you haven't tried it you are absolutely missing out and I would encourage you to run there and eat it now.

Luckily they serve it all day so it's always available! Vendome also has a great selection of coffee and is a neat location in Sunnyside which is a part of the Kensington area.
Brunch Plate at Laurier Lounge
Head over to Laurier Lounge in the Calgary beltline to try the brunch plate. It's a perfect taste of French cooking/French cuisine/French inspired food.

The sweet and savory foods  compliment each other very well and are delicious... you have to go and check out the brunch plate at Laurier lounge!
Omelette at Galaxie and Belmont Diner
Belmont Diner and Galaxy Diner both are owned by the same family.

Surprisingly every single omelette I've ever had at either restaurant regardless of who the cook is has been consistently the best omelette you can ever eat. It's filling and tasty and made well...simply the best there is.
Traditional Breakfast at Kaynes
Head down to Kaynes motorcycle diner in Inglewood for a traditional breakfast. Great people, great value, great food that is perfect for hungry appetite at a terrific value.
Eggs Benedict and More at Holy Grill
The Calgaryism eggs Benedict at the Holy Grill along with the bacon avocado crisp sandwich and the sausage nic-muffin all three deserve their own paragraphs but for the sake of keeping this short go there try them all!

Ask the guys to make the Benedict "Calgaryism" style. Seriously you cannot miss it!!

This is one of my favourite breakfast restaurants in Connaught. You just have to try the Holy Grill. It's that good!
Crepes and More at Pfanntastic Pannenkoek Haus
Stop off at the Pffantastic Pancake House just off of Crowchild and 54th Ave. SW. This place looks unassuming from the exterior but inside you'll find the city's best dutch crepe style pancakes and dutch cooking there is.

It's been around for a long time and is always very busy. My favorite Nutella coconut and banana pancake/crêpe is a must try! Read more at Calgary Hidden Gems - Pfanntastic Pannenkoek Haus.
Breakfast and Brunch Buffet at Thomsons
If you require fresh, delicious food and have a serious appetite you want to get downtown to the Hyatt Hotel to visit Thomsons Restaurant.

The Monday to Sunday every day of the week breakfast buffet is my favorite and is the best in Calgary. It's a great value for the quality of the food considering the variety of options.

My favorite would be the fresh omelettes, eggs Benedict, French toast, waffles, pancakes, cinnamon buns, the amazing cereals and juices. You name it they've got it all. Check out Thomson's Restaurant today!
 Everything at OEB Breakfast
Heading over to Edmonton Trail you cannot cannot miss over easy breakfast otherwise known as OEB Breakfast.

Simply delicious check out the soul in a box. There's honestly just too many good things to eat here so try it all. It is located on Edmonton Trail just past Diner Deluxe.

A neat ambiance and good service also contribute to this restaurants popular following. Check it out, you wont be disappointed.
Best Breakfast in Calgary - Favourite Breakfast Eats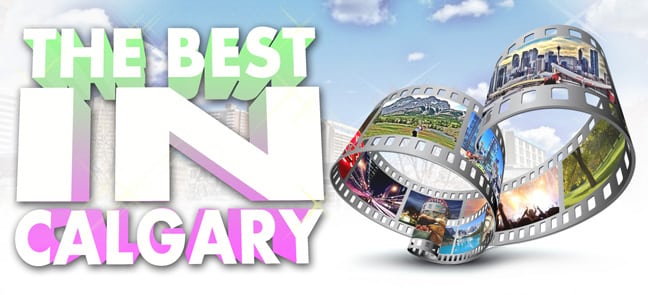 Well there you have it! If you have any favourite breakfast eats in Calgary please leave a comment and let us know what they are!
Also, check back soon for more of this and many other wonderful stories about this awesome city. If you find your appetite gets the better of you in the meantime, check out our Best Calgary Eggs Benedict for even more appetizing breakfast in Calgary!