Best Calgary Food Under $10
August 15, 2013
By Cody Battershill
Best Calgary Food Under $10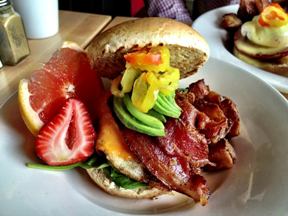 Eating out all the time gets very expensive to say the least. Before you know it there goes $20 here, another $20 there and maybe even another $30 on top of that and you can't help but wonder where there's great food in Calgary for under $10?
The next time you're looking for great eats at an affordable cost, or just want some satisfying food, definitely check out one (or all) of these top Calgary restaurants where you can eat a delectable meal for around $10 or less!
Holy Grill
Address – 827 10th Avenue SW
Phone Number – 403-269-4659

One of my long standing favourite restaurants in Calgary is the Holy Grill. The family run restaurant cooks outstanding food every time and for a very affordable price.

If you like avocado, bacon and banana peppers you should definitely try the Calgaryism Eggs Benedict. For lunch, Holy Grill's melt-in-your-mouth burgers for less than $8 will leave your stomach and your pocketbook happy.

Check out our Holy Grill Calgary Restaurant Review for more on food under $10!
Peters Drive In
Address – 219 16th Avenue NE
Phone Number – 403-277-2747

Good old' fashioned Peter's Drive In will never fail us with their quality ingredients and special red sauce smothering every burger.

Choose from over 30 milkshake flavours to combo your cheeseburger and still have some change left over from your $10 bill. Check it out!
C B Drive In
Address – 789 Northmount Drive NW
Phone Number – 403-282-8188

C B Drive In is another one of Calgary's classic burger joints. It's been around for ages satisfying burger, fries and milkshake cravings for countless Calgarians all for an affordable price.

I recommend the mushroom burger – for $4.75 it's hard to beat covered in gravy, mushrooms and melted Swiss cheese. Wash it down with one of several milkshake flavours ($4.35) and if you'd like, add a regular fries into the equation for another $2.50. Now the hard part is trying not to get that yummy gravy on your shirt!

See more at our C B Drive Inn Calgary Food Review.
Spolumbo's
Address – 1308 9th Avenue SE
Phone Number – 403-264-6452

Since the beginning Spolumbo's has been blowing people away with their authentic Italian submarines and special deli foods.

One of my favourites, the Italian Turkey Sub, is a must try with its Italian spread, fresh lettuce, tomatoes and quality turkey slices. All sandwiches come with juicy pickles, If I was you I'd ask for extras because they are just that good!
Peppino
Address – 101 – 1240 Kensington Road NW
Phone Number – 403-283-5350

It's hard to resist going to Peppino for an affordable lunch around $10 when you're in the Kensington area. It's also hard to walk out of Peppino without grabbing one of their prepared gourmet lasagna's or cannelloni for later…

Like beef? Try the meatball sub, for chicken go with the Pollo al Pesto or for an assortment of Italian cold cuts go for the Vesuvious; regardless of which one you choose your in good hands with Joe and the family at Peppino!

Find out more about this awesome Italian deli at our Peppino Calgary Restaurant Review.
Gabz
Address – 6120 2nd Street SE
Phone Number – 403-259-2559

Located in a warehouse district by Blackfoot and Glenmore Trail, Gabz is a go to place for many workers in the area. Food here is beyond what you'd expect. It's almost as if you've walked into your grandma's kitchen and she has a selection of homemade meals for you to choose from. We all know that grandma's kitchen is food heaven!

This coffee house has it all; homemade sandwiches, plate of the day, freshly baked goods and a great selection of drinks, I would try them all if you can! It might be an unconventional place to grab a bite to eat, but its well worth the trip. Check it out!
Kim Anh Submarines
Address – 626 17th Avenue SW
Phone Number – 403-228-2380

Every now and then a Vietnamese Sub paired with a lychee pearl and bubble tea hits the spot. Kim Anh is one of the best spots in Calgary for this deadly combo.

I switched over to Kim Anh from Thai Tai (across the street) years ago and have never gone back. These Viet submarines are the best of the best! Try the beef sate sub with extra beef, or go for the lemongrass chicken - both will blow your socks off!
Cibo Happy Hour
Address – 1012 17th Avenue SW
Phone Number – 403-984-4755

Happy Hour at Cibo on 17th Avenue SW is something everybody should know about.

Indulge in Cibo's gourmet pizzas save a few toppings for only $5, draft beers for $4 and a 5oz. glass of wine for $5 from 3 to 5pm Monday to Friday. It's an unbeatable deal at one of Calgary's finest Italian restaurants.

Read more about this amazing offer at Cibo Calgary Happy Hour.
Lazy Loaf and Kettle
Address – 8 Parkdale Crescent NW
Phone Number – 403-270-7810

This café and eatery has some of the best bread in town. One good way to sink your jaws into some of this amazing bread is to order either the 3 egg omelette or eggs Benedict (before 2:00pm). Both are just over $10 and come with two slices of the freshest, tastiest bread you'll ever eat!

Lazy Loaf and Kettle also offers a variety of baked goods and desserts great for taking home and savouring later on. Find out more at our Lazy Loaf and Kettle Calgary Restaurant Review.
Angel's Cappuccino & Ice Cream
Address – 4105 Montgomery View NW
Phone Number – 403-288-8612

Located on the Bow River pathway system at Point McKay, Angel's Cappuccino & Ice Cream is a great place for river users to stop and grab some drink and food under $10. For those who are gluten sensitive, Angel's offers a variety of gluten-free options too!

Behind the café is an outside seating area where you'll find several sofas and chairs all covered by tents – it's a relaxing atmosphere to enjoy a home-made grilled cheese and ice cream cone with the family at the beginning, middle or end of your river pathway trip.

Find out more at Calgary Hidden Gems – Angel's Cappuccino and Ice Cream today!
Mucho Burrito
You can never go wrong with a burrito or quesadilla from any Mucho Burrito location in Calgary.

Choose between fish, pork, chicken, beef, steak or vegetarian then move onto the toppings - guacamole, sour cream, burrito sauce, hot sauce, mild medium or hot salsa, cilantro, corn, shredded cheese and lettuce and be well on your way to munching on a burrito that tastes like it's from Mexico.

Spoiler warning – be careful of the hot sauce, it's really hot! Read more at our Mucho Burrito Calgary Crowfoot Review.
Golden Bell Saigon
Address – 1112 17th Avenue SW
Phone Number – 403-452-8803

Good Vietnamese restaurants are few and far between here in Calgary. Golden Bell Saigon's consistency has kept me coming back year after year, making it one of the best Calgary pho restaurants around!

If you like spicy, go with the Pho Beef Sate Soup. If you want something else than soup, go with the yellow curry chicken and vegetables on steamed rice – you'll fall in love with this sweet curry, it's unlike anything I've ever tried. See more at our Golden Bell Saigon Calgary Restaurant Review.
Jimmy A&A Mediterranean Deli
Address – 1401 20th Avenue NW
Phone Number - 403-289-1400

You can't go wrong with a beef donair or chicken falafel from Jimmy's on 20th Avenue NW. This place is easily accessible from 14th Street NW and should not be missed if you love this type of food.

Jimmy's also has a full range of Lebanese delicacies ranging from snacks to drinks to desserts.
Clive Burger
Address – 736 17th Avenue SW
Phone Number – 403-229-9224

Burger lovers beware; you might find Clive Burger so tasty and affordable that you'll be hooked for ages.

I recommend getting your hands on some Clive sauce when your there to add some extra kick to their already delicious fries and juicy burgers. Spicy all the way I say! Clive Burger is one of our Top 3 Late Night Eateries in Connaught.
Café Mauro
Address - 999 8th Street SW
Phone Number - 403-277-7572

I thought I fell in love when I first sunk my teeth into the Calabreses Salami on fresh focaccia with provolone cheese, vegetable spread and olive tapenade with added eggplant, artichoke and roasted peppers from Café Mauro.

Oh my, my mouth is watering already just describing it. You have to check out this unassuming Italian deli located across from Mountain Equipment Co. on 10th Avenue SW, it has some of the best sandwich food under $10 in Calgary. See more at our Café Mauro Calgary Restaurant Review today!
Saving Doesn't Mean Starving!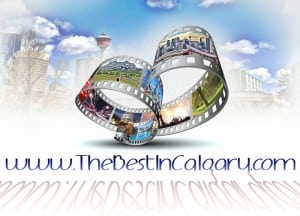 Calgary is filled with tons of food and drink establishments that offer a whole lotta punch for less than $10.
The next time you're out and about and want to save a buck, or perhaps are just curious and want to try some great food, check out any one of these places where you'll find food under $10 that will keep you coming back for more every time!
What are your favourite places to eat in Calgary for under $10? Leave us a comment below and let us know. Until next time, be sure to check out some more of the best in Calgary!
For more great local food, activities, events, news and more, be sure to check out Calgaryism on Instagram, Facebook, and Twitter. See you there!