Best Calgary Gluten Free Restaurants
Those who are sensitive or intolerant of gluten may have many questions when it comes to choosing where to eat out, especially when it's never a guarantee there will be a menu with gluten-free alternatives.
As a growing number of people in today's population are becoming aware of their own sensitivities to the ingredient, many Calgary restaurants are taking initiative in creating gluten-free options for those of us who need it, or who simply try to avoid the substance all together. Finally!
Whether you are looking for breakfast, lunch or dinner, find it at these best Calgary gluten free restaurants!
Dairy Lane Café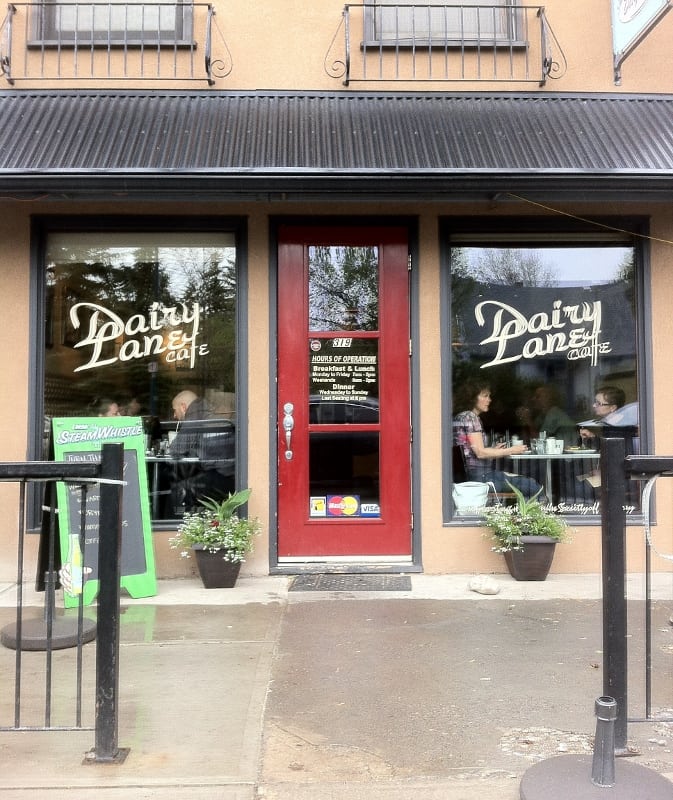 Tucked away in a nifty little strip mall on 19th Street NW is the Dairy Lane Café. This hidden gem offers a fully-fledged gluten free menu for all hours of the day making it one of the best gluten free restaurants in Calgary.
Dairy Lane Café offers a variant for a majority of their menu items which is great because their entrees are just so good, especially their breakfast eggs benedict's! Try the avocado and roasted red pepper benny with added back bacon…mmmmm! Find out more at our Dairy Lane Calgary Restaurant Review!

Address – 319 19th Street NW, Calgary, AB

Phone Number – 403-283-2497
Redwater Grille
Redwater Grille has multiple locations around Calgary including Macleod Trail, Aspen Estates, Bow Valley, and McMahon Stadium / Foothills Hospital, making it a convenient restaurant for gluten free dining. Skip traveling to the other end of the city, like you have to do sometimes to get cuisine without the ingredient and head to the Redwater Grille closest to you!
Almost 90 percent of its menu is available without gluten, but one dish that stands out is the chicken pappardelle – mushrooms, bacon, roasted red pepper, asparagus, green peas and parmesan cream with chicken, definitely a must try if you are an pasta lover!

Address – 9223 Macleod Trail South, Calgary, AB

Phone Number – 403-253-4266
Una Pizza + Wine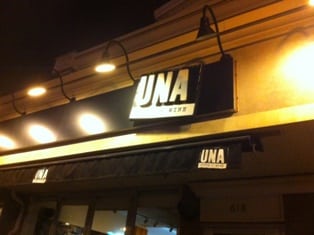 Have you ever wanted to satisfy your late night cravings, but can't find a gluten free restaurant in Calgary to do so? Well, Una is it!! Found on Uptown 17th Avenue in between 5th and 6th Street SW, Una is a very popular and trendy pizza joint serving specialty wines and other various tapas style food. Inside you will find a very sophisticated, lounge type atmosphere great for parties of two, all the way up to the double digits.
While Una Pizza + Wine don't have a specific gluten free menu, most of their appetizers don't have the ingredient to begin with and for $3 they offer their gourmet pizzas, which are absolutely delicious, with gluten free crust. Una is one of the most convenient restaurants to eat at as well, considering it is open from 11:00am to 1:00am daily. Read more at our Una Calgary Restaurant Review.

Address – 618 17th Avenue SW, Calgary, AB

Phone Number – 403-453-1183
Blue Star Diner
Found in the inner city community of Bridgeland is the very popular and upbeat Blue Star Diner. This restaurant offers an all-inclusive gluten free menu for all hours of the day, making it one of the best Calgary gluten free restaurants around.
Almost every menu item has an alternative for those sensitive to the ingredient, which is great because you still get to experience almost the entire menu. I recommend trying the Fruit Yogurt & Granola, this dish is packed to the max with much needed fibre and is delicious, better than my grandma's oatmeal! For lunch, I prefer the Alberta Honey & Dijon Chicken Burger, although all of their gluten free options are delishh! Learn more at our Blue Star Diner Calgary Restaurant Review.

Address – 809 1st Avenue NE, Calgary, AB

Phone Number – 403-261-9998
CRAFT Beer Market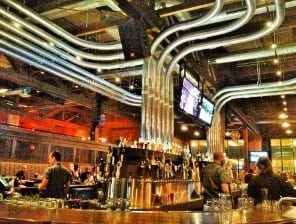 Have you ever felt like having some drinks and food with your friends, but feel somewhat limited by your no-gluten diet? Not to worry, Craft Beer Market offers gluten free beer and alternatives to their regular pasta and pizza dishes.
Craft Beer Market is an upbeat restaurant / pub great for social events. Apart from their alternative dining options, they also have a number of appetizers and salads (of course) without the ingredient to begin with. Definitely one of the few Calgary gluten free restaurants offering no-gluten draught! Check it out!

Address – 345 10th Avenue SW, Calgary, AB

Phone Number – 403-514-2337
Vero Bistro Moderne
Vero Bistro Moderne is an Italian restaurant found in the well known shopping district of Kensington, offering a majority of its lunch and dinner menu's with a gluten free option, or that come without the ingredient to begin with.
Vero's interior combines sleek finishing's and spacious seating with a colour palette focused around red, making it a very romantic restaurant in Calgary to enjoy gluten free meals. Experience Vero Bistro Moderne with your significant other today!

Address – 209 10th Street NW, Calgary, AB

Phone Number – 403-283-8988
Open Sesame
If you like Asian cuisine, then Open Sesame is one Calgary restaurant offering gluten free options you'll definitely want to try! Just make sure you notify your server about your sensitivity and they will be more than happy to accommodate you!
Open Sesame's Asian Market menu item is why I keep coming back for more. Choose from a variety of gluten free rice / noodles such as vermicelli noodles and brown rice for your base, then choose a meat from a list of seven and be well on your way!
Next, you are given a medium sized bowl and ticket, then have the task of filling it with all your favourite vegetables, spices and sauces located at a buffet in the middle of the restaurant. There are a few sauces with gluten, so just ask your server which ones they are! After you are done packing it to the max, present it to the kitchen chef with your ticket and whallah!… in less than 10 minutes its brought to you, all cooked and ready to devour.
Open Sesame also offers other menu items without the ingredient. Learn more at our Open Sesame Calgary Restaurant Review.

Address – 6290 Macleod Trail S, Calgary, AB

Phone Number – 403-259-0123
Ed's Restaurant
Ed's Restaurant is a neat little establishment found on Uptown 17th Avenue, on the corner 1st Street SE, across the street from the Elbow River Casino. It is hard to miss, just look for the yellow and green house! Don't let the exterior fool you, Ed's Restaurant have a well up-kept interior and is great for parties of all sizes!
This Calgary restaurant offers delicious pub style food, with several gluten free options clearly highlighted on their menu including salads, chicken, fish and steak, pizza crusts and appetizers. Newly introduced to their gluten free options are burger buns, I highly recommend trying either one of their mushroom burgers, mozza or cheddar… they are SOO good! Ed's is definitely one of the best Calgary gluten free restaurants, pub style!

Address – 202 17th Avenue SE, Calgary, AB

Phone Number – 403-262-3500
Alloy
While Alloy has a very peculiar location, beside the railroad on 42nd Avenue SW off of Macleod Trail S, its elegant atmosphere and exceptional food, most of which can be made gluten free, makes it well worth a visit.
This Calgary restaurant delivers quality food and service every time. The fact that the kitchen can make almost any menu item without gluten lets everyone experience the fine tastes at Alloy, without hesitation! I highly recommend the lamb shank… you know, the kind that melts in your mouth! Learn more about this top notch restaurant at our Alloy Calgary Restaurant Review.

Address – 220 42nd Avenue SE, Calgary, AB

Phone Number – 403-287-9255
Best Gluten Free Restaurants in Calgary…
There you have it, some of our best Calgary gluten free restaurants! Please feel free to leave us a comment below and let us know what your favourite gluten-alternative restaurant is in Calgary!
Before you go, be sure to check out our Best in Calgary category for more of everything Calgary! Thanks for stopping by, and hope to have you back soon!