Best Calgary Parks – River Park
June 30, 2015
By Cody Battershill
River Park - Panoramic Views, Off-Leash Zone, Riverside Fun
Calgary's abundance of green spaces and interconnecting pathways found all over the city is an attribute that many YYC residents have come to love and enjoy.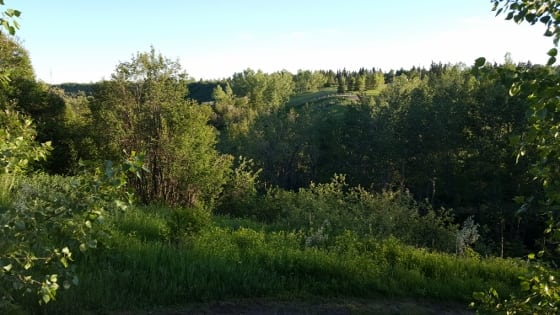 River Park, located adjacent to the southwest community of Altadore, is a prime example of how much YYC's parks have to offer us all in terms of leisure and recreation.

Here's the scoop on one of the latest parks I've had the opportunity to enjoy this summer and why it is one of the best Calgary parks around.
Quick Facts
Location: 4500 14A Street SW

Features: designated off-leash area, dog water fountain
Location
[mappress mapid="201"]
It's easy to get River Park mixed up with its close-by neighbours of Riverdale Park, Sandy Beach Park and Altadore Park because heading through one of these areas usually means you'll end up using another as well.

Our little trip started on 14A Street heading east, where we traversed down into thick forest, often having to duck as we walked although the man-made steps made it easy to do.

We then came down to a rocky beach with a newly-built bridge and noticed a few families had set-up for some barbecue fun at the nearby shaded picnic areas about 20 metres from the river. While the kids were playing and getting dirty in the river, the parents were chit-chatting and cooking up some lovely smelling BBQ food.
We then hopped across the river into Riverdale Park where there was a massive fenced off-leash area for dogs. Riverdale Park is more of an open area with just as lush and beautiful scenery as what we had seen so far.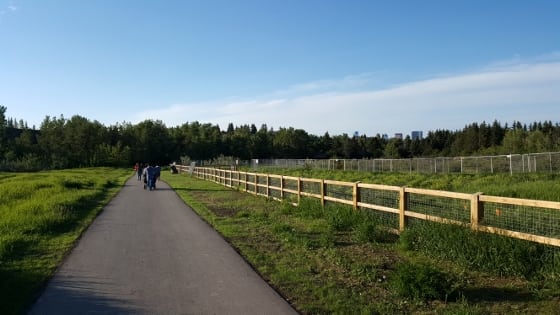 Heading north for a little while we reached another new bridge and crossed it, bringing us back on the west side of the river and onto Sifton Blvd. We headed south and up Crestview Rd. where there's a pathway that leads back down to the River Park plateau.
After making our way back to River Park, we noticed the unobstructed panoramic views to the west while a number of pathways led back down to the river area in case we weren't finished with the walk just yet.
River Park's wide-open plateau space makes a great spot for dogs to play fetch and people to play games like catch, frisbee and even soccer. Be prepared to stop and say hi to several very cute and friendly dogs as you make your way through the park.

For those who are looking for a good cardio workout outdoors, River Park's varying elevations and connectivity to a handful of other parks makes it a great place for a challenging jog, bike ride or any other activity that will get those calories burning.

As one of the best parks in Calgary, I highly recommend making a trip out to this park for whatever it is you enjoy. You can easily spend an hour to two or maybe even a whole afternoon relaxing while having a blast with family and friends at River Park!
More Recreation & Leisure
I Love Calgary
Do you love Calgary as much as I do? If so, I invite you to join myself and tens of thousands of other locals at Calgaryism on Facebook, Instagram and Twitter today. Share your photos, thoughts and stay connected with community events, activities and much more… we hope to see you there!