Best Calgary Recreation Indoors
December 9, 2012
By Cody Battershill
Best Calgary Recreation Indoors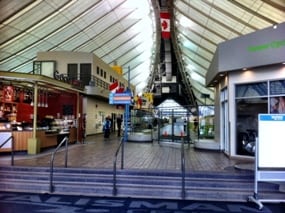 Random is one word to describe the ever changing climate of Calgary.
How about the heavy snow fall we had in June a few years back that knocked out the power grid for certain areas of the city or the crazy plus zero temperature days we experience in the middle of winter?
You never know when the weather will impede you from enjoying the spoils of the beautiful outdoor recreational and leisure areas we have in Calgary.
On the other hand you might be an avid gym goer as is. No matter what the reason is for heading indoors, find the some of the best Calgary recreation there is at these indoor recreational facilities.
Talisman Centre
It doesn't get much better than the Talisman Centre when it comes to inner city indoor recreation. Sure, the downtown office building gyms are great, but for an ultimate variety of facilities and equipment the Talisman Centre is where you want to go. Find these and more at the Talisman...
2 Olympic size swimming pools with 16 lanes in total
4 Olympic diving platforms starting at 3m, ending at 10m over top a full sized dive tank
Hot tub
Kiddie pool
Unisex steam room
5 gymnasiums
Huge fitness centre with the latest and greatest weight and cardio equipment
A full ring 200m track with multiple lanes
Talisman Centre has an amazing facility to be put to use by all age groups. Also find dozens of fitness activities and programs such as personal training, swimming lessons, aerobics and others of the sort.
Address - 2225 Macleod Trail S, Calgary, AB
Phone Number – 403-233-8393
Cardel Place
Cardel Place is a fantastic facility located on the far west brim of the northeast quadrant close to the likes of Evanston, Panorama and Coventry Hills. Cardel Place is a fantastic facility with lots to offer all age groups. Highlights include...
Large Calgary Public Library
2 25m swimming lanes
Kiddie pool
Large hot tub
Lazy River
Unisex steam room
2 NHL sized hockey arenas
2 Gymnasiums
Infant and child daycare services for parents using the facilities
30 foot rock climbing wall and a 9 foot bouldering section
Large two level fitness facilities equipped to the max with only the best equipment
Cardel Place is a great facility for all age groups. Find multiple programs from karate classes to shinny and public skate times for all ages at Cardel Place.
Address – 11950 Country Village Link NE, Calgary, AB
Phone Number – 403-532-1013
Southland Leisure Centre
Southland Leisure Centre is another place to find some of the best Calgary recreation indoors around. This world class facility is located in the heart of the southwest close to the communities of Pump Hill, Bayview and Palliser. There is tons of recreational fun at Southland Leisure Centre including...
3 slide wave pool great for the whole family
Large hot tub
Twin hockey arenas
Weight and cardio rooms equipped to the max with everything you need
Sport and gymnastics gymnasiums
Rock climbing wall
Infant and child daycare services while you get your sweat on
and more!
Southland Leisure Centre is a hit for younger children. Growing up I absolutely loved going to the wave pool for some fun even though we lived in the far northwest of Calgary! The facility also coordinates many activities in conjunction with the nearby Glenmore Reservoir during spring and summer. Don't miss this best Calgary recreational centre!
Address - 2000 Southland Drive SW, Calgary, AB
Phone Number – 403-648-6555
Village Square Leisure Centre
Find some of the best Calgary recreation indoors at the Village Square Leisure Centre. This multifaceted facility is another city wide attraction because of its fantastic water park and wave pool, home to the one and only "Thunder Run". What else makes Village Square so fantastic?...
An African themed water park with neat towers and water turrets.... super fun!
Huge wave pool
Large hot tub
Dive tank
Unisex steam room
Babysitting services so you can work out without sweating the kids
Dance studio
Full sized sports gymnasium
Updated fitness room with all your weight and cardio needs
Twin hockey arenas
Find the best Calgary recreation in the northeast part of town at Village Square Leisure Centre. The facility has a number of programs for all ages, including a Friday night youth night for young teens looking to have some action packed fun!
Address - 2623 56th Street NE, Calgary, AB
Phone Number - 403-366-3900
Westside Recreation Centre
Westside offers some of the best Calgary recreation indoors on the "west side" of town close to the likes of Aspen Woods, Wentworth and Castle Keep. Like the other best recreational facilities, Westside has everything you need for an active lifestyle, plus a few unique features of its own. Find these and more at Westside...
Outdoor skate park and basketball courts
Swimming pool with swimming lanes and kiddie area
Hot tub
Steam room
Rock climbing wall
Leisure ice area as well as a hockey arena
Fitness centre with the latest weight lifting and cardio exercise equipment
Infant and child daycare services
Westside has a number of activities and programs available for all ages as well, including a unique homework help room for students all ages!
Address - 2000 69th Street SW, Calgary, AB
Phone Number – 403-531-5875
New Best Recreational Centres
The City of Calgary is currently underway with 4 new recreational centres, one in the northwest and three in the southeast.

A number of factors have been considered by the city to determine where to build them and what features to include in each such as public transportation access, neighbourhood proximity and cultural activities of ethnicity's.

When all is said and done they will surely have some of the best Calgary recreation indoors found in their areas. They are..
Rocky Ridge
This new facility will host a mix of cultural, recreational and leisure needs as well as venues for competitive sports such as indoor hockey arenas and gymnasiums. Expect to see physiotherapy and child care services, plus a cafe and more.

There is also the possibility that the Calgary West Soccer Centre will be relocated to the new Rocky Ridge recreation centre. Public transportation will connect via Country Hills Boulevard and from the planned Tuscany Station LRT expansion in the near future.

Projected Completion – 2016 / 2017
11300 Rocky Ridge Road NW, Calgary, AB
Quarry Park
Quarry Park just keeps getting better and better. The new southeast Calgary community is a mixed use development home to a well diversified blend of commercial, retail and residential.

The new Quarry Park recreational centre will provide all the recreational and leisure needs for the area. Expect common competitive sport facilities such a fitness centre, public library, gymnasium and aquatics facility.

108 Quarry Park Road SE, Calgary, AB
Projected Completion – 2015 / 2016
Great Plains
This new recreation centre has a focus on competitive team sports such as hockey, lacrosse, ringette and other sports. Expect top of the line training facilities for a full spectrum of athletes.

5749 76th Avenue SE, Calgary, AB
Projected Completion - 2015
Seton
The new Seton recreational complex is proposed for the Seton Boulevard area. Development of close by residential communities such as the new Calgary Lake communities of Auburn Bay and Mahogany go hand in hand with the new Seton facility as well as other projects like the New VIP Cineplex Odeon Theatre. Expect to see competitive sport facilities such as indoor arenas, gymnasiums, aquatic centre, fitness gyms and more.

18150 56th Street SE, Calgary, AB
Projected Completion – 2017 / 2018
Best Calgary Recreation Indoors
Are there any other facilities you would like to see added to our list of where to find the best Calgary recreation indoors? Leave a comment below and let us know which facilities you like best!
Until next time! For now... be sure to check out more Best in Calgary!