The Best Desserts in Calgary
February 11, 2012
By Cody Battershill
The Best Desserts in Calgary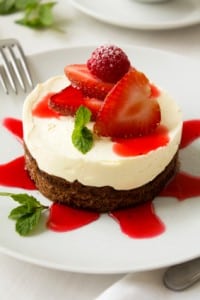 Calgary is known for so many things, but others might not be so apparent such as the best desserts in Calgary.
I am willing to bet that I love dessert more than most people, so this article is going to take that well-kept secret and blow it out of the water!
Without Papers Pizza
Located in the beautiful and historic Inglewood, Without Papers Pizza is the host of an exceptional dessert pizza made with Ricotta Cheese, wine poached pears, Nutella and sprinkled with icing sugar.

This dessert pizza is the perfect addition to any meal! Satisfying yet still light to the stomach, you leave not feeling weighed down but with a genuine smile on your face from a satisfying experience!
Manuel Latruwe Patisserie and Bakery
Looking for the perfect Napoleon? Perhaps an exotic cake? Then this is your place!! With the commitment to quality and the finest ingredients, Manuel Latruwe leaves you speechless and mouth-watering.

When you enter you almost feel as if you were transported to Europe, with the elegance in the design of the pastries and fresh scent of baking, you know you are receiving pure quality, something you can't find just anywhere.
Laurier Lounge
Chocolate Fondue, need I say more? Callebaut chocolate melted to perfection in a fondue setting, you are presented with seasonal fresh fruit and moist banana bread to dip in the perfect chocolate concoction.

Not only is it interactive, it is beyond delicious. A must try if you haven't yet!!
Charcut
Located in the trendiest and most beautiful modern concept hotel in Calgary, Charcut is never lacking in guests.

With an over the top dessert menu, you get the luxury of but knowing that whatever you choose will be presented to you in absolute perfection. Plus you get the cutest home-made cookies with the perfectly made Crème Brulee !
 The Embarcardero
Variety is one word to describe the dessert menu here at The Embarcardero, (named after Sanfransico's water front district). With something for everyone the atmosphere and service leaves you with a smile.

From Chocolate Bundt cake with raspberry drizzle and ice cream to Bumbleberry pie or Tiramisu you may just want to stop for dessert and nothing more. Close to the Saddledome and easy access from either quadrant of the city, Embarcardero leaves a lasting impression.
The Coup
Lactose intolerant, but love ice-cream? Vegan lover? Then the coup has the menu of your dreams!

For the girl or guy who loves a sundae but can't stomach the ice cream, the tofulatti sundae is AMAZING, and the ginger snap sundae with coconut gelato is life changing. The dessert menu is available on either side of this consistently busy restaurant! So stop in and get your fix.
Purple Perk Café
This one stop coffee shop located in the always beautiful mission neighbourhood has a large variety of treats! My personal recommendation would be the ginger cookie sandwich; two large moist gingersnap cookies embody a delicious cream cheese filling.

Don't take my word for it though, it is a must check out dessert stop as well as an excellent coffee shop!
Famoso Pizza
New to Calgary but standing out in every way possible Famoso's Pizza has one of the BEST tiramisu's you will come across. Imported straight from Milan, Italy the Tiramisu oozes perfection.

Don't stop there they have TONS of delicious choices and a special seasonal creation!
Sunterra Market Bar
With locations all over Calgary, Sunterra boasts a wide variety of desserts with a budget friendly price! Whether you want to take home a beautiful made cake or enjoy a mini torte in the relaxing atmosphere of the Café. You have the space to do it all!
Choklat
Want Dessert but don't want to get out of bed, or off the couch? OR want to surprise that lovely lady or man in your life that has a wild sweet tooth? At Choklat they have three easy ways to get your decadent treats, you can order online and pick up in the store, walk into the store and place your order or the coolest options yet are order online and have it delivered to you!!

Yes they offer CHOCOLATE delivery. Made in small batches the chocolate cannot be purchased by mass producers, another amazing fact is you can custom make your own truffles here! So why wait, it's just that easy!
Chocolate Bar on 17th
Love a good sundae, or love options, or maybe options and a Sundae? Then this is about to blow your mind! Chocolate bar on 17th Ave and 14th Street SW, has the most extensive sundae list you will come across and if that's not enough for you then check out the list of sinful cakes.
More of the Best Desserts in Calgary...
Mercato chocolate cookies, Tiramisu and cheesecake
Cheesecake Cafe has a huge selection of cakes
Dairy Queen ice cream cakes are great for a birthday party as well as delicious blizzards!
The Chocolate Souflee at Joeys and the Metropolitan Grill
The banana cream pie at Ruth's Chris
What is your favourite dessert in Calgary? Please leave us a comment below and we will check it out! Thanks for reading.