Best Marda Loop Restaurants in Calgary
February 22, 2022
By Cody Battershill
Top 10 Restaurants in Marda Loop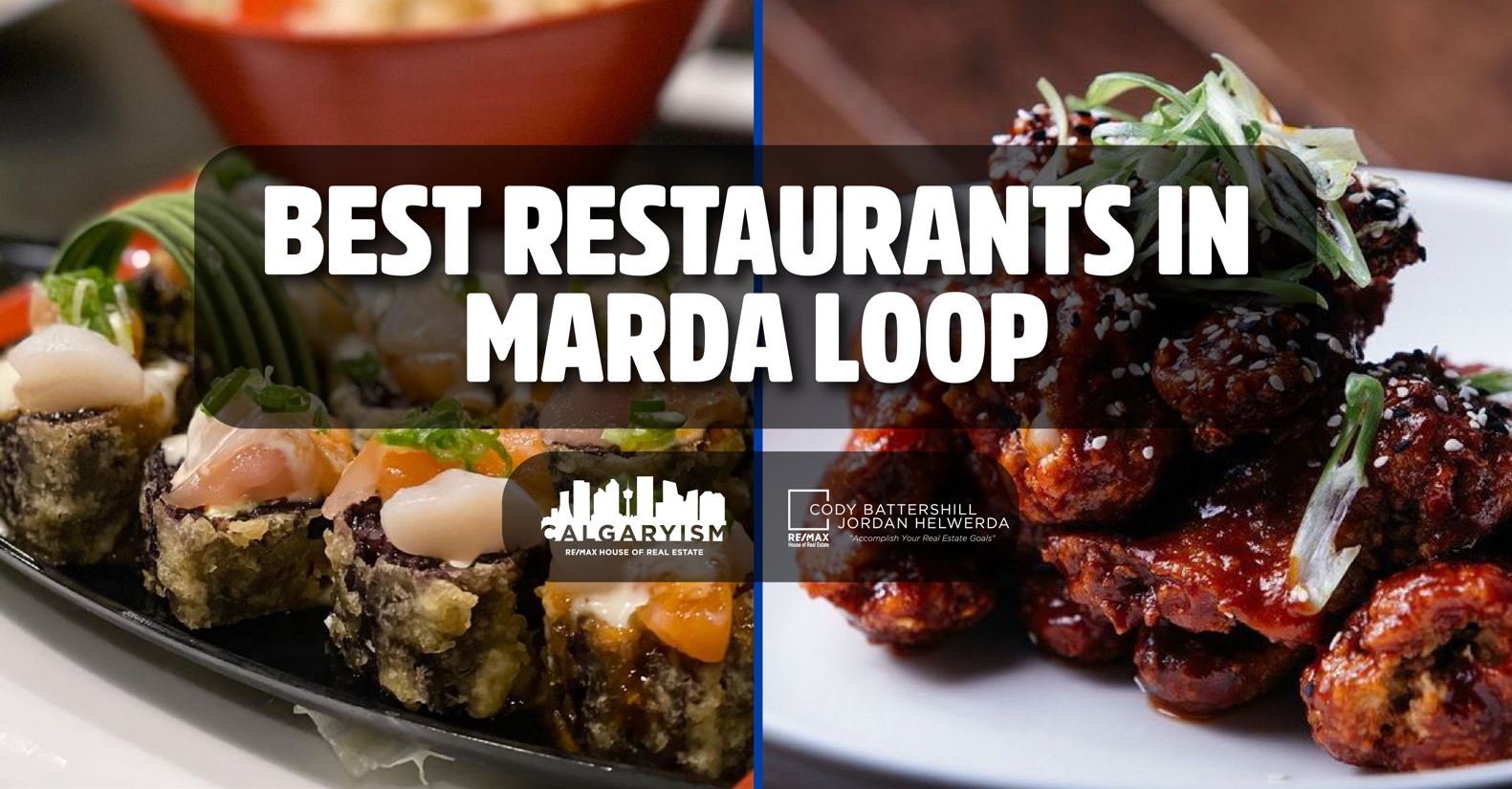 Marda Loop isn't just one of the best districts to live in or close to in Calgary, it is also home to some of the best restaurants around!
Whether you're living in Garrison Woods, Altadore, South Calgary or another nearby community, there is never a shortage of Marda Loop restaurants to indulge in any day of the week.
Consistency is everything for food and drink establishments; these ones listed below have gone above and beyond the call of duty to provide customers with some of the best food and service around.
I highly recommend any one of these best restaurants in Marda Loop the next time you find your stomach growling for some good munch and are in the area.
Annabelle's Kitchen
View this post on Instagram
Annabelle's Kitchen was quick to make a reputation for itself as one of the best Marda Loop restaurants. Serving up gourmet Italian eats and drinks, the entire menu at this modern Italian restaurant is listed for under $20 – great for nights out where you're looking for good food without breaking the bank.
Annabelle's Kitchen offers a variety of classic Italian fanfare including pasta, antipasti (appetizers) and pizza from scratch, all made using fresh ingredients. An extensive wine list, local craft beers and innovative cocktails are also on the menu, rounding out this best-in-class restaurant in the Marda Loop District.
Belmont Diner
View this post on Instagram
Belmont Diner has long been known as a staple breakfast, brunch and lunch restaurant in Marda Loop. As a matter of fact, it has upheld its reputation as one of the best breakfast and brunch restaurants in town now for more than a decade through consistency and quality service.
Eggs Benedict, four-egg omelettes, buttermilk pancakes are just a few of the tasty dishes you'll find on Belmont Diner's menu. Also try one of their famous milkshakes, a tasty caeser or perhaps a coffee with Baileys to kickstart your day, and be off to the races!
De Thai Cuisine
View this post on Instagram
If you love Thai food for a reasonable price, then De Thai Cuisine is a great restaurant in Marda Loop for you to try. De Thai's menu has all your favourite traditional Thai dishes such as Pad Thai (egg noodle dish) and tom yum soup (hot and sour soup), both of which I highly recommend along with the sweet green curry dish that goes perfectly over rice.
Inside is a small but cozy atmosphere perfect for groups of all sizes. De Thai Cuisine also offers gluten-free options and egg-free dishes in case you're allergic to one or the other.
Globefish Marda Loop
View this post on Instagram
Globefish in Marda Loop is by far our favourite one in Calgary because its food tastes the best. Whether it's a beef tataki appetizer, Alaskan roll, tempura udon or another dish, the food is always served fresh and made with quality ingredients.
I highly recommend the spicy tuna sashimi and the special happy crunch roll - sushi lovers will enjoy these without a doubt!
Apart from delicious sushi, this Globefish location is one of the best Marda Loop restaurants for its cozy ambiance and exceptional service.
Merchants Restaurant & Bar
View this post on Instagram
Merchants Restaurant & Bar is reminiscent of an Earls or Joeys (good at everything), but with its own unique twist.
Menu-wise the Marda Loop restaurant offers a wide range of cuisines including everything from meatballs and oysters to salmon and carbonara. More casual menu options also include mac & cheese, fish and chips, burgers, pizza and salads.
Merchants also has several specials during "social hour" between 3pm and 6pm daily and 9pm to close (Fri & Sat) with food items for under $10 and discounted drinks. Check this place out for some great deals!
Nho Saigon
View this post on Instagram
Nho Saigon quickly became one of my go-to Vietnamese pho restaurants in the southwest after I tried their jaw-dropping peanut satay beef noodle soup. The broth is unlike anything I've had in the city; it's so good in fact that you'll want to slurp it all down after the vermicelli noodles and beef strips are gone.
Apart from this mouth-watering satay, Nho Saigon also has a large selection of dry bun and rice dishes which are great for warmer seasons when a hot bowl of soup may not do. Don't miss this best Marda Loop restaurant, which has also made it onto Calgaryism's list of best pho restaurants in town!
Pegasus Greek Restaurant
View this post on Instagram
Off the beaten path in Altadore is a hidden gem restaurant called Pegasus. Serving some of the best tasting and most authentic Greek cuisine in Calgary, this place is always an excellent choice for a sit-down meal when in the area and is usually less busy compared to other Marda Loop restaurants found right on 33rd Avenue SW.
Pegasus stays true to its roots with a Greek theme; pictures of ancient monuments and sculptures, nifty wallpaper and white trim, plus a small patio that's great for spring and summer, creating an enjoyable dining experience.
Sometimes you'll even be served by one of the owners of the restaurant. I'm guessing that these Greek entrees have been passed down the generations through their family which I must say is somewhat enthralling.
The Garrison Pub
View this post on Instagram
Experience pub food at its best at the Garrison Pub in Altadore. Located on the corner of 42nd Avenue and 20th Street SW, this place has become a preferred restaurant in Marda Loop for those looking for a delicious, quick and affordable meal close to home.
As far as pubs go in Calgary, it's is hands down one of the best I've been to because of its great tasting food, community-oriented atmosphere and exceptional service. All this makes it a great place to catch the Calgary Flames in action, Barclay's Premier League game or any other sporting event.
My favourites are the fish and chips (one of the best fish and chips in town) and the mushroom swiss burger, although all food we've ordered off the menu over the years has been quality made with quality ingredients.
The Trop Bar & Grill
View this post on Instagram
The Trop is well known as one of the best bar & grill restaurants in Marda Loop. Featuring quality pub food, an extensive wine & spirits list and several beers on draft, it is a great place for a casual meal with your family and friends for any occasion.
Enjoy live music at The Trop every Thursday, Friday and Saturday, making your weekend pub gathering that much more lively.
Tres Marias
View this post on Instagram
Off the beaten path of 33rd Avenue (Marda Loop's main streetscape), you'll find this hidden gem on 19th Street and 35th Avenue SW. Part café, part kitchen, part grocery store, Tres Marias serves up authentic Mexican cuisines that are just so tasty you'll be left craving for more.
I highly recommend the tortilla soup, enchiladas and pozole, all made-to-order and absolutely deliciously tasting dishes that I sometimes order multiples of to take home for later. Don't miss this best restaurant in Marda Loop which also has shelves upon shelves of authentic Mexican goods to eat and drink at home as well!
What's Your Favourite Marda Loop Restaurant?

What are your favourite restaurants in Marda Loop? Leave a comment below, let us know and we will add them to the list above one of our Best in Calgary lists!
Looking for more of the best local restaurants, activities and everything else to do with Calgary? If so, we invite you to join us and 56,000 plus others at Calgaryism on Facebook today! We are looking forward to seeing you there!