Calgaryism's Top 5 RiverWalk Destinations
March 9, 2016
By Cody Battershill
Downtown YYC's RiverWalk: 5 Must-Visit Nearby Destinations
RiverWalk is one of Calgary's prized features. Holding true to its name, the pathway's existence makes downtown leisure and recreation convenient by connecting urban streetscapes with parks found along the Bow River - like Prince's Island Park and St. Patrick's Island, for example.
These two particular green spaces have a ton of amenities for all to enjoy while also serving as an escape for many from the concrete jungle of downtown Calgary. They truly are the best parks in the city centre, two places where you can go to soak in the wading pool, enjoy an afternoon picnic or engage in other fun activities with friends and family.
During the spring and summer this is especially true; there are events found along RiverWalk on a weekly basis while street buskers, food vendors and restaurant patios add to the experience all together. There's even yoga classes, music festivals and firework events to name a few others.
Spending a full day along RiverWalk enjoying different activities really isn't hard to do when the weather's nice. Meanwhile, many downtown workers use the pathway to get to and from work in the morning while others take full advantage of the river views to make their workout much more enjoyable.
CMLC Redevelopment
RiverWalk has become one of the go-to destinations for locals here in Calgary after its redevelopment by Calgary Municipal Lands Company (CMLC). It is being completed in separate phases along with other up and coming projects from CMLC like East Village with the first completed in 2010 and the second underway. Apart from the amenities found at various destinations nearby, the pathway itself now features dedicated river look-out points, public art, tables, benches and cool HD lights seen at night.
Here are five destinations easily reachable from its pathways that you definitely want to check out whether you are a local or tourist.
Location
[mappress mapid="234"]
#1 - St. Patrick's Island

Once a relatively undeveloped area of downtown, St. Patrick's Island has been completely transformed into a magnificent public space featuring:
St. Patrick's Bridge – an architecturally stunning bridge

Bloom – a monumental public art installation

Confluence Plaza – modern ampitheatre

Child-friendly playmound & playground

Boardwalk over naturalized wetlands

Paved pathways & lookout points in every which direction
It really has become a highlight of the downtown area and has also become a hub for local festivals and other public events in the great outdoors. Oh, and don't forget about the Calgary Zoo, located on the same island just east of the park!
Everything seems that much more enjoyable with the lush vegetation and sound of the rushing Bow River in the background! Learn more at VIDEO: St. Patrick's Island Now Open for Use today.
#2 - Dragon City Mall
In between Centre and 1st Street and 3rd and 4th Avenue SE, a few blocks from RiverWalk, you'll find a fascinating little indoor shopping plaza named Dragon City Mall. Inside are a ton of different shops and services ranging from second-hand clothing and fine jewelry to fast-food and baked goods.
Some of my favourite retail shops include:
Rainbow Bakery – delight in some authentic Chinese baked goods and leave with a smile from ear to ear

Qalala Candy Store – find a different kind of candy than found in Canada at this sweet store

Honey World – a unique gift-shop with tons of anime trinkets, toys and much, much more

DVD store – from Hollywood blockbusters to Chinese hits, this place has it all

Diamonds & Gold Creation Jewellers – a great selection of fine jewelry for a reasonable price
Want to know more about this unique indoor shopping centre? See it at Calgary Landmarks – Dragon City Mall today.
#3 - Princes Island Park
A short walk west from RiverWalk Phase 1 you'll find the ultimate nature experience in the heart of downtown Calgary.
Called Princes Island Park, this 20 hectare island is an incredible reprieve from the hustle and bustle of the downtown core's concrete jungle as its lush vegetation and mid-river location make its scenery as beautiful as it gets for a city park.
Princes Island Park has quite a few of its own things to do and see, including:
Amphitheatre – If you're lucky, when you visit the island you'll stumble upon one of several spring / summer time festivals featuring live entertainment and music at the Amphitheatre

Chevron Learning Pathway – a pathway that teaches about the environment, how important wetlands are, preserving these natural wonders and their wildlife
Lets not forget about the playground, picnic areas and flower gardens as well as seasonal amenities like the water fountains and washrooms that make a visit to Princes Island Park as convenient as it gets.
Find out more about this incredible historic location in the heart of YYC at Best Calgary Tourist Attractions – Princes Island Park today.
#4 - Eau Claire Market
This downtown shopping centre is yet another unique destination just a few minutes' walk from the pathways of RiverWalk into the Eau Claire community.
Known for its boutique-style shops, movie theatre and up and coming renovation (yes, a massive new mixed-use development will replace this mall sometime soon), you never know exactly what you'll discover at Eau Claire Market.
I don't do much shopping at this mall, but do love some of its restaurants and other services including: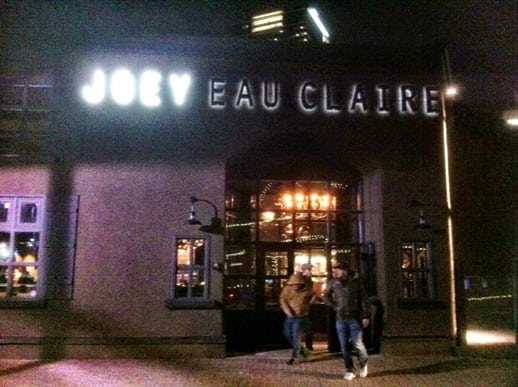 The market's outside parking lot is also host to a variety of events during the spring and summer season.
Want to know more about what's going on down in Eau Claire? See more at Calgary Activities – Do What the Locals Do – Eau Claire Market today.
#5 - National Music Centre
If you are familiar with the progress of East Village, then you probably already know that the National Music Centre isn't quite finished just yet.
However, when this massive arts facility is completed, it will become the next go-to place for activities, events and entertainment of all sorts.
The 160,000 square foot building will be home to:
Canadian Music / Country Music Hall of Fames

Massive collection of instruments and sound equipment

Performance halls, educational and broadcasting facilities

Travelling exhibitions, food & drink services, and much more!
Want to know more about this exciting up and coming addition to East Village? See National Music Centre – Construction Begins today.
I Love RiverWalk
To experience RiverWalk is to experience one of the best local tourist attractions our city has to offer. See more of the Best in Calgary today!

Not only does it serve as a gateway to several other outstanding destinations in the downtown core, but is a pathway infested with the natural beauty of the Bow Rivers embankments as well as the friendly faces of the people who call Calgary home.

What do you love about Calgary's RiverWalk? Let us know below and we will add it to one of our up and coming articles on downtown YYC! In the meantime, we invite you to join us at Calgaryism on Facebook, Twitter and Instagram for more of everything to do with Calgary… we hope to see you there!