Bow Bulgogi House Korean Restaurant Review
December 6, 2018
By Cody Battershill
Bow Bulgogi House Review: Yummy Korean
It's been a while since I've eaten authentic Korean cuisine in Calgary. Last time was years ago at Bow Bulgogi House, a small "hole in the wall" style restaurant on 17th Avenue SW between 34th and 35th Street. This past week I was reminded of how delicious the authentic Korean food at Bow Bulgogi really is.
If you're in for good Korean food, you'll want to check this place out. Here's Calgaryism's review for Bow Bulgogi House just off 17th Avenue and 37th Street SW in Killarney / Glengarry.

Atmosphere - 7.0/10.0
Service - 9.0/10.0
Food - 10.0/10.0
Cost - 7.5/10.0
Overall - 8.4/10.0

*10 rated as best
Location
[map src="" width="100%" height="350px"]
Located at 3515 17th Avenue SW, Bow Bulgogi House is about 10 minutes from the city centre and also near the Westbrook C-Train Station.

Look for the restaurant's sign in a small strip mall directly east of the McDonalds and Chili Club Thai House restaurant.
Our Orders
#6 – Steamed Rice - $1.50 – A small bowl of traditional white rice
Rice is a must have for any authentic Asian cuisine experience!
#9 – Pan Fried Dumplings – $12.95 – Juicy and flavourful pork wrapped dumplings in a crispy fried shell
Served in a boat dish with dipping sauce.
#14 – Large Wor Wonton Soup – $12.95 – Home-style wonton soup with cauliflower, mushrooms, onions, broccoli, carrots and wontons
This was the best wonton soup I've had in a very long time. It's a must try appetizer!
#19 – Yache Bockeum – $15.95 - Fried vegetables with chicken, shelled shrimp, beef topped with a tangy oyster sauce
Add the contents of this dish on top of some rice and b0om, you have a yummy concoction of Korean-cuisine happiness!
#30 – Beef Bulgogi - $18.95 – Marinated beef with lettuce, rice, mushrooms and side dishes mentioned below
Probably the most popular dish at Bow Bulgogi House. Two orders were just enough to share between the 3 of us. This gristle free beef was sweet, served with lettuce, mushrooms and a delightful red soybean sauce I have never had before. It was definitely the highlight out of all the dishes we ordered.
Side dishes (complimentary with beef bulgogi) - radish, tofu, kim chi and bean sprouts
These side dishes are mean't to be wrapped in lettuce along with some of the beef bulgogi
Overall, we absolutely loved the authentic Korean cuisine served at Beef Bulgogi House on 17th Avenue SW. There's also lunch specials that go for between $10 and $15 per person which are affordable and great for take out on lunch break. Check this place out!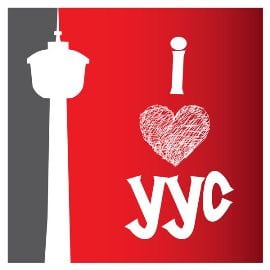 Bow Bulgogi House
Address - 3515 17th Avenue SW
Phone Number – 403-686-6826
I Love Calgary!
Looking for more of the best local activities, events, restaurants and everything else to do with YYC? If so, we invite you to join us at Calgaryism on Facebook, Instagram and Twitter today - we hope to see you there!