Calgary Parks – Bowness Park
February 7, 2013
By Cody Battershill
Calgary Parks – Bowness Park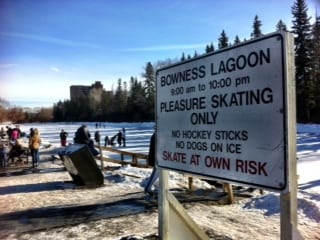 Have you ever noticed all of those people floating down the Bow River during summer? While there are many locations along the Bow River for people to begin their journey, Bowness Park stands out as one of the best places in Calgary to do just that.
But Bowness Park isn't only a good place for spring and summer activities. During the winter many Calgarians enjoy ice skating on the massive lagoon and if you forgot your skates, or don't have any for that matter, the ParkSide Cafe and Family Amusements is there to help you out with skate rentals and more.
Bowness Park is definitely one of the best northwest Calgary parks in terms of variety of year round activities offered to its users. Here are some characteristics of this lovable Calgary park...
Quick Facts
Location – NW Calgary, 900 48th Avenue NW
Size – 30 hectares
Hours of operation – 5:00am to 11:00pm daily
Easy access to Bow River
Barbecue pits and shelters
Picnic areas, picnic tables and benches
Open green spaces with multiple playgrounds
Paddle boating during warmer seasons
Winter ice skating on the lagoon
Parkside Cafe offering year round cafe style food including ice cream in the summer and skate rentals / sharpening for winter skating (contact ParkSide Cafe at 403-286-8668)
Winter cross-country skiing
Network of paved pathways spanning alongside the Bow River in both directions
Public washrooms
[caption id="attachment_15813" align="alignleft" width="234"]
Walkway under Stoney Trail Bridge[/caption]
If you have been to Bowness Park lately, you will notice the large amount of construction happening in its vicinity. The City of Calgary currently has a redevelopment plan in place for Bowness Park, which will only make this well-visited, century-old park that much more enjoyable!
For now, if you go to the park during a busy time such as the weekend for example, you might find it a bit crowded. I sure did, although after I made my way to the beautiful riverside pathway, my feeling of crowdedness in the parking lot area became obsolete.
Bowness Park is one of the greatest Calgary parks in my books because of the wide variety of activities you can do there not only in one or two seasons, but year round. It also is connected to other green spaces including Baker Park and more via Bowness bridge and the walkway underneath Stoney Trail bridge. Definitely a must try if you love outdoor recreation!
Thanks for stopping by! Here are some more great local Calgary activities below...