Buffo Ristorante Calgary Italian Restaurant Review
September 2, 2019
By Cody Battershill
Buffo Ristorante Chinook Restaurant Review

A few nights ago we chose to stop in at Buffo Ristorante and finally try this recently opened restaurant at Chinook. I personally have passed it by so many times on the way in and out of the mall, and it just so happened that my company and I were craving some Italian food. So why not?
Our overall impression of the restaurant was very positive. It has an excellent layout, with a modern dining setting and great menu options with all your favourite traditional Italian dishes, plus a few savory extras you may never had before.
To add to the great atmosphere and food, who seemed to be the restaurant manager or owner asked us politely if we would take another dish they made extra of. Turns out it was their branzino fish dish that we were eyeing, and boy was it good.
The next time you're in for great Italian cuisine, we recommend checking this place out yourself. Here's why we think so in our restaurant review for Buffo Ristorante at Chinook Mall in Calgary.

Atmosphere – 9.5/10.0
Service – 9.5/10.0
Food – 8.5/10.0
Cost – 7.5/10.0
Overall – 8.6/10.0

*10 rated as best
Location
[map src="" width="100%" height="350px"]
Buffo Ristorante is found on the northwest side of Chinook Mall attached to Saks on Fifth Ave.

It's easy to reach from basically any part of the west parking lot save that in front of the movie theatre.

Just remember inside the mall you'll have to go to the second floor of Saks on Fifth Ave to get to Buffo.
Atmosphere & Service
View this post on Instagram
Inside Buffo Ristorante you'll find a posh atmosphere that makes you really feel like you're dining in style.

The tables are polished wood and have very comfortable chairs (we mention this because some restaurants have ones that suck and hurt your back), plus there's single-seats at the bar and even in front of the open kitchen with marble countertops.

A large back room encased in wood provides yet another unique dining atmosphere at Buffo, the likes of which is seen rarely in Calgary. It's almost as if they pulled this room right out of a movie.
Our Orders
Tomato & Basil Bruschetta - $11 – whipped black peppercorn ricotta

Four pieces of bruschetta do well to cover your hunger until the rest of dinner arrives.

Served on soft slices of bread atop a layer of cream cheese, this tomato and basil bruschetta's pepper taste will leave you wanting another piece.
Grilled Calamari - $15 – capers, lemon, olives, tomato, Italian lentils, brown butter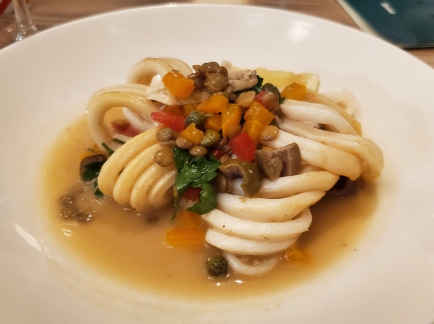 Buffo's grilled calamari is about as unique as it gets. The squid is served in one large piece and is sliced several times for superb presentation.

Lightly grilled, the squid itself was flavourful and accentuated by the rest of the dish contents. We really loved the combination of hearty tastes and textures in this excellent appetizer!
Branzino - $27 – seared filet of branzino, swiss chard, risotto nero, poached egg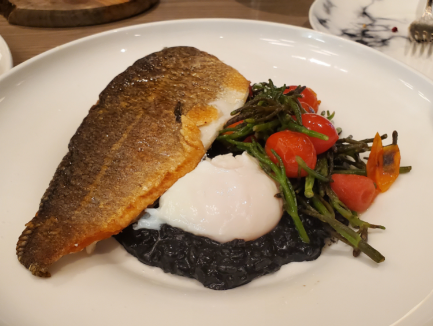 We were looking at this dish before just deciding on a few appetizers, so when the restaurant manager asked us if we wanted an extra they had made by accident (for free) we couldn't decline!

The grilled filet of branzino had one side of skin left on the dish. At first we weren't sure about it, but then realized that the entire fish was grilled to perfection and that the skin was crispy and added immense flavourful - a bit salty but fishy at the same time.

The black risotto was also topped with lightly cooked swiss chard (kind of like asparagus), adding some solid texture and herby flavour.

A poached egg with soft yolk in the middle was the cherry on top for the branzino. We recommend breaking the egg and mixing the yolk with the risotto and fish for more epic flavours and texture combos.
Final Word
Overall, we have to put Buffo Ristorante at Chinook Mall up there on our list of Italian restaurants in Calgary. It has a simple and straightforward menu and an excellent selection of beers, wines and cocktails to boot.

Its food menu offers all the original Italian cuisines you could think of, plus it has exciting new dishes to try like the branzino that will have you coming back for more.

We recommend checking out Buffo Ristorante the next time you're in for Italian in the Chinook Mall area!
Online Reviews
Read Cody B.'s review of Buffo Ristorante on Yelp

Buffo Ristorante – CF Chinook Mall
Address – 6455 Macleod Trail SW
Phone Number – 403-351-2316
I Love Calgary
For more of the best local food and restaurants in and around Calgary, check out our Best in Calgary lists and give us a follow on Facebook and Instagram for more great dining ideas today! We look forward to seeing you on social media!