Burger 320 Calgary Food Review
October 28, 2014
By Cody Battershill
Burger 320 Calgary Food Review
I just recently became a whole lot more envious of Bridgeland residents with the opening of Burger 320 not too long ago.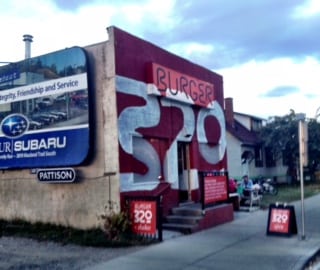 Needless to say, I was addicted after my first bite at this ultra-affordable gourmet burger joint found dead smack in the middle of one of my favourite foodie havens.

*10 rated as best
Atmosphere and Service
Burger 320's small café-style interior leaves little room for visitors to eat inside (only a few seats I believe), although what it lacks in size is more than made up for in its delicious burgers and other tasty treats.

During warmer months you'll be able to sit outside at one of the two picnic tables beside the building or on the bench directly in front if you wish. Maybe even in winter… after you've tasted just how good these burgers are you will not be able to wait to devour them.

Oh, and did I mention, the staff working at Burger 320 are some of the friendliest and most sincere bunch of ladies I've ever met. If you're not too sure what to eat, just ask them and they will be more than happy to help!
Our Food
Molise - $11.00 – grilled portabella mushroom, garlic aioli, truffle salsa, French brie, arugula + tomato candy
House made burger meat cooked to perfection topped with tasty mushrooms, tons of arugula and some sweeter components that blend the taste of the three main components together seamlessly. This is quite literally a party in your mouth. You'll know it when you moan a delicious tune after each and every bite.
White Potato Fries - $5.00 – fries, house made mayonnaise
There are typical fast-food fries, and then, there are Burger 320's white potato fries – a totally different breed of French Fries all together. Topped with a sweet house-made mayonnaise blend, these white potato fries are a must with any gourmet burger at 320!
If you are a burger fanatic, love food, or just appreciate a high-quality burger and fries, then you'll definitely want to check out Burger 320 in Bridgeland, Calgary! This place is so good I bet it will be hard for you to not become addicted like I did!
See more of the Best Burgers in Calgary today.
Burger 320
Address – Bridgeland – 814 1st Avenue NE
Phone Number – 403-515-0065
Join Us
Looking for more of the best restaurants, cafes and eateries in Calgary? If so, we invite you to join us at Calgaryism on Facebook, Instagram and Twitter today… we hope to see you there!