Calgary Infill Home Buyers Guide – Fencing and Landscaping
May 17, 2012
By Cody Battershill
Calgary Inner City Buyers Guide – Fencing and Landscaping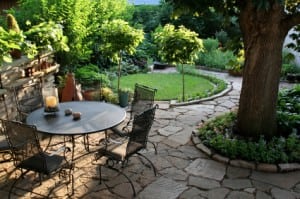 When we are at home or in a hotel room, one typical factor in determining how comfortable that space is for us is directly related to the amount of privacy we have. Needless to say, taking a shower is a private thing and so are many other occurrences that are or aren't part of our daily routines.
Privacy is often taken for granted, and a lack of can be hassling. Fencing is a home addition used for thousands of years by people for different purposes, one of them being to add privacy to their humble abodes.
Privacy is Key
There is a wide variety of different kinds of fencing for Calgary infill home owners. When choosing what fence to use on your property, record the dimensions of the fence and observe how the chosen material would optimize your privacy.
Maybe the fence is too short with that direct line of sight from your kitchen to the neighbour's windows still exposed. Unfortunately sometimes there are developer stipulations for new communities that limit the kind of product available for use in such tasks. If this is the case, and things aren't private enough just yet, you can always turn to proper landscaping to add another dimension of privacy to your home.
Fencing that adds character and privacy with some landscaping to customize your home are valuable assets that will increase the overall value of your property.
Make Money, Save Money
Carefully designed landscaping will not only add value to your estate, but can add extra privacy as well if you choose.

A well-placed tree can add that extra comfort that you were looking for.
It is proven that homes with well-done landscaping actually increase in re-sale price.
Carefully chosen and placed plants can lower heating and air conditioning costs by 20% by acting like insulation to prevent heat loss and the invasion of cold air during winter months!
Not only can your privacy be improved, but you can also save approximately between $100 and $250 dollars annually off the energy bill by planting 3 trees close to your home!

Always be sure to approach a potential home from every possible angle.
More Infill Buyers Guides...
Questions about Inner City Homes?
Call an experienced inner city realtor for answers! My direct line it 403-370-4180 or message me below!
[gravityform id="1" name="How Can I Help?"]