Calgary Ranks Top 4 Most Livable Cities 2018!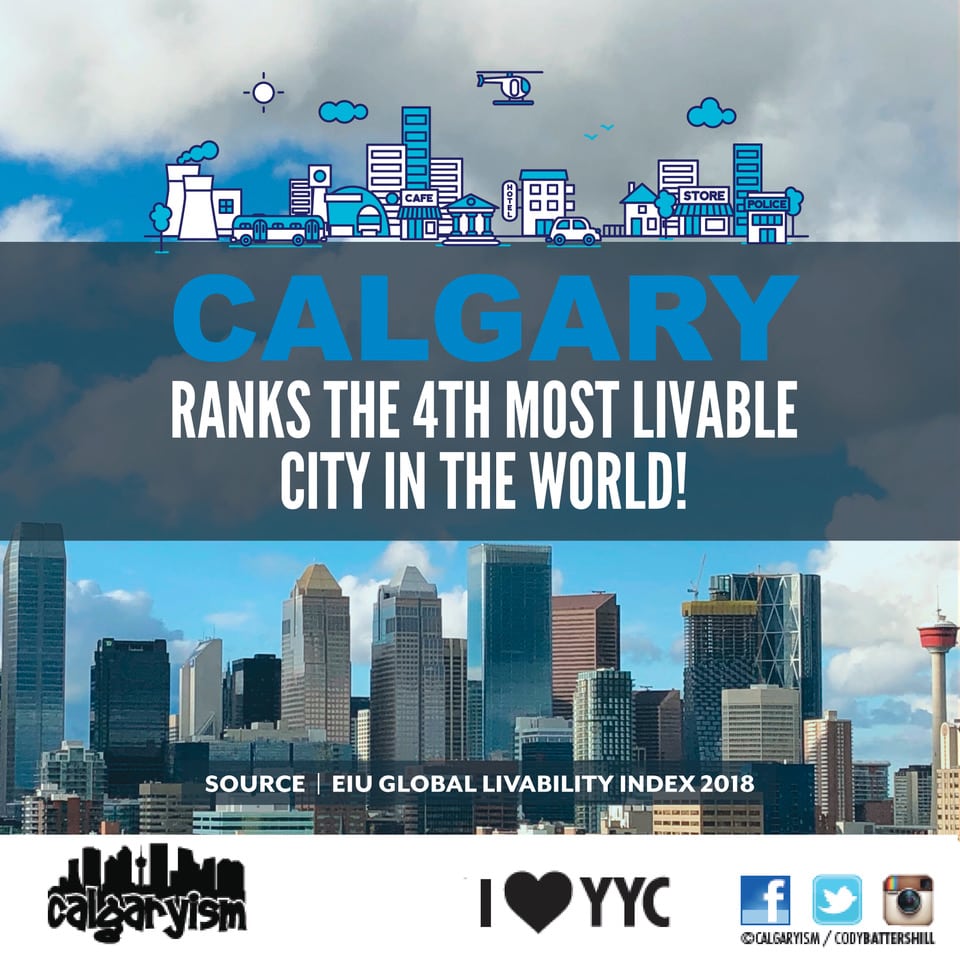 Just last month the Economist Intelligence Unit (EIU) found Calgary to be among the best once again, naming us as one of the most livable cities in the world on its Global Livability Index 2018.

This year's report ranks Calgary as fourth, moving it up from fifth, a spot which it previously held for several years.

That also makes Calgary the top-ranked city on the continent, with Vancouver and Toronto being the only others to make it into the top 10.

Australia also had three of its cities named as the best of the best – Melbourne, Sydney and Adelaide – joining Canada and Japan's Osaka and Tokyo in dominating the list's top ranks.
EIU's Top 10 Most Livable Cities in the World 2018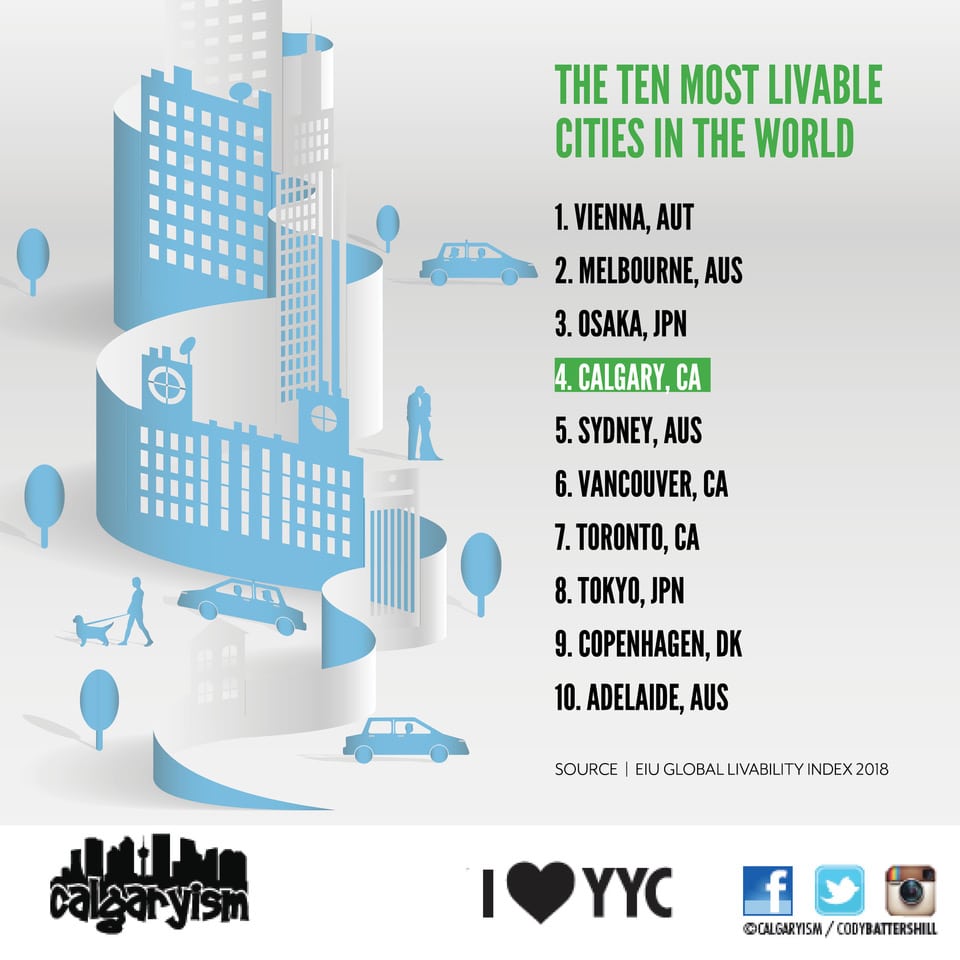 #1. Vienna, AT

#2. Melbourne, AU

#3. Osaka, JP

#4. Calgary, CA

#5. Sydney, AU

#6. Vancouver, CA

#7. Toronto, CA

#8. Tokyo, JP

#9. Copenhagen, DK

#10. Adelaide, AU
Methodology

So, just how does the EIU determine the livability of a city? While they can't take into account personal opinions (you or I might just really love living somewhere despite its score on this index), what the EIU has done is look towards different indicators to create a detailed representation of livability.

A total of 140 cities were surveyed and given a score between 1 and 100 for the following categories:

Stability (worth 25% of ranking)
Culture & Environment (worth 25% of ranking)
Healthcare (worth 20% of ranking)
Infrastructure (worth 20% of ranking)
Education (worth 10% of ranking)

Calgary raked up a total of 97.5 out of 100, with perfect scores in stability, healthcare, education and infrastructure. Calgary managed to boost its ranking to 4th place with improvements in culture and environment (from 89.1 to 90) and infrastructure (from 96.4 to 100) on a year-over-year basis.

A score of 90 for culture and environment weighted at 20% leaves some room for improvement – and for jumping up in the rankings even further sometime soon!
Culture & Environment: Our Future is Bright
I predict that Calgary's culture and environment ranking on the EIU's annual Global Livability Survey will gradually increase over the next several years as our city builds projects like the National Music Centre and continues to put an emphasis into promoting pedestrian-friendly streetscapes, cultural celebrations and festivals and public art installations.

East Village, for example, even though not complete, has become a major activity and festival hub over the past few years. Construction of new condos and amenities in addition to upgrades to St. Patrick's Island and RiverWalk have made the downtown community one of the liveliest places in the city.

There's also been hints on social media surveys and advertisements of redevelopment plans for parts of eastern Victoria Park and the "West Village" area. Expect to see more mixed-use master plans like the Calgary Municipal Lands Corporation created for East Village, where residential, commercial and retail are blended seamlessly to promote a vibrant and inviting atmosphere for all who wander the streetscapes.

In short, there should be a boost to the culture and environment as per according to the EIU's index in the near future. We'll just have to hold on and wait for it. Until then, way to go Calgary for dawning the EIU's Global Livability Survey in the top five once again! As a born and raised Calgarian, I am proud to live where I do – and you should be too!
I Love Calgary!
Looking for more of the best local events, activities, restaurants and everything else related to YYC? If so, we invite you to join us at Calgaryism on Facebook and Instagram; stay updated your live social media feed today. We are looking forward to seeing you there!