Calgary Named 5th Most Livable City on Earth!
September 3, 2013
By Cody Battershill
Economist's Livability Survey Names Calgary 5th Most Livable City on Earth!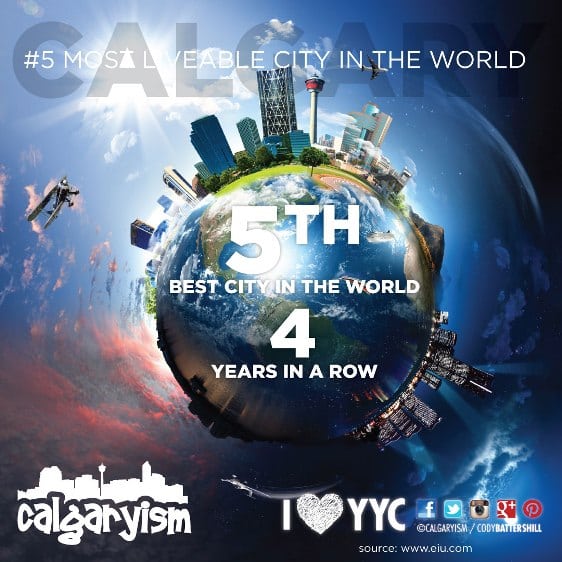 Calgary has done it again! Another year and another accolade from the Economist Intelligence Unit's Livability Survey which has found Calgary to be the 5th most livable city in the world – a title the city is no stranger to.
It is the 4th consecutive year that Calgary has held the 5th spot on the prestigious list, sharing its rank this year with Adelaide, Australia. It's an impressive feat to say the least, considering that 140 major metropolitans are analyzed in the survey.
Below are the top 10 and bottom 10 cities each with their according scores on the Economist's Livability Survey 2013.
Top 10 Most Livable Cities
1st - Melbourne, Australia – 97.5

2nd – Vienna, Austria – 97.4

3rd – Vancouver, Canada – 97.3

4th – Toronto, Canada – 97.2

5th – Calgary, Canada – 96.6

5th – Adelaide, Australia – 96.6

7th – Sydney, Australia – 96.1

8th – Helsinki – Finland – 96.0

9th – Perth, Australia – 95.9

10th – Auckland, New Zealand – 95.7
Bottom 10 Least Livable Cities
131st – Tehran, Iran – 45.8

132nd – Douala, Cameroon – 43.3

133rd - Tripoli, Libya – 41.7

134th – Karachi, Pakistan – 40.9

134th – Algiers, Algeria – 40.9

136th – Harare, Zimbabwe – 40.7

137th – Lagos, Nigeria – 38.9

137th – Port Moresby, PNG – 38.9

139th – Dhaka, Bangladesh – 38.7

140th – Damascus, Syria – 38.4
What Factors are Considered?
So what is it exactly that the Economist Intelligence Unit studies to come up with their Livability Survey? Well, over 30 factors are involved - some include…
Crime, terror and military conflict

Quality and availability of private / public healthcare

Media censorship, food/ drink, cultural and sporting availability

Quality and availability of private / public education

Infrastructure – road, energy, water, public transportation and quality of housing
These factors (and more) are rated on a scale from…
These scores are then tallied to give a total maximum score of 100 points. Seen above are the tallied scores for the top 10 and bottom 10 cities in the Economist's Livability Survey 2013.
I Love Calgary
Calgary is such a wonderful place to live. Being born and raised in this city, some might think my opinion is biased, but I believe that prestigious accolades such as this one show everyone what our city is about and how great of a place it is to live after all.
What do you love about Calgary? Leave us a comment and let us know below. Until next time, be sure to check out these 20 Reasons to Love Calgary today!