Calgary Among World's Best
August 25, 2013
By Cody Battershill
Calgary Among the World's Best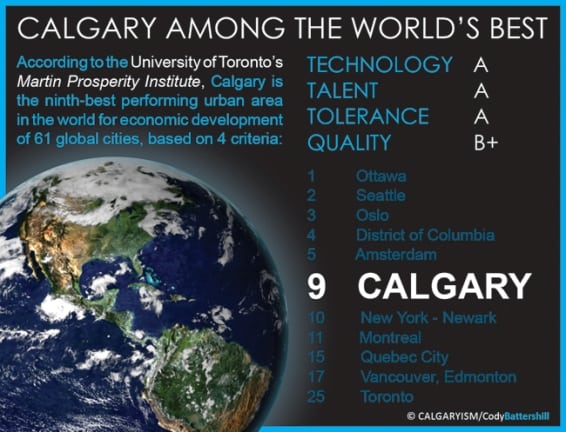 According to the University of Toronto's Martin Prosperity Institute, Calgary is the ninth-best performing urban area in the world for economic development of 61 global cities, based on 4 criteria:
Top 10 and Other Canadian Cities
1 – Ottawa, Canada

2 – Seattle, USA

3 – Oslo, Norway

4 – District of Columbia (Washington D.C.)

4 – Amsterdam, Netherlands

6 – Copenhagen, Denmark

7 – London, United Kingdom

8 – Tel-Aviv-Jaffa – Israel

9 – Calgary, Canada

10 – Newark, New York, USA

11 – Montreal, Canada

15 – Quebec City, Canada

17 – Vancouver, Canada

17 – Edmonton, Canada

25 – Toronto, Canada
Called Global Cities, the project is based on worldwide GDP and evaluates the "three T's of economic development" (listed above) along with another factor called "quality of place" to determine its rankings.
Top Prosperity
Not long ago Calgary was also named as one of the most prosperous cities in the world in 2013 by the Toronto Board of Trade's Prosperity Index.

The report, consisting of 24 major metropolitan areas on earth including Tokyo and New York, placed Calgary 2nd with Paris in the top spot.
Top Place to Live
Calgary has also been named as one of the top cities to live in the world by the Economist Intelligence Unit's Livability Survey in 2010, 2011 and 2012!
Taken into account are several factors including…
Top City in Canada
And it doesn't stop there either! Earlier this year MoneySense Magazine found Calgary to be at the top of two of their very own annual surveys.
The first, Calgary was named as the best place to live in Canada and the second, the best place to raise a family in Canada for 2013.
While MoneySense Magazine can't take into account the personal experiences of those living in different parts of Canada, what they can evaluate are factors such as…
…which definitely give anyone a good idea on paper of just how awesome a place is to live.
Top Community
In late June of 2013 Calgary was hit hard by flash floods that caused incredible damage to homes, communities and even resulted in the tragic loss of life.
It was during this time that people from all over Calgary united as one to help those hit hard by the floods. Countless locals showed up for their fellow Calgarians, providing everything from clean up and food to financial donations and heart-felt compassion.
Among the Best in the World!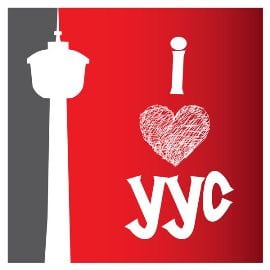 As a Calgary Realtor and supporter through Calgaryism, I am extremely proud to be listed up there on such prestigious lists with well-known cities from around the world.
Do you share my enthusiasm for Calgary, Alberta and Canada? If so, be sure to check out my Calgaryism page on Facebook, Instagram and Twitter – we will see you there!
Until next time, be sure to check out more great Calgary Facts and Infographics at Best Calgary Homes!