Calgary: Canada's Economic Engine
January 30, 2012
By Cody Battershill
Calgary Business and Economic facts and Figures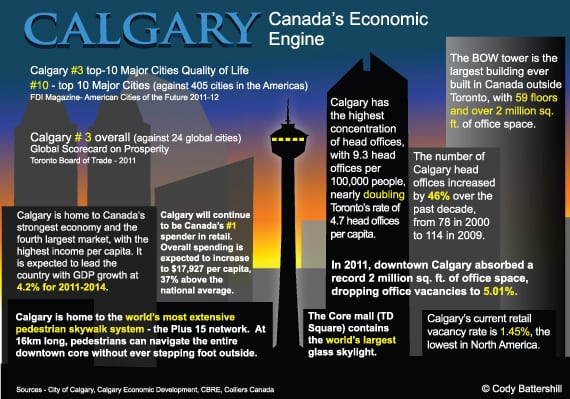 Calgary #3 top - 10 major cities quality of life
#10- top 10 Major Cities (against 405 cities in the Americas) FDI Magazine American Cities of the Future 2011-12
Calgary #3 overall (against 24 global cities) Global scorecard on Prosperity
Toronto Board of Trade-2011
Calgary is home to Canada's strongest economy and the fourth largest market, with the highest income per capita. It is expected to lead the country with GDP growth at 4.2% for 2011-2014
Calgary will continue to be Canada's #1 spender in retail. Overall spending is expected to increase to $17,927 per capita, 37% above the national average.
Calgary is home to the world's most extensive pedestrian skywalk system- the plus 15 network. At 16km long, pedestrians can navigate the entire downtown core without ever stepping foot outside.
Calgary has the highest concentration of head offices with 9.3 head offices per 100,000 people, nearly doubling Toronto's rate of 4.7 head offices per capita.
In 2011, downtown Calgary absorbed a record 2 million sq.ft. of office space, dropping office vacancies to 5.01%.
The Core mall (TD square) contains the world's largest glass skylight.
The BOW tower is the largest builing ever built outside Toronto, with 59 floors and over 2 million sq ft of office space
Calgary's current retail vacancy rate is 1.45%, the lowest in North America