Calgary Condo Security 9 Tips to Safe Condo Living
March 10, 2012
By Cody Battershill
Calgary Condo Security 9 Tips to Safe Condo Living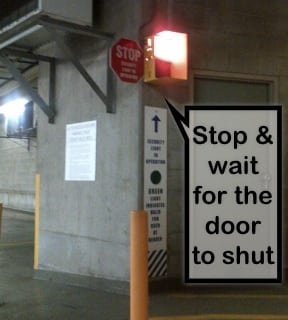 Living in a condo provides owners with a heightened sense of security. There are neighbours all around you, well lit common areas, video cameras and a strong sense of community.
Despite these features condo owners cannot become complacent or assume that security will always do it's job. Each and every condominium owner is responsible to themselves, their neighbours and the common property to be responsible and diligent with the buildings security.
In the picture you can see a red light/green light system to remind condo owners to STOP and WAIT for the garage door to close.
Every condo in Calgary should implement a system like this. Every condo owner contributes condo fees and these funds can be used to implement these added security measures.
9 Tips for Improved Condo Security
When entering the parking garage STOP and WAIT until the door closes behind you

Don't let anyone into the building you don't know at all

Ask for guests and visitors waiting at the main door to buzz themselves in

Post security practices in prominent places for everyone to see

Recommend your condo board invest in more video surveillance

Recommend your condo board invest in better and more lighting

Ensure any main floor condos are protected and well lit from forced exterior entry

Make sure every dim lit area has improved motion sensor lighting installed

Install a mail room common area anonymous comment box for owners suggestions
Asking another condo owner to let themselves in or for identification is a small social cost to preventing a security breach in your condo. ANY responsible owner will in fact appreciate the extra effort you are taking and themselves should adopt the same principals.
When a condominium gets bad press or has security issues it can also impact the buildings desirability and thus value as bad press in the media and negative incidents in condominium documents can influence buyers demand for the building. Take interest in your condo and discuss these measures with fellow owners, for you, your neighbours and your condo.
 - Comment by David Hyde -
"Just wanted to compliment you on your website and blog. I'm a security consultant in Toronto specializing in independent condo security assessments. I got to your site via the Security Tips blog post you wrote back on March 10th. Your blog has lots of great, current info on the Calgary market. Thanks for the article and keep up the good work!"
Thanks David!
Questions about Condos in Calgary?

[gravityform id="10" name="Contact a Calgary Condo Expert" description="false"]