Calgary Ranks 7th Most Livable City on Earth in 2023!
June 22, 2023
By Cody Battershill
Calgary has been named the seventh most livable city on the planet by the Economist Intelligence Unit's Global Livability Index 2023.
While Calgary is no stranger to the EIU's annual list, the city slipped down four spots from third place in 2022, and is also down two spots from fifth place in 2021. Regardless, the important indicators used by the EIU to create these rankings should make all Calgarians proud that our city has remained in the top 10 for more than a decade!
Vienna, Austria, remained in first place, and Copenhagen, Denmark, in second. Melbourne and Sydney, both in Australia, placed third and fourth. Vancouver and Toronto also made the top 10 most livable cities in 2023, placing fifth and ninth, respectively. Overall, the top ten list is entirely dominated by Western countries and Japan.
Here are the top 10 cities on the EIU's Global Livability Index 2023 along with their corresponding score.
Top 10 Most Livable Cities in the World 2023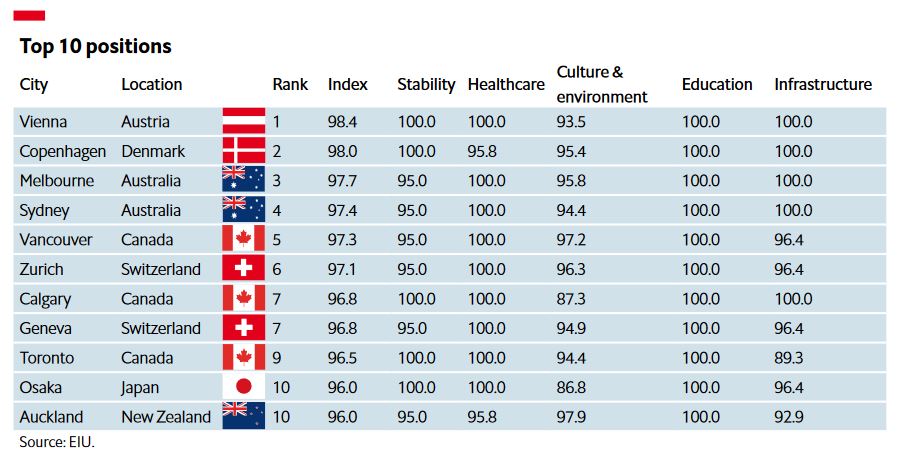 1 - Vienna, Austria - 98.4
2 - Copenhagen, Denmark - 98.0
3 - Melbourne, Australia - 97.8
4 - Sydney, Australia - 97.4
5 - Vancouver, Canada - 97.3
6 - Zurich, Switzerland - 97.1
7 - Geneva, Switzerland - 96.8
7 – Calgary, Canada - 96.8
9 – Toronto, Canada - 96.5
10 - Osaka, Japan - 96.0
10 - Auckland, New Zealand - 96.0
EIU's Methodology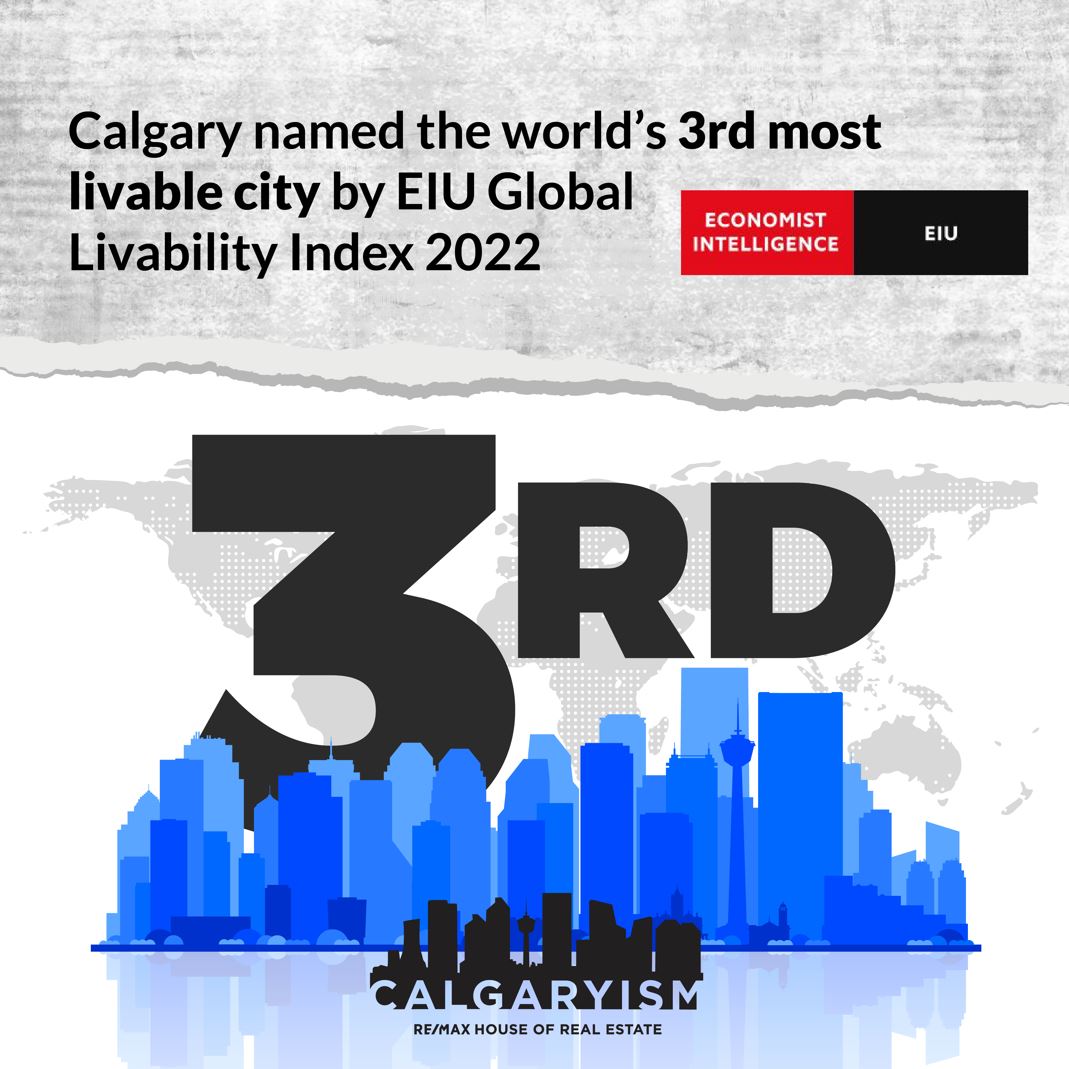 So, just how does the EIU determine how "livable" a city is? While they can't take into account personal opinions (you or I might just really love living somewhere despite its score by the EIU), what the index does is evaluate different indicators to create a detailed representation of livability apart from the economy.
A total of 173 cities were surveyed and given a score between 1 and 100 for the following categories:
Stability
Culture & Environment
Healthcare
Infrastructure
Education
Calgary raked up a total of 96.8 out of 100 points, up 0.5 points from its 2022 score. Our city also received perfect scores in the Stability, Healthcare, Education and Infrastructure categories.
A score of 87.3 for culture and environment weighted at 20% leaves some room for improvement – and for jumping up in the rankings even further sometime soon. Let's get to it!
EIU's Indicators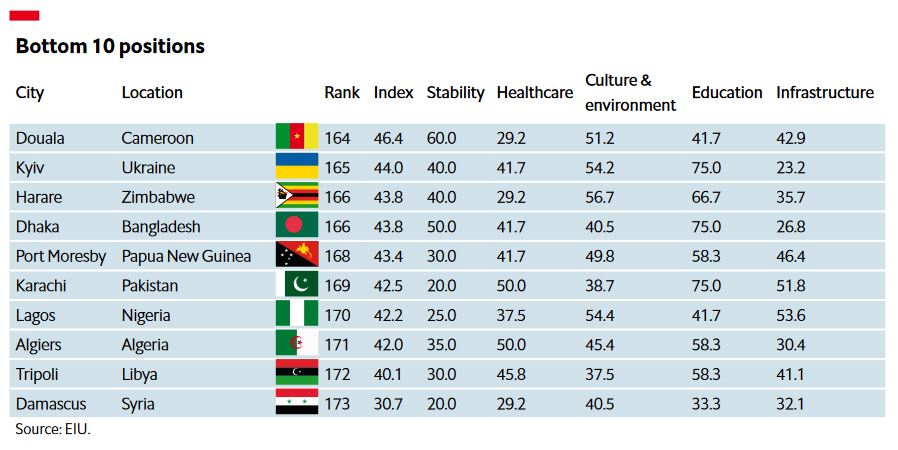 What indicators are used by the EIU to determine the rankings? Here's a deeper dive into some of the ranking factors considered along with the overall weight of the category:
Stability – 25%
Prevalence of petty crime
Prevalence of violent crime
Threat of terror
Threat of military conflict
Threat of conflict and civil unrest
Culture & Environment – 25%
Humidity/temperature rating
Discomfort of climate to travellers
Level of corruption
Social or religious restrictions
Level of censorship
Sporting availability
Cultural availability
Food and drink
Consumer goods and services
Heathcare – 20%
Availability of private healthcare
Quality of private healthcare
Availability of public healthcare
Quality of public healthcare
Availability of over-the-counter drugs
General healthcare indicators
Infrastructure – 20%
Quality of road network
Quality of public transportation
Quality of international links
Availability of good quality housing
Quality of energy provision
Quality of water provision
Quality of telecommunications
Education – 10%
Availability of private education
Quality of private education
Public education indicators
I Love Calgary!

Calgary is a great place to live. Whether it be the river parks and pathways, vibrant family-friendly neighbourhoods, or easy access to the mountains, there is a lot to love about being a resident of the world's seventh most livable city!
For more of the best local activities, events and restaurants, give us a like at Calgaryism on Facebook, Instagram and Twitter and stay updated via your live social media feed. We hope to see you there!