Calgary Hidden Gems – Angels Capuccinno and Ice Cream Cafe
October 12, 2012
By Cody Battershill
Calgary Hidden Gems – Angel's Cappuccino and Ice Cream Cafe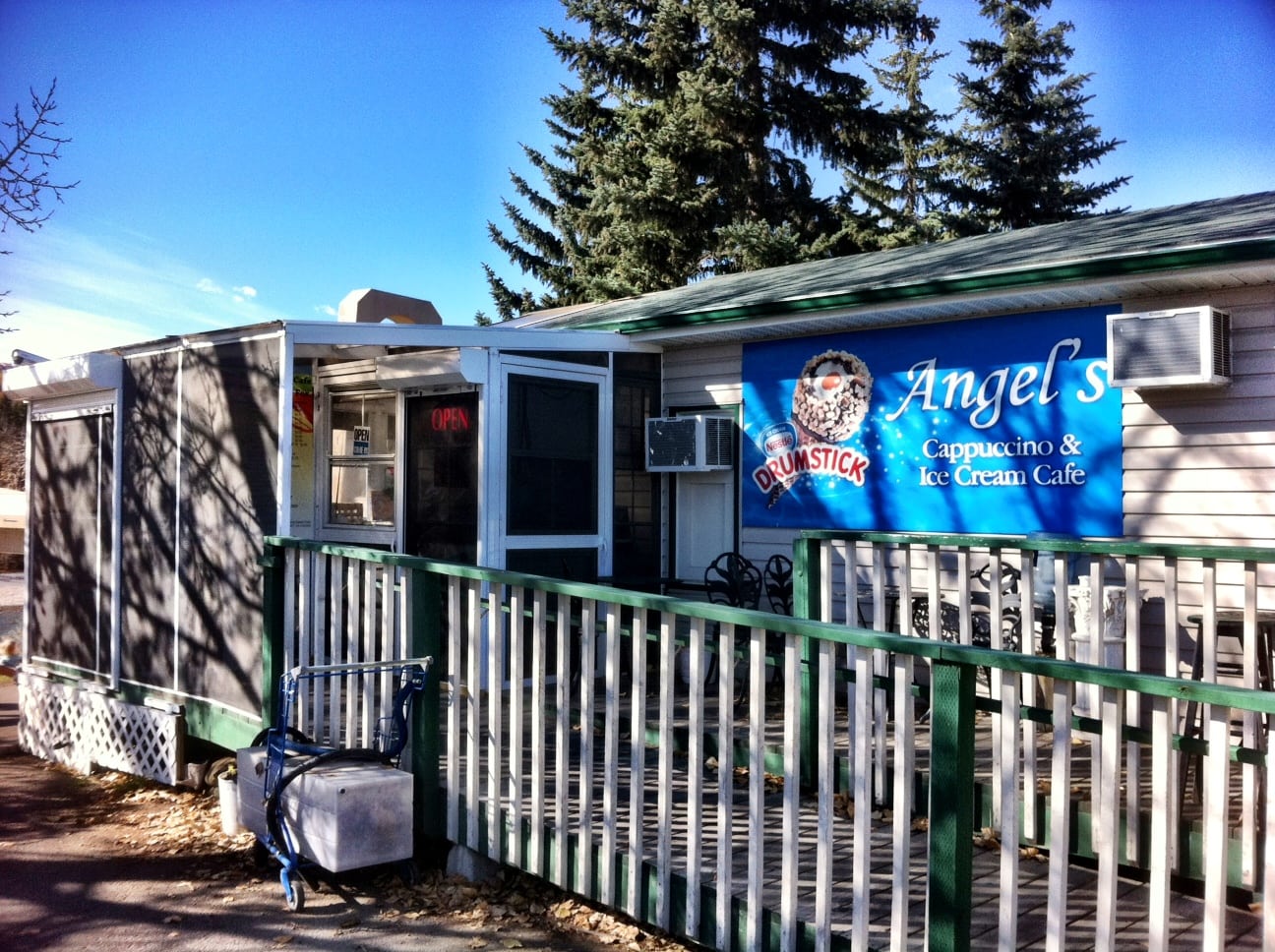 If I wasn't told about Angel's Cappuccino and Ice Cream Cafe, I still probably would not know about it. Located in Montgomery right beside the Bow River pathway, this is a Calgary Hidden Gem you won't want to miss!
I really didn't have a clue where we were going when I first visited this place. After entering Angel's, I realized this cafe style truly does cater to the pedestrians on the Bow River pathway. With only 3 tables covered by a fully glassed greenhouse style covering, most customers of Angel's choose to eat their food outside. Outside actually has more couches, chairs and benches than the inside does.
Food...
Angel's Cappuccino and Ice Cream Cafe cooks homemade, café style food. Sandwiches, soups, salads and appetizers are their main forte. My orders –
Grilled Cheese Sandwich – It doesn't get any cheesier than this. If you like grilled cheese, you will like this!

Schneider's Smokie Hot Dog – Covered with melted cheese and my choice of toppings, this smokie did the trick! For gluten sensitive people, there is the option to have it served on a gluten free bun.

Soup and Sandwich Combo – Buffalo chicken soup served with a B.L.T. on thin sour dough bread. The soup had a cheese base with some veggies, chicken bits and was a bit spicy. It made for the perfect dip to engorge my B.L.T. sandwich in! As far as the B.L.T. goes, it was quite good! A little bit more bacon would have made it perfect.
All of these plus two ginger ales and one bottle of water cost only $24. For two people, I would say it wasn't a bad deal at all!
If you find yourself on the Bow River pathways along Montgomery and Bowness, or are simply looking for something new and affordable, I recommend Angel's Cappuccino and Ice Cream Cafe! Find this Calgary Hidden Gem at…
Angel's Cappuccino and Ice Cream Cafe
4105 Montgomery View NW, Calgary, AB
Phone Number – 403.288.8612