Calgary Hidden Gems – Colour Me Mine
May 25, 2013
By Cody Battershill
Calgary Hidden Gems – Colour Me Mine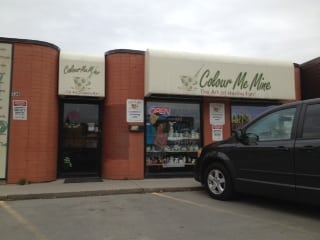 Who would have thought that Colour Me Mine would be as fun and romantic an activity as it is?
When I first heard what Colour Me Mine was all about, I thought I was too old to participate or that I wouldn't enjoy it. But I was wrong! This is one of the funnest Calgary activities around!
The Hype
So what's all the hype about? Well, this Calgary hidden gem is a store with do-it-yourself ceramic arts and crafts. I am guessing they have well over a hundred different ceramic pieces for customers to choose from, which can make it hard when deciding what to paint! They have everything from…
How it Works
After you finally choose a piece (or two) to paint, you head over to the paint desk where the Colour Me Mine representative will explain to you the different painting tools, colours and how to apply them, as well as several other tips and tricks to help bring your ceramic creation to life!

Available for use are thick books with various decals, designs and if you'd like, you can use already finished pieces on the store shelves as examples while you paint!

When everything is painted and dried, you leave your creation at Colour Me Mine to be fired, which takes anywhere from a few days to a week.
For Fun
Colour Me Mine is a fun activity for the kids, for couples, for friends, for anyone!

The few times I have been there I have seen many young children with their parents painting and loving every minute of it!

For the older generations, you`d be surprised as to how fun it really is, take my word for it!

The experience you have at this Calgary hidden gem is one you will always be reminded of when you look at your creation!
For Romance
Why not head down to Colour Me Mine before a romantic dinner date and choose a piece of ceramic for your date and vice versa, and then paint it for them?

Maybe it's a heart shaped picture frame you would like to give him / her so you can put a picture of you two in it later, or perhaps a hugging salt and pepper shaker set symbolic of your love.

Use your cunning and creativity to make Colour Me Mine a very romantic occasion for you and your partner! Its easy to do and affordable to say the least, most of the ceramic pieces cost around $35.
3 Locations

334 14th Street NW - 403-249-4386

#115 333 Aspen Glen Landing SW - 403-984-4386

41 High Street SE - 403-264-2022
Calgary Hidden Gems - Colour Me Mine
Have you been to one of the Colour Me Mine locations in Calgary?
If so, what is your favourite part about their activities? Please leave us a comment below and let us know!
Until next time, be sure to check out these Calgary Hidden Gems…