Calgary Hidden Gems – Demetris Pizza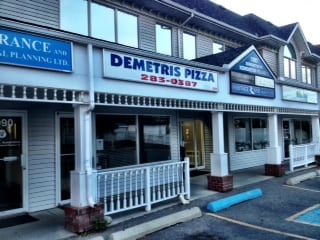 Have you heard of the hidden gem named Demetris Pizza on Kensington Road? If not, it's likely because you don't live in the Hillhurst area.
Lo and behold, this little Greek pizza establishment is something to get excited about if you love pizza!!
Located in the heart of Hillhurst, Demetris has been a staple in the northwest inner city for more than 20 years. Their home-made, quality pizzas have given them a strong reputation as the go to place in the area and all for an affordable cost….
Medium – 10 inch – $16.95

X-large – 14 inch – $24.95

Or get two of any size for a sweet price!!
Now the hard part is to choose from several different topping combinations ranging from "Affair of the Heart" (artichoke hearts, tomato and chicken sprinkled with oregano and basil) to "The Red Sea" (baby shrimp and red peppers covered with tomato and black olives)
Or make it easy on yourself and order your very own customized pizza with over 20 toppings to choose from.
Are you a vegetarian? Not to worry as this Calgary hidden gem offers 6 different vegetarian topping pizzas! And for those who might not feel like eating pizza, Demetris also offers Lasagna, ribs, salads and desserts that are just as delectable as their pizza!
Available for delivery in the inner city region or for pick up makes Demetris Pizza as convenient as it is delicious! Simply some of the best Calgary pizza around and you will not be dissapointed!

3 Must Try Demetris Pizzas
1 – Demetris Kensington Special – ham, pineapple, pepperoni, mushrooms, black olives, green peppers, tomato, beef and onions – have you ever been to pizza heaven, you know when you starting humming or oooing each and every bite? Well, the Kensington Special will take you there!

2 – Spinach Classic – chicken, spinach, feta cheese, onions – never go wrong with the spinach classic toppings combo – protein, veggies and a savoury taste all at once? Yes please!

3 – Affair of the Heart – chicken, tomato and artichoke hearts topped with basil and oregano – who said eating pizza couldn't be healthy? Try the affair of the heart, you'll feel happier about eating all that carb packed dough!
A Hidden Gem You Don't Want to Miss….
You'll be more than satisfied with Demetris Pizza. Whether it be on the way home to the northwest suburbs of Calgary or just a quick delivery to your inner city home, Demetris Pizza is a must try for those who love their pizza!
Address – 1986 Kensington Road NW, Calgary, AB

Phone Number – 403-283-0387
Calgary Hidden Gems
Calgary is full of hidden gems. Here are a few more of these awesome establishments you just have to check out!
Calgary Hidden Gems – Angel's Cappuccino & Ice Cream
What are some of your favourite hidden gems in Calgary? Please let us know below and we will do our best to write about them!