Calgary Hidden Gems – Earth Gems Crystals & Minerals
June 13, 2017
By Cody Battershill
Calgary Hidden Gems – Earth Gems Crystals & Minerals
[pb_vidembed title="" caption="" url="https://www.youtube.com/watch?v=dY3IKhPvf1w" type="yt" w="480" h="385"]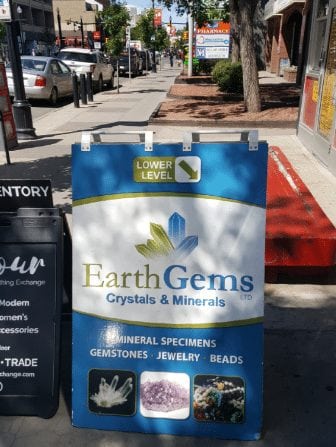 Tucked away in an unsuspecting basement location on the Red Mile is Calgary's one-stop-shop for crystals and minerals. Called Earth Gems, this Calgary hidden gem has everything your heart could wish for made from precious minerals found all around the world!
I didn't expect Earth Gems to have such a large and all-inclusive selection of crystals and minerals. In total, you'll find more than 450 different stones and crystals, including some that are extremely rare or hard to find.
Some stones and crystals are available in different forms including raw, tumbled and shaped, while others only come in jewellery and / or beads.
There's also a massive selection of different things you can buy: DYI bracelets, necklaces, earrings, alarm clocks, coasters and candle holders are just a few of the everyday objects I noticed that were all made from different minerals.
Location
[mappress mapid="328"]
Website - www.earthgems.ca

Address - #100 1022 17th Avenue SW, Calgary, AB

Phone Number - 403-244-5027
DYI Section
I especially took notice of the do-it-yourself section where you can choose from more than a hundred different oval and spherical shaped beads to create your very own bracelet and / or necklace.

Beads come in two sizes: smaller ones are about 0.6cm wide while the larger ones are around 1.0cm. I preferred the larger beads as the smaller ones didn't look to good on my wrist.

I like simple colours like black, grey and white which made it easy to choose tourmaline opal, a mineral with chakra that's supposed to help you let go of old hurts and emotions that may be blocking you from moving forward in life – super cool!

Bracelets go for anywhere between $10.00 and $20.00 depending on the mineral and bead size you choose. Necklaces are a bit pricier but go well with the bracelets and make for a great gift together.
Chakra
If you're unfamiliar with the concept of chakra, it's the idea that our body has seven major energy centres connected to different organs and glands that govern our entire system. These seven chakra centres (and some associated stones) include:
Root – black tourmaline, bloodstone, hematite, fire agate, tiger's eye

Sacral – orange aventurine, carnelian, coral, citrine, moonstone

Solar Plexus – calcite, citrine, malachite, topaz, yellow tourmaline

Heart – green calcite, green tourmaline, jade, rose quartz, moss agate

Throat – aquamarine, blue apatite, blue calcite, malachite, lapis lazuli

Third Eye – amethyst, azurite, black obsidian, moldavite, purple fluorite,

Crown – amethyst, celestite, clear quartz, diamond, selenite
Each mineral has its own chakra associated with one of the seven major energy centres which can help restore balance within the body.
Try picking up one of Earth Gems pre-made beaded bracelets and see if it helps you with your health. What's there to lose?!
More Hidden Gems

I Love Calgary
Looking for more of the best local activities, shops, restaurants and everything else to do with YYC? If so, we invite you to join us at Calgaryism on Facebook, Twitter and Instagram to stay updated via your live social media feed today. We hope to see you there!