Calgary Hidden Gems – Pfanntastic Pannenkoek Haus
April 6, 2013
By Cody Battershill
Calgary Hidden Gems – Pfanntastic Pannenkoek Haus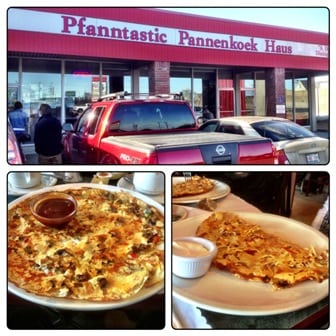 Are you looking for a unique dining experience in Calgary but aren't exactly sure where to go? The Pfanntastic Pannenkoek Haus in North Glenmore Park is one Calgary Hidden Gem you won't want to miss!
The Pfanntastic Pannenkoek Haus has established itself among the Calgary community through their unique Dutch style pancakes that are unlike any other in the city.
Pannenkoek (Pancakes)
Pannenkoek are definitely not your typical Canadian style pancake seen at other breakfast spots. Although they are similar in shape, that's about it! Pannenkoek are different to regular pancakes in many ways, including…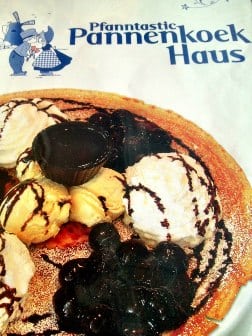 Size of Pannenkoek are 12 inches in diameter and are thinner than traditional pancakes

Ingredients are baked right into the batter

Sweeter recipes usually have ingredients served on top
Can be rolled up like a pita and eaten on the go

Are meant to be a main entree while traditional pancakes are usually accompanied by other food

Usually eaten for lunch or supper in the Netherlands
Apart from being as unique as the name of the restaurant serving them, these savoury Dutch crepes and pancakes come in over 40 different forms; from breakfast to sweet, lunch to dinner, the Pfanntastic Pannenkoek Haus covers all of the meal bases. My 5 favourite menu items are…
Breakfast - Spek, champignons en kaas - $11.95 – bacon, mushroom and cheese

Breakfast – Steak, ui en rosti – $12.45 - steak, onion and shredded potatoes

Dinner - Steak met smeerkaas (Philly cheese steak) - $17.95 – steak, peppers, mushrooms, onions, cheese with a side of BBQ sauce

Dessert – Appel en kaneel - $8.95 – apple and cinnamon

Dessert – Banaan, kokos en chocoladesaus - $10.95 – banana, coconut and chocolate sauce
The Pfanntastic Pannenkoek Haus also serves regular entrees including omelettes, soup, sandwiches and salads just in case you feel like having something you are use to, but I am willing to bet that after you try one of these authentic Dutch pancakes, you will almost never order a regular meal at this Calgary hidden gem!
So what are you waiting for!? Head on down to the Pfanntastic Pannenkoek Haus sooner than later! I recommend you get there early or come prepared to wait 20 minutes for a table as they don't take reservations.

Address - 2439 54th Avenue SW, Calgary, AB
Phone Number - 403-243-7757
More Hidden Gems in Calgary
Tuxedo Source for Sports – Calgary Hidden Gems

LICS Ice Cream Shop – Calgary Hidden Gems