Calgary Housing Market Outlook: 2018 & 2019
Many home buyers and sellers have lots of questions when it comes to making a move in today's housing market. If you're wondering what's going to happen in Calgary's residential sector in 2019, you should read on.
Just recently the Calgary Real Estate Board (CREB®) published its annual Calgary Economic and Housing Outlook 2019. If you're thinking about making a move this year, here's what you can expect to see in the attached, detached and apartment segments of the market in bullet-point form. Also see:
Attached Homes – Predictions for 2019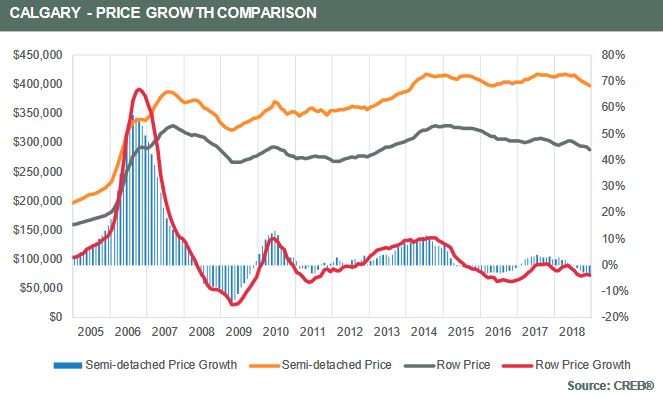 – 3,448 expected sales of attached homes in 2019, 2.5 per cent lower than 2018

– 2.49 per cent decline in 2019 due to constant oversupply, putting downward pressure on benchmark prices
Semi-Detached – Market Performance in 2018
– Annual benchmark prices for semi-detached product dropped by 0.34 per cent versus 2017

– In the first half of 2018, semi-detached prices improved in the North East, East, North and City Centre

– Semi-detached prices eased in most districts during the last half of 2018

– A jump in new listings and weak sales combined to make inventories reach record highs

– Most attached sales happened in the city centre, although sales still dropped by 13.5 per cent in this sector

– New listings increased by 26 per cent, with a 58 per cent in inventory

– Sales dropped across all sectors except for in the North West, where sales actually increased
Row / Townhomes – Market Performance in 2018
Current average benchmark price for row / townhome units remains about 10 per cent lower than previous highs

Townhome sales declined in all districts of the city, save the North East

Due to elevated inventory levels and slower sales, new townhome listings began to drop in most districts except the West and North

Adjusted new listings helped prevent further inventory gains, however, overall townhome inventories edged up in 2018

Price drops ranged from a high of 6 per cent in the North East districts to relatively stable prices in the North West
Detached Homes – Predictions for 2019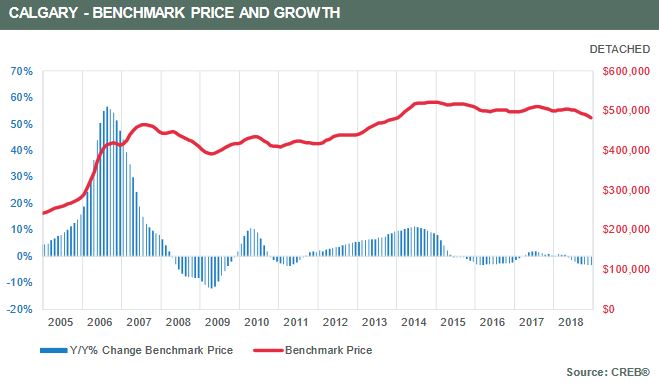 -Employment gains restricted to lower-paid sectors will likely prevent a price recovery from happening for detached homes in 2019

– Oversupply is expected to continue to put downward pressure on detached home prices in 2019

– Stabilization of sales, inventory and supply is expected to occur by the end of the year

– Dropping prices may bring buyers into the resale market, which will help reduce oversupply and inventory levels

– Price changes between different price ranges will not be linear, with homes in the higher price ranges expected to see more drops than those that are in the lower price ranges

– 2.33 per cent decline in benchmark prices by the end of the year, ending in an average price of $485,216

– Sales activity expected to ease in 2019, with levels remaining far below the historical norm
Detached Homes – Market Performance in 2018
– 16 per cent drop in average detached home sales activity in 2018 versus 2017

– Across all sectors, detached prices decreased between 11 per cent and 18 per cent

– Detached benchmark prices fell by 1.45 per cent in 2018 to levels similar to those during the 2016 recession

– Drop in detached sales activity was far larger in the beginning of the year due to adjusted new lending rules

– By the end of 2018, detached sales activity didn't drop as steeply as in the first half of the year

– Detached sales activity dropped for all price ranges except below $300,000, however, this segment represented just 3 per cent of all sales activity an reflects just over 1 per cent of all inventory

– Stricter lending rules and higher lending rates with weak job creation in the higher-paid sectors of Calgary's market have put downward pressure on the detached segment of the market

– Inventory levels reached new heights for the $500,000 to $999,999 price range

– City Centre and West districts recorded prices similar to those in 2017, while all others saw price declines between 1 to 3 per cent.
Apartments – Predictions for 2019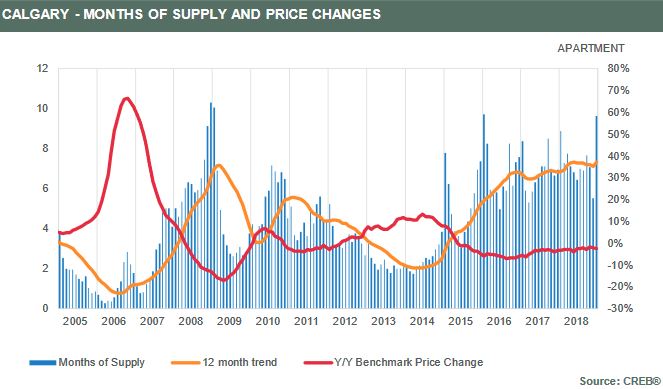 – An increasing demand for affordable condos and tighter rental market conditions will likely result in -stabilized sales activity in 2019

– 2,683 total apartment sales expected for 2019, similar to levels seen in 2018

– New multi-family construction starts are expected to drop, limiting the growth of supply in the new condo market and reducing competition with the resale condo market

– Continued oversupply is expected to cause further price drops, however by years' end it is expected to ease to a decrease of 2.27 percent
Apartments – Market Performance in 2018
– 2,663 total condo sales in 2018, a 7 per cent decline versus 2017 and 22 per cent lower than the 10-year average

– New condo listings fell by 7.3 per cent on a city-wide basis, preventing further gains in inventory

– Oversupply throughout the city has caused condo benchmark prices to drop between 2 per cent in the City Centre and North West districts to a high of 5.3 per cent in the East

– Rate of declining prices have eased from 6 per cent in 2015 to 3 per cent in 2018

– Improved selections of attached and detached homes coupled with high availability in the rental and new home markets have drawn significant demand away from the resale condo market

– Current supply levels in the new home, rental and resale condo markets expect to put more downward pressure on condos throughout 2019

– Since the highs recorded in 2014, the average condo benchmark price in Calgary has dropped by nearly 17 per cent

*Sourced from the Calgary Real Estate Board: Calgary Economic & Housing Market Outlook 2019
Questions about Calgary Real Estate?

As a highly experienced REALTOR® and REMAX Agent in Calgary, I guarantee the best service and advice while guiding you towards accomplishing your real estate goals.
Call me anytime at 403-370-4180 or send a message below for a quick response. I am looking forward to discussing your real estate plans with you!