Calgary Landmarks – Calgary Soldiers Memorial
July 4, 2013
By Cody Battershill
Calgary Landmarks – Calgary Soldiers Memorial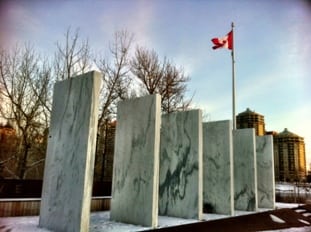 It is one of the most meaningful Calgary landmarks there is, a memorial to honour some of the fallen Canadian soldiers who have lost their lives in military service and war overseas during the past World War's and in current conflicts such as Afghanistan.
The Calgary Soldiers Memorial was dedicated on April 9th of 2011, the date of the 94th anniversary of the Battle of Vimy Ridge that took place during World War I where the Canadian Corps fought valiantly and defeated the German divisions in only 3 days.
Vimy Ridge was the first time all four of the Canadian divisions dedicated to overseas warfare (Canadian Expeditionary Forces) had fought together in one battle.
Their success quickly became a symbol of national strength and achievement in a time when Canada was in the process of gaining its own identity apart from its sovereign nation (Britain).
Honouring the Fallen…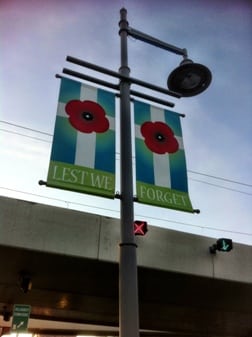 This important Calgary landmark consists of several large stone tablets arrayed on an elevated bronze platform, on them the names of more than 3,000 soldiers from Calgary regiments who were killed in action. These regiments include…
The Kings Own Calgary Regiment

746 Communications Squadron

41st Combat Engineer Regiment

10th Battalion of the Canadian Expeditionary Forces

50th Battalion of the Canadian Expeditionary Forces
If you live in Calgary or are a visitor and happen to pass by the Calgary Soldiers Memorial, consider stopping to taking a moment and reflect on what the names of these fallen heroes means.
They gave the ultimate sacrifice for our nation, one that played an integral role in Canada's ascension away from Britain's sovereignty and should be remembered not only in the annals of war, but in the hearts of Calgarians and Canadians as a whole.
Looking for more Calgary Landmarks?

Calgary Landmarks – Peace Bridge
Thanks for stopping in at Best Calgary Homes. Please bookmark us and come back soon for more great articles on everything Calgary!