Calgary Landmarks – Calgary Tower
August 19, 2012
By Cody Battershill
Calgary Landmarks – The Calgary Tower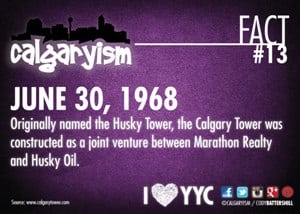 One of the most iconic and longstanding symbols of Calgary is the Calgary Tower.
Completed in 1968, the 191 metre (626 ft) tower has long been a dominating figure on the city skyline and is to many one of the most recognizable Calgary landmarks.
Originally named the Husky Tower, the joint project between Husky Oil and Marathon Realty Company Ltd. was to commemorate the centennial anniversary of Canada in 1967 and was later renamed the Calgary Tower in 1971.
Part of the reason for the joint venture between Husky Oil and Marathon Realty Company Ltd. was to kick start an urban renewal and encourage growth in the downtown area.
Activities at the Calgary Tower
This must-see attraction brings its visitors up to a 360 degree observation deck where you will see breathtaking panoramic views of the surrounding areas of Calgary, foothills and of course, the Rocky Mountains.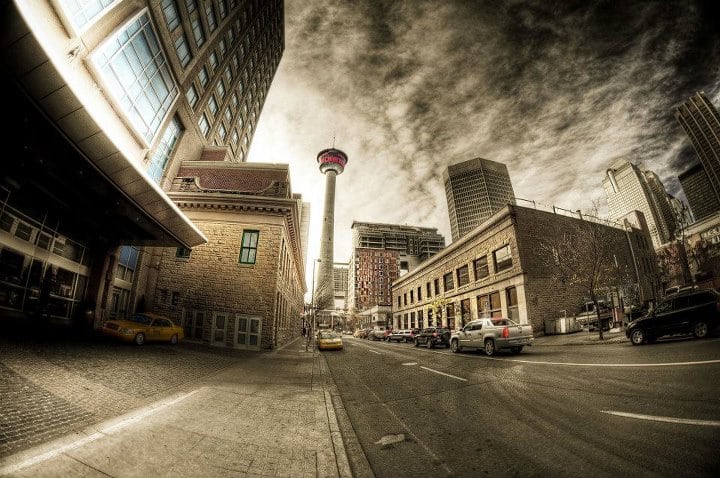 The tower also features a 360 degree rotating restaurant named Sky 360, offering a completely unique, upscale dining experience while taking in the panoramic views of the streets below and surrounding areas.
At the bottom of the landmark find the Official Tourism Calgary Information Centre with a gift store and free internet cafe.
Those looking for valuable information concerning tourism, local attractions, events, activities, accommodations and more can find it here at the base of the Calgary Tower.
It is a great place for visitors to come and find out about things to do in and around town and to learn a little bit about the city itself.
Found on 9th Avenue SW and Centre Street across from the Fairmont Palliser, it is easy to find and is a good starting place when touring the downtown area.
I highly recommend trying some of the gourmet food at Sky 360. If your stomach isn't growling, then I would itleast check out the views from the observation deck, that's for sure!
The Calgary Tower
Address - 101 9th Avenue SW, Calgary, AB

Phone Number – 403-266-7171
Looking for other local Calgary landmarks? Be sure to check out the Bow Tower, Eighth Avenue Place or even Bankers Hall!