Calgary Landmarks – Canada Olympic Park & Ski Jumps
July 21, 2013
By Cody Battershill
Calgary Landmarks – Canada Olympic Park & Ski Jump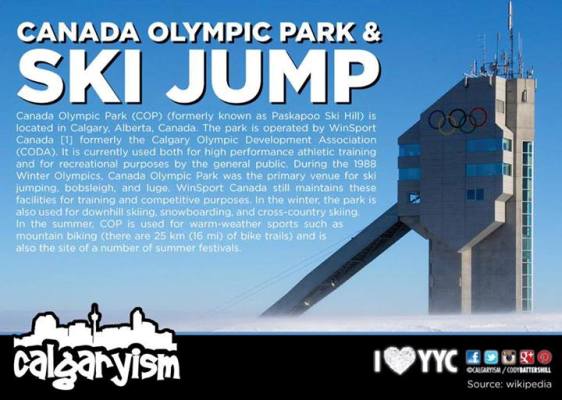 Canada Olympic Park (COP) is an outdoor / indoor recreational sports facility located on a section of the Bow River Valley escarpment in the west side of Calgary, Alberta.
COP is currently operated by WinSport Canada and is used for both recreational purposes by the general public and for high performance athletic training by some of Canada's finest athletes.
Canada Olympic Park was originally built for the 1988 Olympic Winter Games. It was the primary venue for luge, bobsleigh and ski jumping events. These facilities are still maintained by WinSport for competitive and training purposes.
The park remains the most visible memory of the 1988 Olympic Winter Games. It is one of those Calgary landmarks with a legacy that will never be forgotten, a legacy that will continue on through the development of athletes and as a place for locals and visitors alike to engage in year round activities for many years to come.
Future Development
COP will always be a place for sports, activities and recreational fun here in Calgary. One of the most exciting new facilities to open at the park is the new Performance Training Centre which has been called the first of its kind in our nation!
Situated in the Markin MacPhail Centre, the new centre will be a world class training, testing and fitness facility. In charge will be some of Canada's leading experts in these three categories mentioned who are also masters of creating highly customized programs for individuals based on their own skill and fitness levels.
The new Performance Training Centre at Canada Olympic Park is scheduled to open in the fall of 2013.
What an opportunity it is to be able to train side by side with some of the best athletes in Canada!
Summer and Winter Activities
Apart from luge, bobsleigh and ski jumping (mostly training) during winter, COP is also used for skiing, snowboarding, cross country skiing and everything in between. There are two different ski lifts as well as a t-bar for the snowboarding pipe and trick park.
In the summer the park is used for a variety of warm-weather activities including mountain biking, hiking, zip lining and even festivals too!
I personally have gone ziplining at COP and absolutely loved it. Definitely a must try summer activity in Calgary! Learn more at these 3 Fun Summer Calgary Activities.
An Iconic Calgary Landmark
Since the beginning Canada Olympic Park and its ski jumps have been one of our most distinguishable Calgary landmarks. Not only do many local Calgarians see them every day, but so do travellers driving through our city on the Trans Canada Highway.
This reason alone will always keep Canada Olympic Park and its towering Ski Jumps up there with the most iconic Calgary landmarks such as the Bow Tower and McMahon Stadium.