Calgary Landmarks – Dragon City Mall
July 15, 2014
By Cody Battershill
Calgary Landmarks - Dragon City Mall in Chinatown, Downtown
Chinatown, a cultural gem in the heart of downtown Calgary, is home to many unique restaurants, shops and services that never cease to amaze.
It is also one of the oldest parts of our city and hosts a few very distinguishable Calgary landmarks such as the Chinese Cultural Centre and Dragon City Mall.
The latter of the two is one of the most recognized buildings in Chinatown. It was originally built as an office building but then was later converted into an indoor shopping centre.
Today, Dragon City Mall is an iconic building that definitely tells passerby's they are in fact in the Chinatown area, there's no mistake about it.
Location
[mappress mapid="135"]
Dragon City 101
You know those unique restaurants, shops and services we were talking about? Well, a majority of them are located on the corner of Centre Street and 4th Avenue SE - in Dragon City Mall.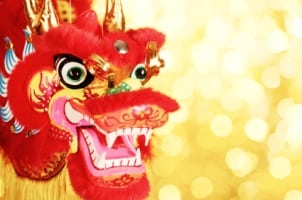 Walking inside you'll immediately feel like you've been transported to a faraway place, somewhere in the Orient where Chinese, Japanese and Vietnamese businesses all share an indoor mall most definitely different from your typical North American shopping centre, big or small.
As a matter of fact, during the construction process the builder was in constant consultation with a Feng Shui Master to make sure that its design would allow energy (or Qi) to flow in – and not out – according to the laws of the ancient art. See our Feng Shui Home Tips here.
This can bring good fortune and peace to anyone who chooses to visit this Calgary Landmark! So, if you do go, make sure to check out these favourites:
Sushi Tokyo
Sushi Tokyo is a well-established restaurant serving up some of the best sushi in the area. Try the salmon sashimi if you like raw fish or perhaps one of their special sushi rolls as they are always good.
Diamonds & Gold Creation Jewellers
Looking for an exotic 18k, maybe 24k gold jewellery or some rare stones? Find it at this amazing jewellery store; the owners are friendly, honest and skilled at making custom pieces.
Honey World
Find all your cartoon anime paraphernalia and much more at this unique gift shop including animal-shaped coffee mugs, Sailor Moon figurines and Pokémon cutlery. You really never know what you`ll find in this place!
Qalala Candy Store
If you have a sweet tooth like I do, then you'll love Qalala. From Japanese Pocky Sticks to Morinaga Hi-Chew's, you'll have a blast trying out the variety of tasty candies and other sweet snacks found here.
Rainbow Bakery
One great way to experience some of the Chinese culture is to try their baked goods and Rainbow Bakery has you covered. Eat there, take home, it's up to you!
May Fashion / Goofy Gloves & Silly Socks Ltd.
Located on the second floor at the east end of Dragon City Mall, these two sell a wide range of clothing ranging from cute bunny mittens to anime character socks. Definitely a great place to stop in at for stocking stuffers, or, a surprise gift for anyone you can think of.
DVD Store
At the east end of Dragon City Mall is a DVD store with literally thousands of Chinese movies with the odd western production like Discovery Channel`s "Planet Earth", the full documentary set in English for only a fraction of the cost. This shop is a must-stop for movie and documentary buffs, especially if you can read and understand Chinese!
Dragon City Mall really is an extraordinary cultural experience unique to the Chinatown area. Definitely check out this awesome Calgary landmark sooner than later and let us know what you think below!
Dragon City Mall
328 Centre Street SE, Calgary, AB

Mall Hours – 10:00am to 10:00pm

Restaurants – 11:00am to 10:00pm

Store Hours – 11:00am to 6:00pm
More Landmarks
We here at Calgaryism take pride in everything to do with our amazing city, including these Calgary Landmarks that are unmistakably part of our city. Check them out!
Join Us
Looking for more information on local activities, events, restaurants and much, much more? Join us today at Calgaryism on Twitter, Instagram and Facebook and stay connected with the rest of Calgary via live feeds on your social media app… we hope to see you there!