Calgary Landmarks – McMahon Stadium
May 19, 2013
By Cody Battershill
Calgary Landmarks – McMahon Stadium
McMahon Stadium is by far one of the most recognizable Calgary landmarks in the northwest. It is the home of quite a few different football teams here in Calgary, the most recognizable of them being the Calgary Stampeders who play in the Canadian Football League (CFL).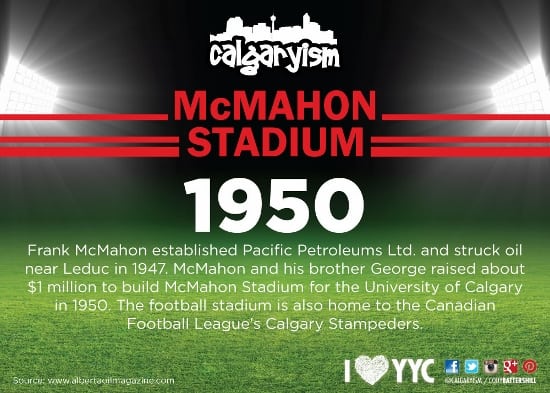 Other tenants include the University of Calgary Dinos, Calgary Gators, Calgary Colts and Calgary Wolfpack football teams.
McMahon Stadium also hosts other special events including live musical performances for world-renowned artists and NHL outdoor hockey classics, although the Scotiabank Saddledome is likely a preferred location for musicians because it is an indoor facility.
History of McMahon Stadium
McMahon Stadium was built in 1960 over 100 days, at a cost of $1.05 million.
Two brothers living in Calgary would be instrumental in seeing the new football stadium come to life.
George and Frank McMahon donated $300,000 towards the University of Calgary for the stadium and paid another $750,000 to cover total costs.
In 1985 the University of Calgary took full ownership of McMahon Stadium.
Since its completion, there have been multiple renovations made on the Calgary landmark to improve various features. Over the years the number of seats has changed by the thousands, check it out…
In 2005 – 35,650 seats (current capacity)
More Facts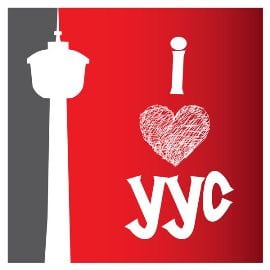 McMahon Stadium has the ability to increase its seating capacity to approximately 46,000 people for special events such as the Grey Cup in 2009. Temporary stands are constructed behind the Red and White Club on the west side of the field.
Today there are rumors in the air that McMahon Stadium will be undergoing another much needed renovation. It is likely this will happen sooner than we think!
More Calgary Landmarks
Calgary Landmarks – Peace Bridge