Calgary Parks – Bowmont Park
January 25, 2013
By Cody Battershill
Calgary Parks - Bowmont Park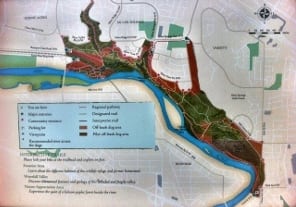 Outdoor recreational lovers of Calgary, Bowmont Park is one amazing outdoor area you don't want to miss. Found on the northern embankment of the Bow River between the communities of Silver Springs, Varsity and Bowness, this massive 164 hectare park is used by countless Calgarians for all types of outdoor recreation.
If Bowmont Park's considerable size and variety of terrain doesn't leave you pleased, then the views surely will. So will these Top 10 Inner City Parks in Calgary.
Quick Facts
Location – NW Calgary, 85th Street and 48th Avenue NW
Size – 164 hectares
Park hours – 5:00am to 11:00pm
Paved and gravel pathways
Multiple playgrounds
On leash and off leash areas
Hiking and biking trails
Benches and picnic tables
Baseball field
Soccer field
And more..!
Bowmont Park essentially has two parts, one being the lower riverside section and the second, the upper plateau area. Most people usually start their recreation somewhere along the plateau section of the park as it lines the communities of Varsity and Silver Springs, which makes sense.
But for those looking to immediately access the lower riverside park and pathway areas can do so by exiting west onto 32nd Avenue NW from Shaganappi Trail NW. At the end of 32nd Avenue NW is a road on the northern side that leads to the riverside area, on the furthest south and eastern side of Bowmont Park.
Upper Plateau and Lower Riverside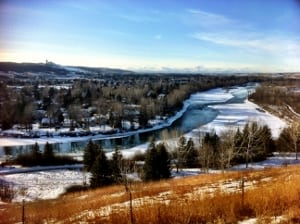 If you enter the park on the upper plateau section like I did you will immediately notice the breathtaking panoramic view of the Bow River Valley to the west. As you progressively look further into the distance you will see a sight to behold; the Rocky Mountains, Bow River Valley and the Bow River therein, all leading down to a few hundred feet from where you stand!! It truly is a spectacular sight!
Below the plateau section of Bowmont Park is the riverside area. Here you will find a wide variety of different elevations, designated on and off leash areas for your pets, plus picnic tables and benches. Although the riverside section was a great walk, especially with the calming sound of trickling water as you go, I still enjoyed the upper plateau section of the park more than below.
Next time you're looking to change the scenery up on your outdoor recreational excursion, try Bowmont Park! You won't be disappointed!
What are your favourite Calgary parks? Let me know and I will do my best to visit them and profile them.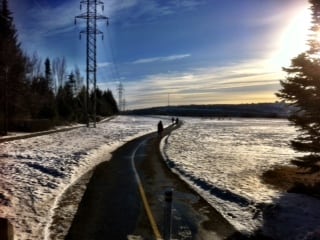 Thanks for stopping by! For more local activities in Calgary, be sure to check out these great articles...