Calgary Ranks 5th on EIU's Global Livability 2015
August 22, 2015
By Cody Battershill
For 6 Consecutive Years Calgary Has Ranked 5th on the EIU's Global Livability Survey
The Economist Intelligence Unit has once again named Calgary as the fifth best city to live in the world, not for two, three or even five, but six years in a row! Yes, that's right, 2015 was the sixth consecutive year that Calgary has ranked fifth on the EIU's Most Livable Cities survey.

With two ties for both 5th (Calgary and Adelaide) and 10th place (Helsinki and Zurich), a dozen cities have made it onto the prestigious list in 2015, more than half of which are found in either Australia or Canada.
Top 10 Most Livable Cities (2015)
#1 - Melbourne, Australia

#2 - Vienna, Austria,

#9 - Auckland, New Zealand
In comparison, the EIU's Global Livability Ranking 2014 looked quite similar to its 2015 version although a few differences are seen in the lower end.
Perth and Auckland both moved up one spot from the previous year from 8th and 9th to 7th and 8th; Helsinki slipped two spots from 8th to tie with Zurich for 10th place. Meanwhile, Melbourne through to Adelaide have remained in the same spot as they were in 2014.
How are scores determined?
The EIU's Most Livable Cities takes into account over 30 factors each belonging to one of five different categories. These five categories include:
Category 1 (25%): Stability - threat of civil unrest/conflict, threat of terror, threat of military conflict, prevalence of violent crime, prevalence of petty crime

Category 2 (20%): Healthcare – availability of private / public healthcare, quality of private / public healthcare, availability of over-the-counter drugs, other general health indicators

Category 3 (25%): Environment and Culture – level of corruption / censorship, social and religious restrictions, sporting availability, discomfort of climate to travellers, humidity / temperature rating, consumer goods and services, food and drink, cultural availability

Category 4 (10%): Education – availability and quality of private education, public education indicators

Category 5 (20%): Infrastructure – quality of road network / public transport, energy & water provision, telecommunications, international links and availability of good quality housing
Each of the five categories listed above have their own set of subcategories that are ranked on a scale from: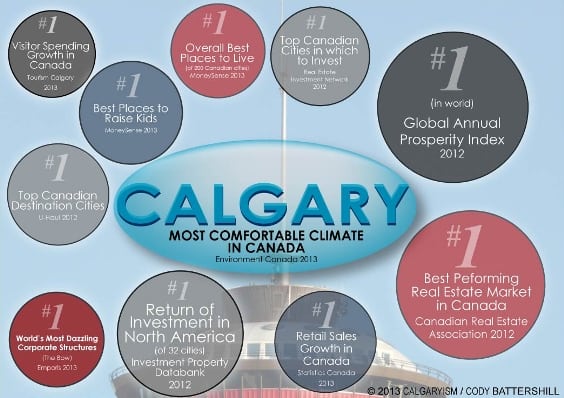 Scores are then tallied and converted into a point system out of 100. Calgary's fifth place tie was accomplished with an overall score of 96.6. A score between 80 – 100 suggests that "there are few, if any, challenges to living standards" – pg. 8 of Global Livability Survey 2015, and the suggested allowance for global workers in these cities is 0%.
By comparison, a city such as Tripoli, Libya, which scored 40/100 in 2015, it is recommended that global workers receive a 20% allowance for having to live and deal with many restrictions.
I Love Calgary
Calgary's ranking as fifth comes as no surprise to a born and raised YYC enthusiast such as myself. See a few reasons why I believe this city is one of the best places to live and tell us why you feel the same way (or don't) as well at 20 Reasons to Love Calgary today.
For more of the best local activities, events, restaurants and other cool stuff, be sure to check us out at Calgaryism on Facebook, Instagram and Twitter – we hope to see you there!