Calgary Scores 2nd on Toronto Board of Trade Annual Prosperity Index for 2013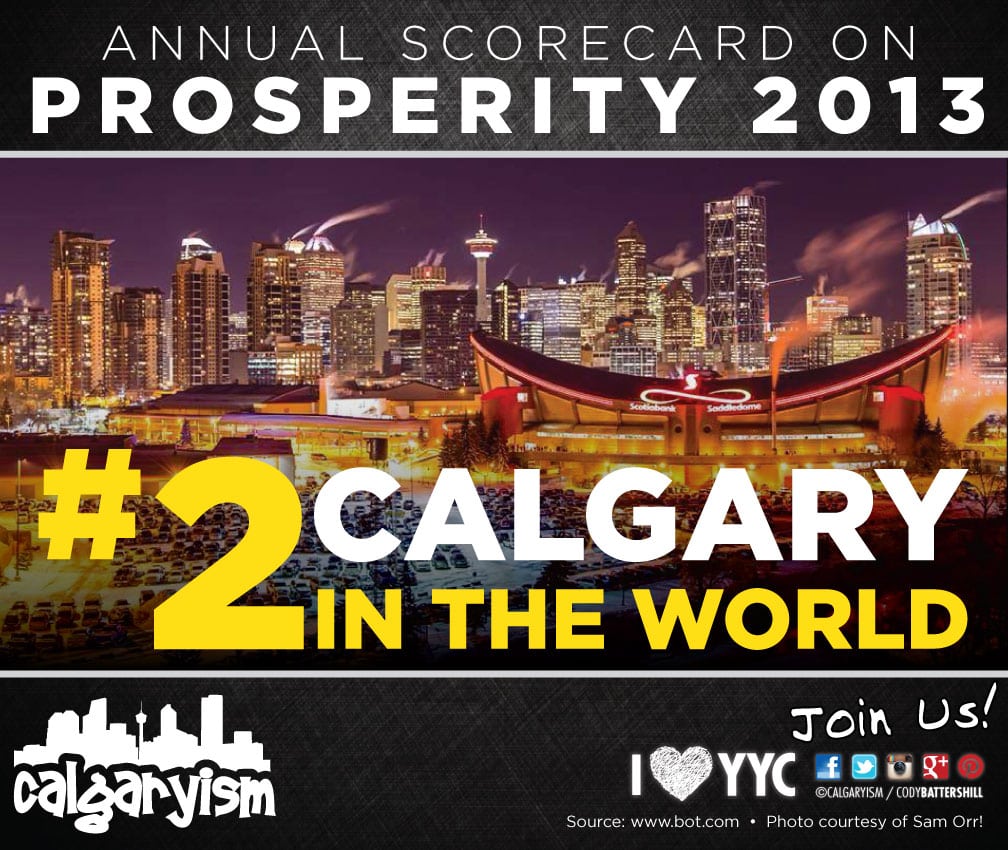 Calgary has been named as the second most prosperous city in the world according to the Toronto Board of Trade's Prosperity Index in 2013, an accolade the city is no stranger to.
Just a year earlier, the same index found Calgary to be the second most prosperous city for 2012.
The top 10 most prosperous cities of the world in 2013 are:
1 – Paris, France

2 – Calgary, Canada

3 – Toronto, Canada

4 – Oslo, Norway

5 – London, England

6 – Stockholm, Sweden

7 – Seattle, USA

8 – Sydney, Australia

9 – San Francisco, USA

10 – Boston, USA
According to the report, Calgary has also ranked 3rd for Labor Attractiveness and 5th for Economy as it continues its strong economic performance that has outperformed all other metropolitan areas in Canada.
Other sub-rankings include:
3rd Real Gross Domestic Product (GDP) growth from 2007 to 2012 (1.8%)

5th for lowest unemployment rate based on 2012 data (4.8%)

8th for population over 25 with at least a bachelor's degree (32.6%)

10th for number of teachers per 1000 students under 18 (66.3)

6th for number of homicides out of 100,000 people over 5 years (1.4)
Labour Attractiveness
In addition, increases in employment opportunities and income levels as well as relatively affordable housing (1st), high population growth (2nd), short commute times (1st) and a young work force (3rd) have helped Calgary place in the top 3 out of 5 indicators used in the prosperity index.
Economy
Since the first Prosperity Index Scorecard 6 years ago, Calgary has been the top performing Canadian metropolis and the only one of them all to carry a score of A throughout.
A large part Calgary's economic success stems from strong oil and gas prices and investments relating to the energy industry.
With hundreds of billions of barrels of oil in Alberta's oil sands, the 3rd largest proven oil reserves in the world, it is likely that Canada's energy hub will continue on with its economic prosperity for years to come. See several articles relating to Canadian Economics today.
I Love Calgary
Does it get any better? #Calgary is amazing, beautiful & proudly our home! By Sam Orr. pic.twitter.com/jhh0nBnHcD
— Calgaryism (@Calgaryism) February 24, 2014
 There is nothing bad about living in one of the world's most prosperous cities – that's for sure!
For those who live in Canada, or perhaps in another country, Calgary is one of the top places to go when it comes to searching for a better way of life. Income levels are high, housing is relatively affordable and employment opportunities are abundant in a city that has just recently said to have gained its "cultural legs" by the New York Times.
However, as a born and raised Calgarian, I must argue that the culture we have here in Calgary is very much alive and have been for several years. Our community has a friendly and vibrant atmosphere that spreads from the city centre right to the furthest suburbs.
Join Us
If you are thinking of a better life in the heart of the new west, I encourage you to check out these 15 Reasons to Relocate to Calgary.
Until then, be sure to check out more accolades at our Calgary Awards and Rankings Infographic today and join us at Calgaryism on Facebook, Instagram and Twitter – we will see you there!