Calgary Stampede Economic Benefits – Yahoo for Economy!
July 8, 2013
By Cody Battershill
Calgary Stampede Economic Benefits - Yahoo for the Economy!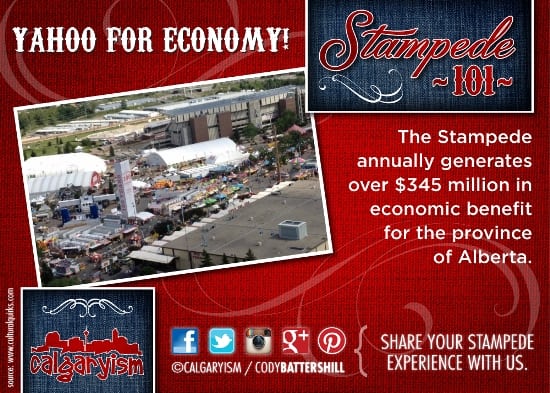 The Calgary Stampede annually generates over $345 million in economic benefit for the province of Alberta!
Millions of dollars of economic benefit is also generated by the various consumer and trade shows held at different venues such as the BMO Centre and the Big Four building. Here are 10 Must Try Snacks at the Calgary Stampede!
This massive number is a result of over one million visitors going to the Calgary Stampede every year, spending on things such as restaurants, hotels and other services.
In 2013, the "greatest outdoor show on Earth" set a new record for number of visitors with a final attendance of 1,409,371 people, beating out the previous record of 1,262,518 set back in 2006!
The show is also known as a huge networking event where executives and bankers get together and make deals left and right - in between the all day cocktail parties and wild chuck wagon races that is. It provides the perfect atmosphere for deals to get done in a neutral setting away from any pressures the office might bring.
Part of Our Identity…

The Calgary Stampede is an integral part of Calgary's tourism industry – an industry that generates $1.4 billion and attracts 5.2 million visitors every year. The Stampede accounts for almost a quarter of total revenues ($345 million) from tourism and over a quarter of total visitors (1.41 million) to our city every year!
But the Calgary Stampede isn't just a massive revenue generator for our city and province. It is a part of our identity as Calgarians, an event that has been happening for over a century that not only celebrates the history of our western culture, but supports local charities and community initiatives as well.
So what are you waiting for!? Get on down to the Stampede Grounds while you can and check out these Top 10 Activities at the Calgary Stampede 2013 today!
Please leave us a comment below and share with us your stampeding experiences! Thanks for stopping by, bookmark us and come back soon for more articles on Calgary!