Calgary Stampede is Keeping People Employed!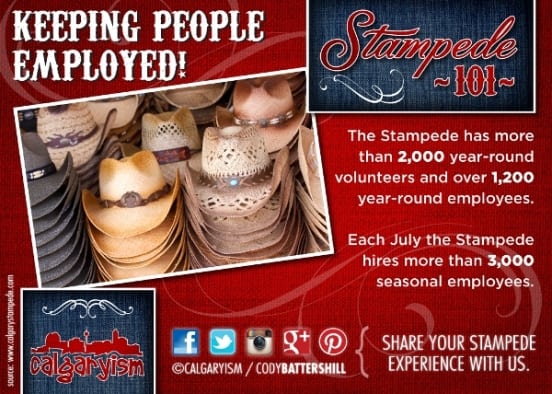 The Stampede has more than 2,000 year round volunteers and over 1,200 year-round employees.
Each July the Stampede hires more than 3,000 seasonal employees.
A Unique Experience…
Every year more than a million people visit the "greatest outdoor show on Earth", a.k.a. the Calgary Stampede.

And everyone leaves with a unique memory of their own, whether that be from a full day of fun and games on the midway, an exciting rodeo and grandstand show, the discovery of a new favourite food or perhaps a romantic evening with fireworks (to name a few scenarios), it's safe to say that people do remember the Calgary Stampede for the action-packed experience it brings and the lasting memories it creates.

Just how unique is the show? See for yourself at our Top 10 Calgary Stampede Activities 2013.
Brought to You by…
But one of reasons why we even have the opportunity to enjoy ourselves at the Calgary Stampede is because of the hard work of over 3,000 seasonal employees, 1,200 core employees and 2,300 year-round volunteers.

Hats off especially to those individuals who donate their time and put in long hours volunteering at the Stampede. They are the ones organizing community events, serving food at the notorious pancake breakfasts, working as ushers at the rodeo and more! Read more at the Calgary Stampede Volunteers.
Employees and Volunteers…
If you would like to donate some of your spare time to help with various Stampede activities, events and more, you can do so by visiting Calgary Stampede Volunteers webpage. Here you will find everything you need to know!

Maybe you are looking to work as a year-round employee with the Stampede organization, or maybe would like to earn a few extra bucks this summer? Be sure to check out the Calgary Stampede Employees webpage for everything you need to know!
Now get down to the Stampede Grounds before it's too late! – and make sure you try these 10 Must Try Snacks at the Calgary Stampede!
We would love to hear what your favourite experiences are at the greatest outdoor show on Earth. Please leave us a comment below!