Calgary Stampede: 40 Facts & Infographics
June 29, 2023
By Cody Battershill
40 Fun Facts on the Calgary Stampede

With more than a million visitors every year, the Calgary Stampede is not only the "greatest outdoor show on earth," but also one of the largest!
A lot of time and work goes into making this annual show happen. The logistics of the entire show are actually pretty insane to think about.
With that in mind, here are nearly 40 fun facts that will give you a good idea of just how epic the annual stampede really is!
Stampede Attendance: By the Numbers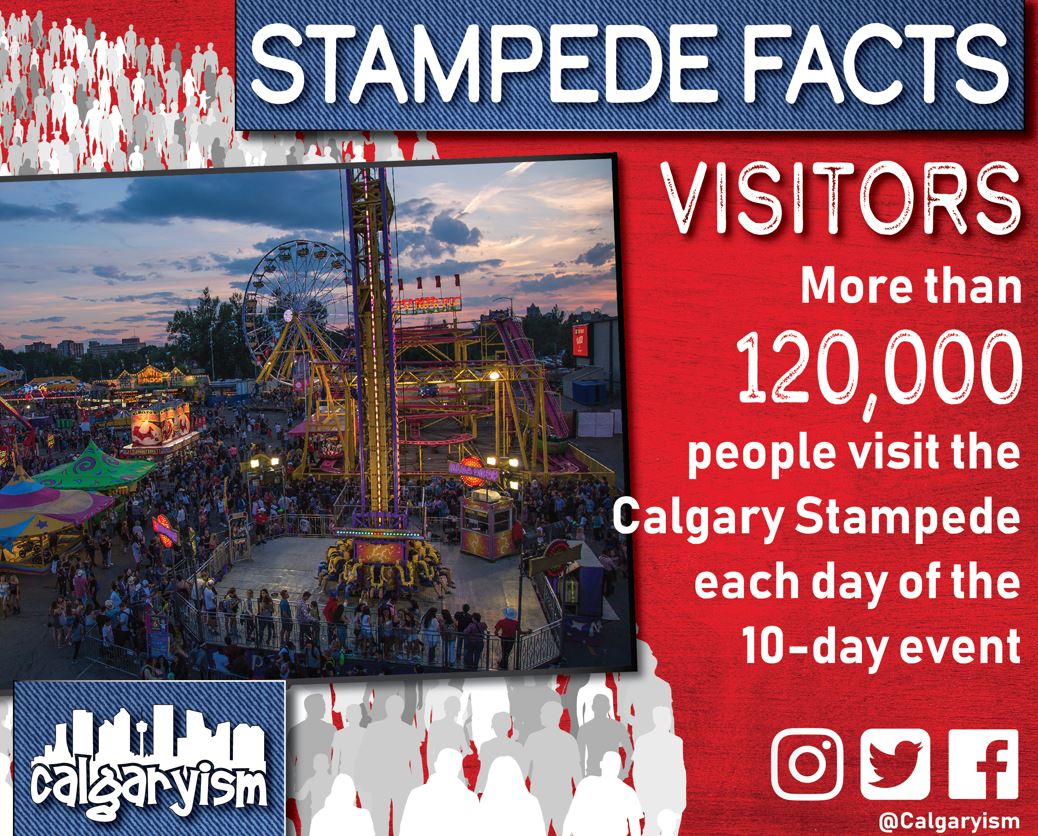 #1 - Over 120,000 people attend the Stampede every day, around 70% of whom are from Calgary
#2 - The show attracts well over a million visitors each year
#3 - Approximately 400,000 people attend the Stampede Parade every year
#4 - Around 4 million people visit the Stampede Grounds every year
#5 - The first Stampede in 1912 attracted about 80,000 people to a city with a population of only 47,000
#6 - The 100th anniversary of the Calgary Stampede (2012) set an attendance record with 1,409,371 visitors
Stampede Participation: By the Numbers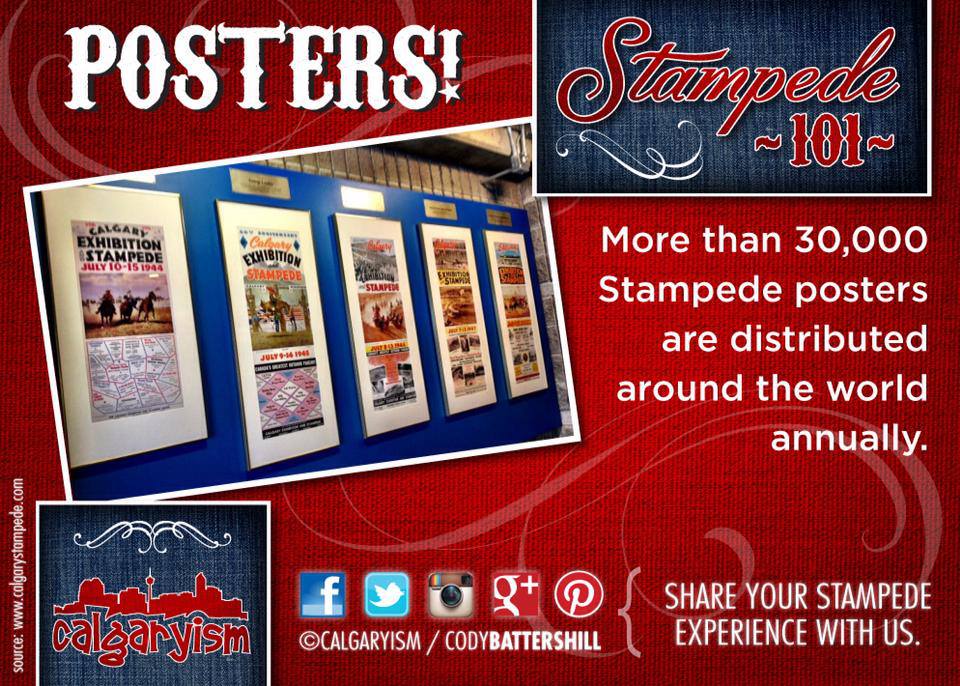 #7 - More than 300 people are employed by the Calgary Stampede year-round
#8 - About 3,500 people are hired during the 10-day event
#9 - About 3,000 people participate in the Calgary Stampede Parade annually
#10 - Every year more than 2,200 people, a majority of whom are from Calgary, dedicate their personal time to volunteer at the show
#11 - These volunteers sit on 45 different volunteering committees
#12 - Over 2 million Canadians nationwide watch the Stampede Parade on television every year
Stampede Food & Drink: By the Numbers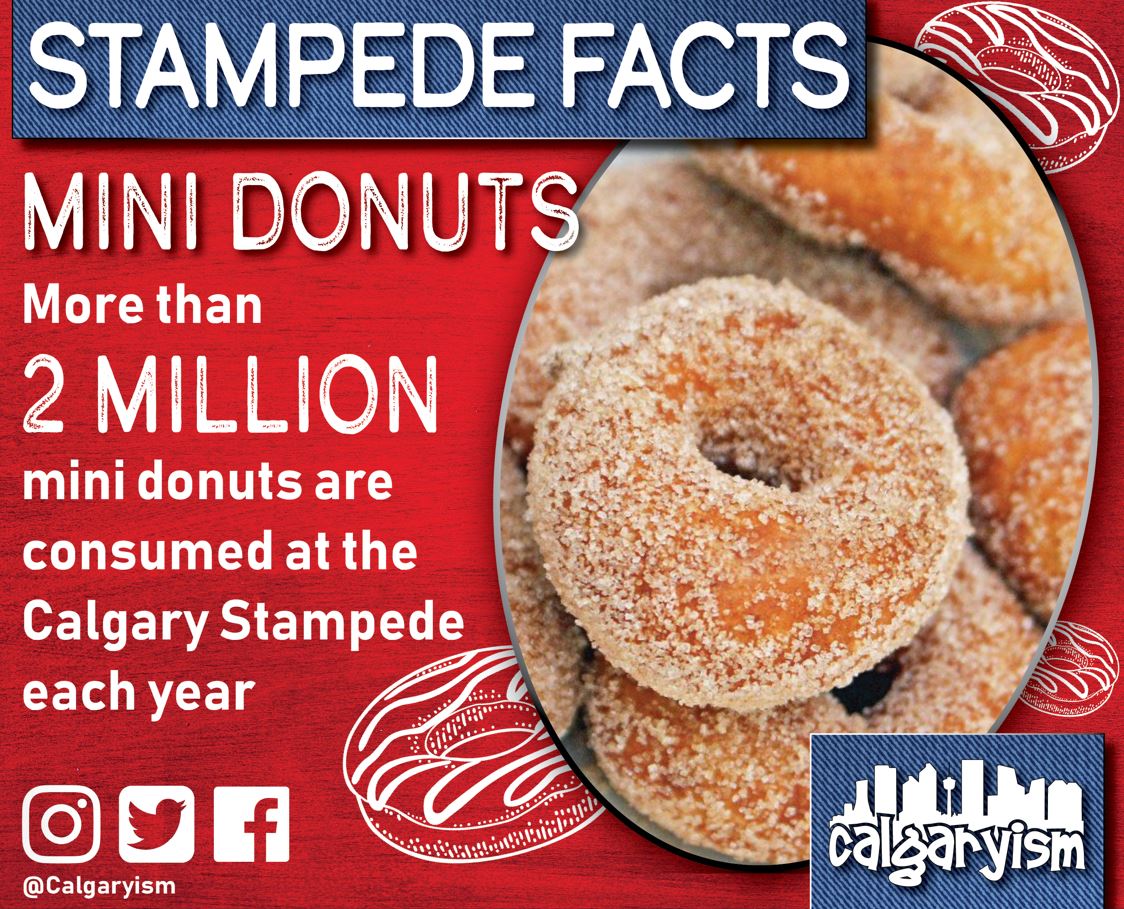 #13 - More than 2 million mini-donuts are eaten every year at the Stampede
#14 - More than 125,000 hot dogs are eaten
#15 - Over 75,000 hamburgers are consumed
#16 - Over 200,000 pancakes are served at community breakfasts throughout the city during the Stampede
#17 - A total of four beer grounds are found at the Calgary Stampede
#18 - In 2023, there are 50 new foods on the Stampede midway for all to enjoy
#19 - In 2023, there will also be dozens of midway food and drink options from previous years
Stampede Rodeo & Midway: By the Numbers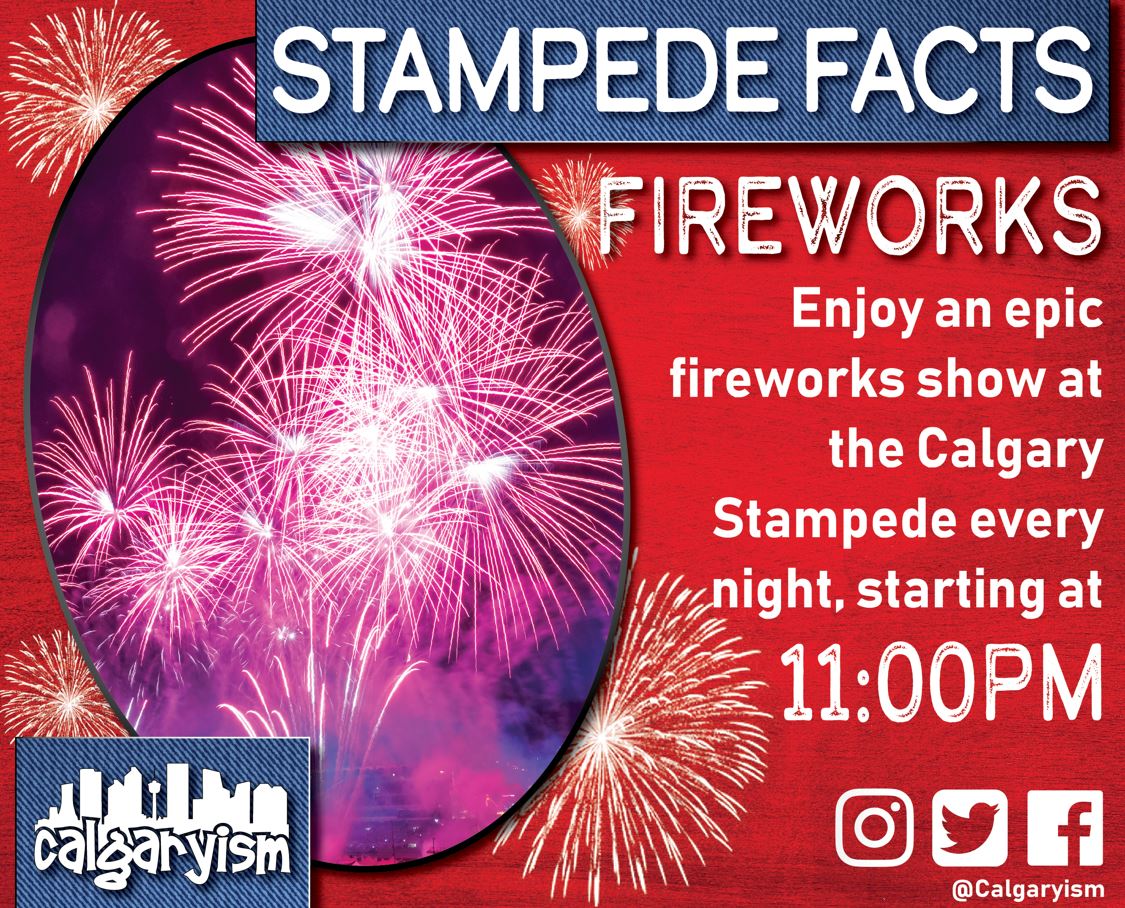 #20 - Stampede Park itself covers more than 200 acres of land
#21 - More than 7,500 animals are hosted by the Stampede Park during the 10-day event including over 600 chuckwagon horses.
#22 - Around 850 horses participate in the parade watched on live TV
#23 - Approximately 2 tonnes of manure is left behind by animals on the parade route
#24 - More than $3 million is awarded to rodeo competitors over the 10-day event
#25 - 120 rodeo competitors and 36 derby drivers competed for $3.2 million in prize money in 2016
#26 - Close to 200 vendors are found at the Calgary Stampede Market located inside the BMO Centre
#27 - 30,000 flowers are planted in Stampede Park each year
#28 - More than 800,000 people visit the exhibitor's area inside the BMO Centre every year where you'll find artisan goods, art and more
Stampede History & Economics: By the Numbers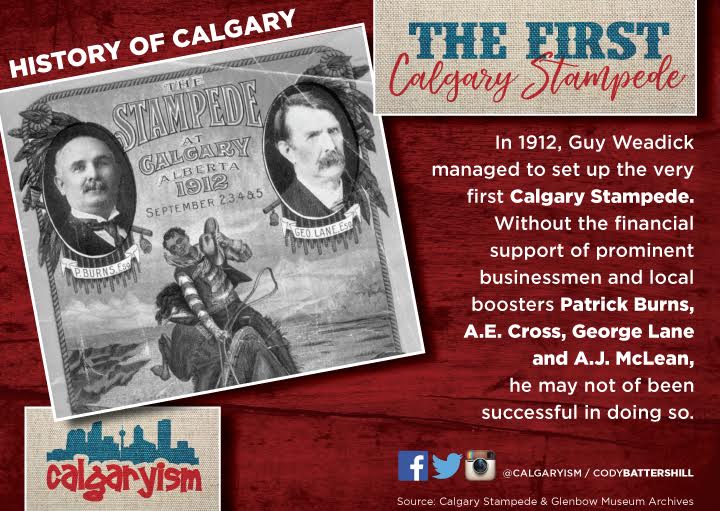 #29 - The very first Calgary Stampede in 1912 lasted just 6 days
#30 - In 1939, admission to the grounds was just 25 cents. Today, it's $18.00 for an adult ticket
#31 - Annually, the show generates over $345 million in economic benefit for the province of Alberta
#32 - Every $1.00 spent at the Calgary Stampede generates more than $2.70 city-wide on hotels, restaurants, shops, taxis and other expenditures of the type
#33 - More than 20,000 posters promoting the greatest outdoor show on Earth are distributed worldwide every year
#34 - The "Big Four" businessmen: A.J. MacLean, A.E. Cross, George Lane and Pat Burns made a crucial contribution of $100,000 towards the first-ever Calgary Stampede
#35 - A poll taken in 2011 showed that 40 percent of Calgarians who were expecting they would attend the Calgary Stampede estimated they would spent anywhere from $150 to $400
#36 - The first Calgary Stampede Rodeo awarded $20,000 in prize money to competitors. According to inflation rates, that cash would be worth $448,333.33 in 2019
Stampede & First Nations: By the Numbers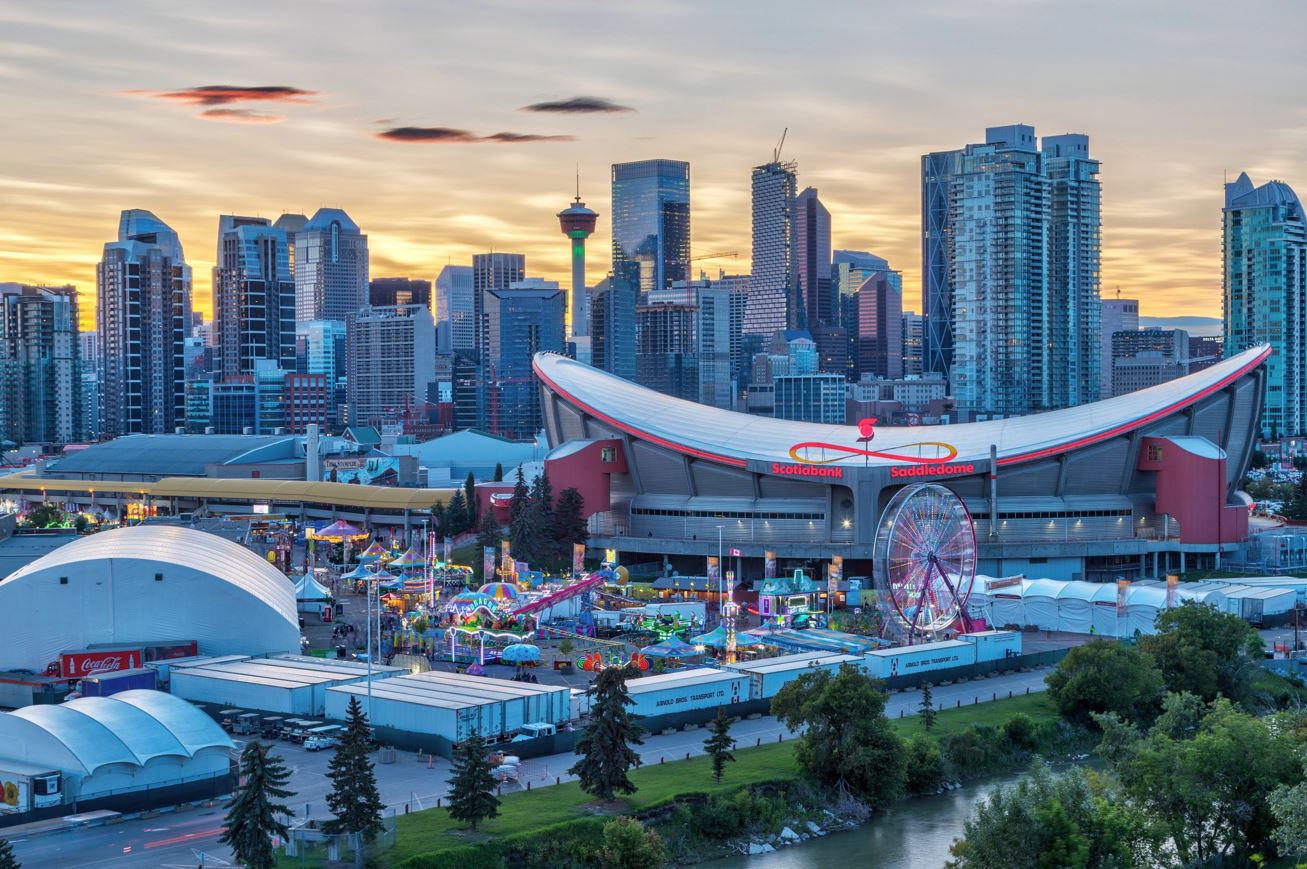 #37 - In 1912, over 2,000 Aboriginal peoples led the Calgary Stampede parade dressed in full ceremonial attire
#38 - About 30 teepees are on display at Indian Village each year
#39 - In 2016, nearly 30 kg of bison was dried and nearly 7500 people tried bannock at Indian Village
More from Calgaryism