Your Calgary Stampede Guide
July 6, 2011
By Cody Battershill
Yahoo! The Biggest Outdoor Show on Earth
It's that time of the year again when Calgary shows off its western heritage and the Calgary Stampede commences!
There is a little bit of something for everyone at the Calgary Stampede. From the bucking bronco's at the rodeo and chuckwagon races to midway rides and artisan shops, everyone can enjoy the greatest outdoor show on Earth in their own unique way!
The city comes alive with cowboys and cowgirls, many choose to get into the Stampede spirit and wear their wrangler jeans cowboy boots and cowboy hats all in the name of the Calgary Stampede!
How Did it all Begin?
Before we get ahead of ourselves, lets talk about how the Calgary Stampede came into existence.
To make a rather long story short, it all started with a man named Guy Weadick, he founded the first Rangeland Derby Stampede.
He convinced a number of working ranchers to enter their authentic chuckwagons and round up crews.
This is when it became an annual event and it merged with the Calgary Industrial Exhibition to create the Calgary Exhibition and Stampede, turning it into what we now know as...
"The Greatest Outdoor Show on Earth"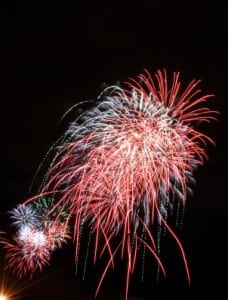 The Calgary Stampede attracts well over one million visitors every year -featuring the worlds largest rodeo, a parade, midway rides (children have their own sections for ride going!), stage shows, concerts, agricultural competitions, chuckwagon races, First Nations exhibitions and more!
But that's not all... check out the Calgary Stampede's home page for more information on events, attractions and everything else to do with the event.
A few of my favourite activities are the midway rides, the nightly Stampede fireworks display, the outdoor Coke-a-Cola Stage with over several huge starts playing every year. There are so many things to do, it's just unbelievable!
In between Calgary Stampede activities you can also catch some fun and do what the locals do around town for even some more fun!
More Fun Activities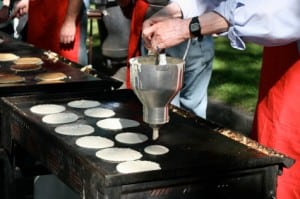 A day of Stampeding couldn't be complete without a hearty breakfast of flapjacks, sausages and juice to kick off your day.
Available (complimentary) on the grounds between 6am-9am to a limited amount of people (I think its around 2000) I highly recommended using the Calgary Stampede Interactive Planner to plan your day, so you can maximize your time and have the most fun you can have with your boots on,  well since last Stampede anyways.
Can't go to the Stampede everyday like you want because you have to work?
Exhausted from the day before Stampeding but still have your cowboy hat on and want to continue carrying out Stampede Traditions?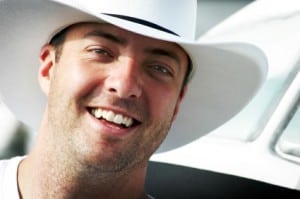 Well, lucky you! There is always The Stampede Caravan, dishing up the famous Stampede breakfast with Country music to boot. With activities to do, such as:  meeting the Stampede Queen and her Princess's, a petting zoo for the wee ones, Rodeo Cowboys and a ton more. Check out this link for the schedule.
Also don't forget to check out the schedule at Hifi Club and Flames Central other awesome entertainment going on throughout the city.
Communities always have their own Stampede Breakfast, if your not sure of the date check your local community news letter.
Admissions
Stampede Park is open from 11:00am to midnight during the Calgary Stampede. Admission prices vary.
Under 6 - Get in for free

Happy Stampeding everyone! For more local outdoor events, here are some of the best Calgary outdoor activities!