Calgary Named #17th Top Place to Visit by New York Times
Calgary has started off 2014 with a bang – it has been named one of the top places to visit in the world this year by the New York Times.

The well-established, multiple award winning American newspaper suggests that Calgary has become much more than just an oil-money city home to the annual Stampede rodeo and festival, also known as "the greatest outdoor show on Earth".

It seems as if more people around the world are beginning to realize just how awesome Calgary is – because I already knew, didn't you?
A Culturally Rich City

The New York Times has said that "an oil boom town gets its cultural legs" with new public art installments such as the diamond-tubed Peace Bridge designed by architect Santiago Calatrava and the 39 foot tall giant head called Wonderland by artist and sculptor Jaume Plensa built in front of the recently completed Bow Tower.
This skyscraper itself was named as the top new corporate building in the world in 2013 by Emporis for its unique, bow-like design and innovative features.
But then and again, public art has become a way of life in Calgary and is even reflected in the sophistication and high design of the new skyscrapers being built in the city's downtown area.
It is new buildings like the Bow Tower and proposed projects such as the new Eau Claire Mall, the TELUS Sky Tower, and Brookfield Place that are a direct embodiment of Calgary's transformation from a boring Canadian city into a thriving cultural hub. Beauty's they are on the city skyline, I must say.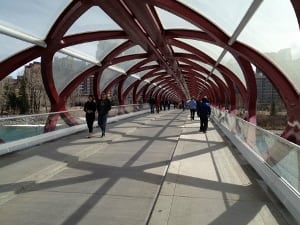 And then there are the walkable communities in Calgary that have made their own huge contributions to the cities rich cultural atmosphere. Places like Kensington, Bridgeland, Mission, Victoria Park and Connaught where there's a noticeable vibrancy fuelled by locals and anyone can experience some of the best restaurants, entertainment, and social life in the city.
These places are often the host of Calgary's full line-up of annual festivals ranging from a single day to more than a week in length, exciting events which locals flock to and in some instances attract thousands from other parts of Canada and the world.
Is it really coming true… is Calgary really finally getting its "cultural legs" as mentioned by the New York Times? We have already had a strong cultural scene for many years – it has just taken some time for other media companies and research institutions who have not noticed quite yet to do so!
Calgary has it all and in the years to come our cultural scene will only get better and better.
I Love Calgary
What are your favourite cultural activities in Calgary? Leave us a line below and let us know – we would love to hear what you have to say on the comments section, as well as at Calgaryism on Facebook, Instagram, and Twitter.
Give us a like, drop us a line, and we will see you there!