Best Calgary Tourist Attractions – Crescent Heights Hill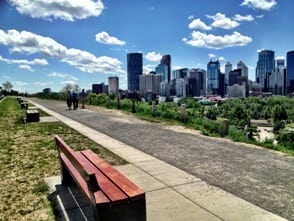 It could just be one of the best views in the city apart from the top of the Calgary Tower, which makes this scenic beauty one of the best Calgary tourist attractions around!
Once you get to Crescent Heights hill you will most likely stop for a few moments and take in a sight to behold. I do every time and I have lived in this city for my entire life.
In front of you, castles in the sky towering above that seem almost as if they were hands reaching out for the clouds – sometimes touching them, sometimes not.
I would like to think of our downtown skyscrapers as being symbolic of the opportunities here in Calgary, a city where the sky is the limit for those who work hard and "reach" for it.
A Spectacular View…

You have to see for yourself the breathtaking beauty from Crescent Heights hill not only of the downtown skyscrapers, but of the Bow River, lush greenery, the foothills and snow covered Rocky Mountains far off on the horizon.
Take my word for it, Crescent Heights Hill is definitely one of the best Calgary tourist attractions there is! Whether you are a local or a visitor, it is one of the best places you can go to appreciate all the things that Calgary is and will be in one single location.
What exactly are these "things" I talk about?
1 – See for yourself part of the famous paved and pathway system of Calgary on Crescent Heights hill as well as below along the embankments of the Bow River

2 – Marvel at the sophisticated architecture of one of the newest additions to the Calgary skyline. The Bow Tower was recently named as the top corporate building in the world by Emporis, a German firm who has one of the world's leading databases for buildings and construction projects.

3 – Appreciate the collective picture painted by everything in sight; from the Rockies and foothills to the Bow River Valley and inner city communities, it is a view that leaves a lasting photographic picture in anyone's mind.
Activities at Crescent Heights Hill
Take in the sights of the City of Calgary while enjoying some fresh air and hopefully some sun!

Bring your pets along for a nice walk amid the lush greenery of the pathways

Use the paved pathways for a recreational walk or maybe a cardiovascular exercise. Nothing keeps your mind off of pounding the pavement more than the beautiful surroundings

Walk north towards 16th Avenue NW and make your way to Peter's Drive In for one of the best Calgary burgers, fries and milkshakes (10 – 15 minute walk)

Walk south down Centre Street Bridge and discover Calgary's Chinatown and the city centre

Make your way down one of the paths into Sunnyside, then cross Memorial Drive and do what the locals do at the beautiful natural oasis of Princes Island Park (10 – 15 minute walk)

Bring your family along for a nice picnic at one of the outdoor picnic tables on Crescent Heights hill. What better way to enjoy the views than with your family over a homemade sandwich?
Visiting Calgary?
There are so many things to do, places to go and friendly faces to see at Crescent Heights hill, one of the best Calgary tourist attractions to see the next time you come!
It's easy to find and will give you an idea of what our city has to offer its residents and what living in Calgary would be like.
Also be sure to check out best Calgary tourist attractions – Princes Island Park for some more great spots to go when you are here. Thanks for stopping in and hope to have you back soon!