Best Calgary Tourist Attractions – River Cafe and Patio
August 20, 2013
By Cody Battershill
Best Calgary Tourist Attractions – River Café and Patio

There couldn't be a better place to soak up some sun while indulging in delicious eats than at the River Café and Patio. Located at Prince's Island Park, River Café is a must-stop wine-n-dine destination for locals and visitors alike and is definitely one of the best Calgary tourist attractions around!
Okay, I know what you're thinking. How could a restaurant be a tourist attraction on its own? Well, we all know that eating out is a huge part of any travelling experience and there's no better place to get a feel for locally sourced cuisine than at the River Café.
River Cafe Quick Facts
Multi-award winning restaurant including Top 50 Canadian Restaurants in 2012 and 2013 by Maclean's and Vacay.com

Originally a concession, has evolved into a restaurant over 20 plus years

Focus on using locally sourced seasonal ingredients

Grow some seasonal ingredients on location

A few minutes walk from the downtown business core
Best Tourist Location
Not only is the natural beauty of Prince's Island Park something to behold, but the restaurant is located at the heart of where all the action is in downtown which makes its quite easy for visitors to experience more of the best Calgary tourists attractions such as the Glenbow Museum and Stephen Avenue Walk all in one day.
Our Beautiful Rivers
River Café customers are obliged to use Calgary's infamous network of river parks and pathways to get to and from the restaurant. It's a great way to get a feel for what local life would be like with this vast recreational resource available across the city. After all… a day at the Bow River parks and pathways is a day well spent!
The beautiful Prince's Island Park setting is unbeatable, the food and drink absolutely amazing, and the cabin-like structure a memorable place to introduce visitors to Calgary regardless of what season it is, although the summer patio would be best.
Afterwards, check out the rest of Prince's Island Park, head over to Fort Calgary using RiverWalk, take a stroll down to Chinatown, or perhaps hit up the Calgary Zoo on St. Patrick's Island and experience some more of the best Calgary tourist attractions in a few minutes time!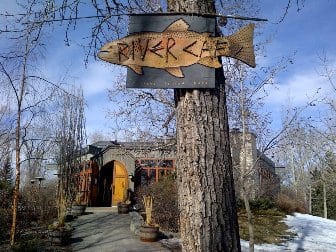 So what are you waiting for? Book your reservations today!
River Café
Address – 25 Prince's Island Park, Calgary, AB

Phone Number – 403-261-7670

Hours - Monday to Friday - 11:00 am to 10:00 pm (11:00pm in summer)

Saturday and Sunday - 10:00 am to 10:00 pm (11:00pm in summer)